On Friendships
I was reading recently about friendships and how as adults we often do things--knowingly and unknowingly--that put on our friends an unnecessary responsibility. Maybe we say something in hopes of getting a response. Maybe we do something and then later wonder if it was done with the right motive.
Children demonstrate a refreshingly different perspective than adults on friendships. I see this as I watch my own children relate to their friends. Sure, they experience ups and downs, good feelings and hurt feelings, but they also have this way of demonstrating spontaneous, unfiltered and unconditional love to those they call friends. There is a lot of laughter involved more often than not.
A childlike perspective is likely what we all need as we view life with those in community with us. It reminds me of words that Jesus spoke that says, "anyone who will not receive the kingdom of God like a little child will never enter it" (Luke 18).
Pictures from the last two blog entries -- Sports Fest 2023 and Toddler Playground -- remind me of the friendships our CSC children have with each other and the joy they can experience as a part of the CSC family. They are an inspiration to us all!
Today I plan to think about my friendships--the new and the old--and to consider how I approach them...hopefully with a childlike perspective.
Our Spring 2023 issue of News from Cebu was mailed this week. It's so exciting to see the Mission of CSC -- for nearly 45 years now -- being fulfilled as we provide the loving, Christ-centered home that provides a strong foundation for healthy friendships.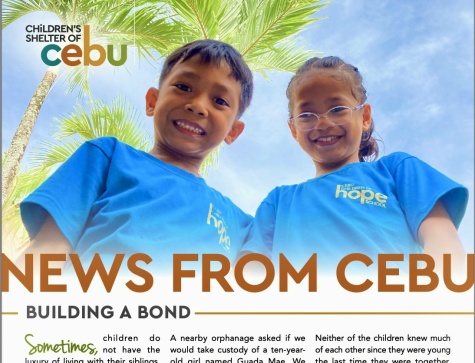 Grace and Peace,