Our Stories
By:
Micillent Mae Ortiz (Teacher)
"We can do anything we want to do if we stick to it long enough." -Helen Keller The level A1 class has just finished the theme STICK TO IT. As a part of our wrap-up activity, the kids tried their best to build houses out of […] Read More »
Click for more Blog Posts »
One afternoon our staff received an urgent message that there was an extremely ill child in a squatter village near the city bus terminal. So one of our nurses, one of our social workers and Marlys Healy went there immediately to assess the situation. The government workers brought eleven month old […] Read More »
Click for more Stories »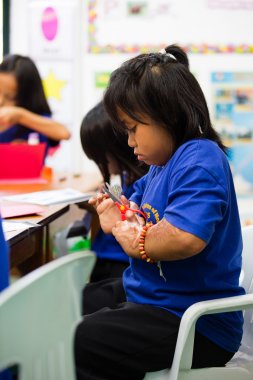 I had an opportunity to personally see Cebu Children of Hope School in action. I was greatly impressed by the quality of the teachers and their love and concern for the children under their care. The school has a beautiful building and grounds that make it a special place for children who have known only poverty.
Two years later, we went back to Cebu to adopt our children and, again, I was amazed at the difference CCHS was making in the lives of kids. But it was not until we returned home and enrolled our children into public and Christian schools back in the States that I realized how great an impact Cebu Children of Hope School had made on their lives. All five of them were able to transition immediately into their respective grade levels. We were amazed at how quickly they adapted to their new academic environment.
Since adopted children face many and varied adjustments, it is truly a blessing from God when they are well prepared educationally. Our children still talk and reminisce about their teachers in Cebu and the things that they learned while there. It brings a smile to their faces and thanksgiving to our hearts whenever we think of Cebu Children of Hope School.
Click for more Testimonials »