Our Stories
By:
Micillent Mae Ortiz (Teacher)
Play is not a break from learning. It is endless, delightful, deep, engaging practical learning. It is the doorway to the child's heart. – Vince Gowman Our children don't need more things. They need our time and desire to be with them in their world of play and […] Read More »
Click for more Blog Posts »
Sometimes kids ask very difficult questions. Our CSC children are no exceptions. One of our girls came to CSC from a situation of desperate poverty. Both her parents had died. She had suffered from a severe abscess in her jaw area that affected the jaw bone, and caused muscle and tissue […] Read More »
Click for more Stories »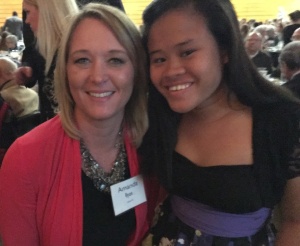 My family started child sponsorship at the Children's Shelter of Cebu in 2006. When we decided to give through the Foster Friends program, we had no idea how much we would get back.
Our boys were five, seven and 10 years old when we were assigned a girl named Adelyn at the shelter. She became a bigger part of our lives than we could have imagined! We loved every update on how she was progressing and would gather around if a card came from her, even bringing them with us to show extended family. We hung her picture up with the pictures of our own children. Everyone in our family cared about and prayed for Adelyn.
It was a day of celebration when we learned Adelyn was being adopted. She had been at the shelter for 9 years hoping and waiting for that day. And, just a little over a month later, we went to the CSC banquet in Minnesota. I couldn't believe it when I walked in and the first person I saw was Adelyn. Our whole family got to meet her, her sisters and her parents.
We couldn't have asked for the kind of connection we got with Adelyn, but we are so thankful to have it. We are also excited to be supporting another child at CSC. I know it has made all of us better to be a part of Foster Friends at CSC!
Click for more Testimonials »