The counseling department has been proactive in equipping the child care workers, helping them to be emotionally, mentally, and spiritually healthy, so they can provide the best care for our children. During this pandemic, the importance of mental health, has always been emphasized. Thus, activities among locked-in childcare workers, whom we simply called aunties, were done. Sessions of aunties and kids together were also held so that workers will gain a better understanding of the child they cared for.
This activity strengthens the relationship of the residents and workers through mindfulness games. Residents are encouraged to talk about their feelings to their aunties in their daily routines and the workers to understand the children's expression, character, behavior, recognize what children can do, be better listeners and have a better approach in dealing with each child.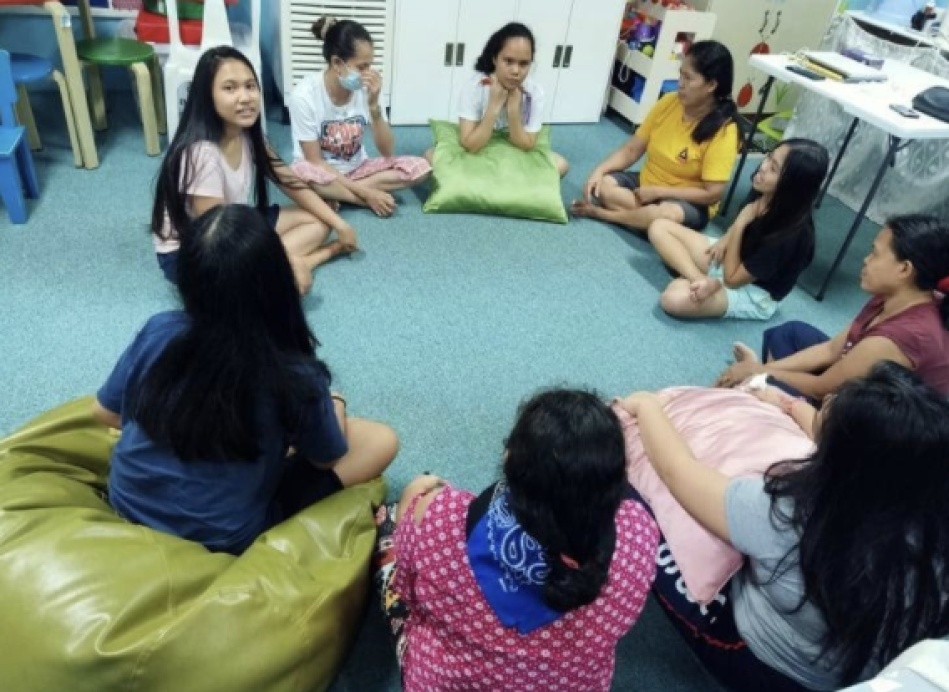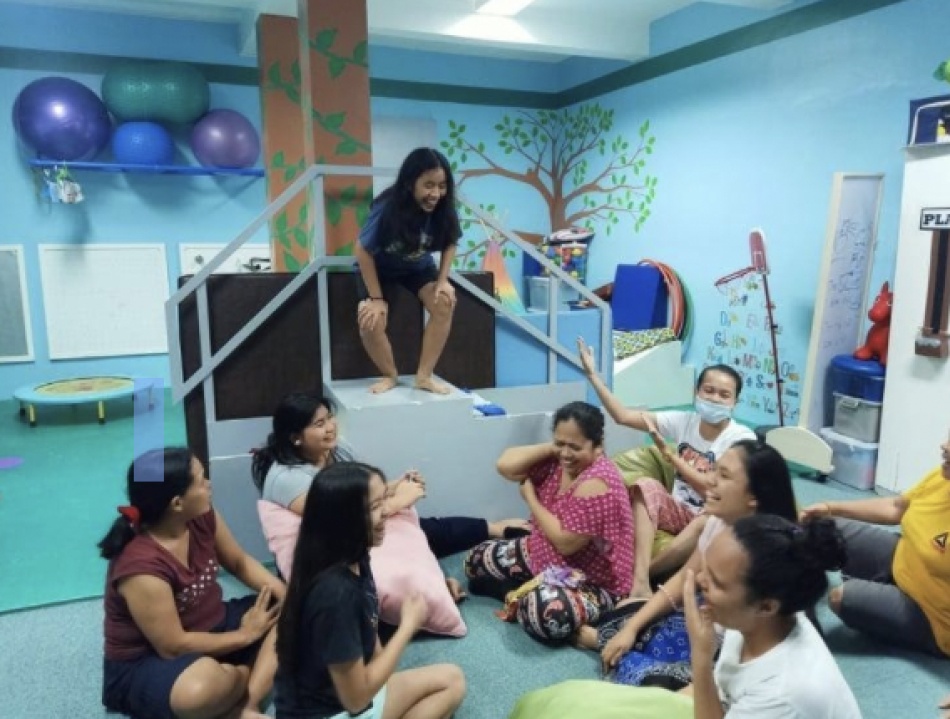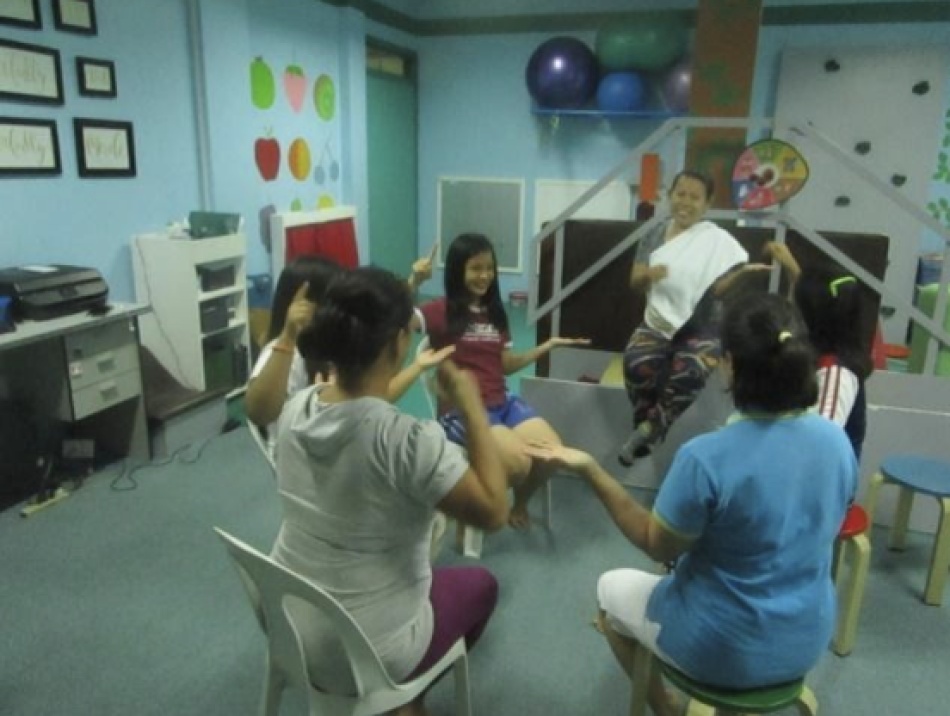 Residents are given time to bond with their choice of aunties and have time to know each other. Counseling is also extending time to workers for their spiritual nurturing through sharing and prayer, understanding their work, and how they face day to day challenges especially while away from their families.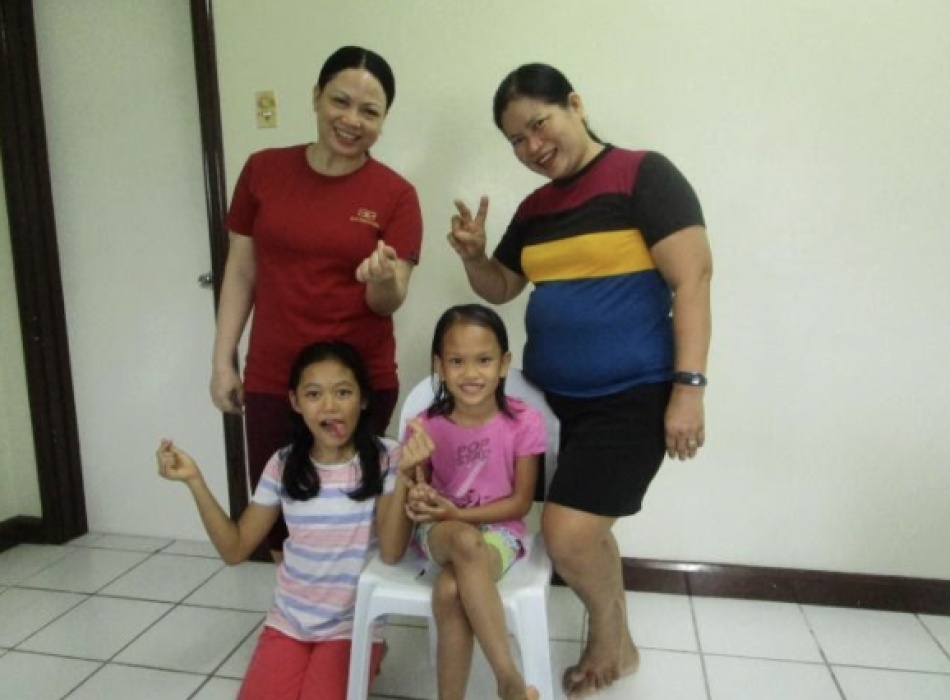 In morning devotions before breakfast and Sunday night after dinner; encouraging them to share their thoughts and ideas of being grateful to God. An illustration was shown about a glass of water. Each one was asked to express what they are thankful or grateful for then the glass will be poured of a little water until everyone has shared and the glass was filled with water. It is just like a thank you tank, once filled it can supply the community or people who needs it. God loves to send down blessings if we are also grateful and thankful to Him. We also express it through songs and Bible verses.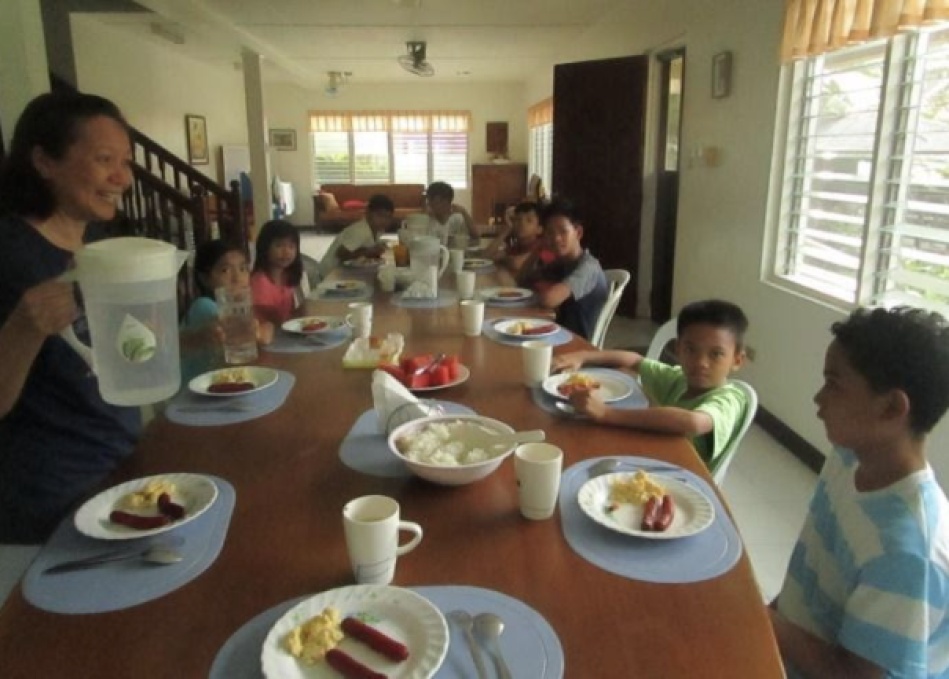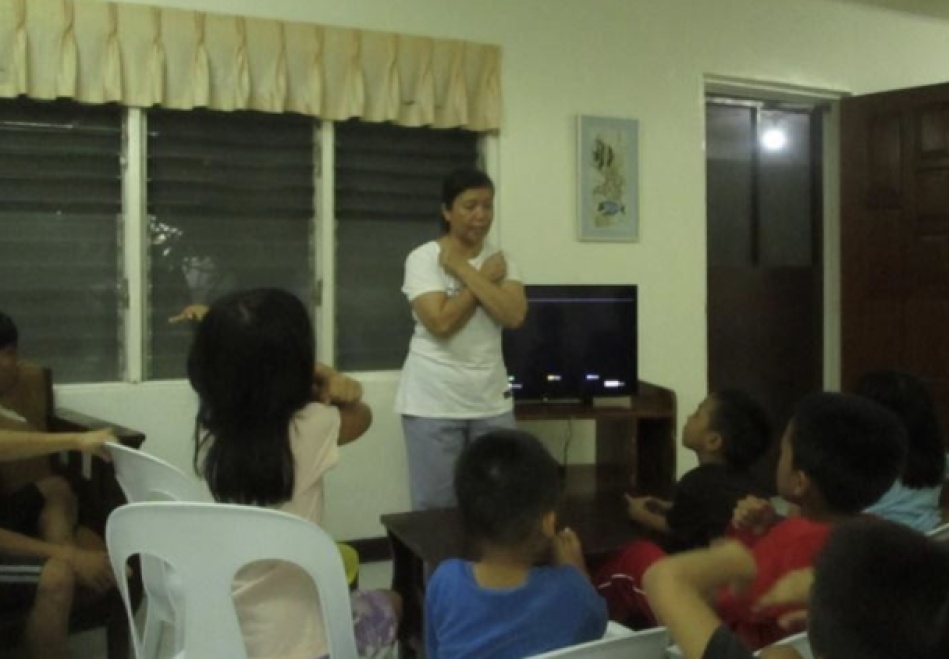 The fourth quarter of the school year was about to start and we decided to move up some students who were academically progressing to a new grade level. I was delighted, excited, and yet a little bit nervous thinking that I would have a new student who is intelligent, gifted, and of course, well-loved by everyone both in school and in the shelter.
The first few weeks were filled with many things to adapt to, and I prayed that the new student would not be too overwhelmed by the change. Slowly, with the help of the responsive classroom approach we implemented, it supports the student to have an easy transition to a new environment.
In our school, we usually do our morning routines such as greetings, group sharing activities, reading of the morning message, and praying before we start our classes. One of the best memories of my journey with this boy was when he first greeted me with my name as his "new teacher" and hugged me. He even asked me about my morning. He was so excited!
The first day with him was not as smooth as I hoped for. There were a few bumps. This was the reason why we observed him in the classroom and modifications were made to suit the student's needs. He would always choose to be the first person in the line, but I explained that we have our rules on "taking turns," and he already had his chance. When I checked on him outside the classroom the next day, he sat on his spot and patiently waited for others to come. I realized that firmness and consistency are two powerful tools to achieve successful classroom management.
Another classroom scene that made my day was when we had our group sharing. Knowing that younger students are visual learners, I added fun pictures to make our sharing more interactive and to get their attention. As I flashed some images on the screen, I heard him laugh as if he was being tickled. It went on for a long time, and it certainly gave his classmates a stomachache laughing with him which caused a little bit of chaos in the class. So, I gave him 30 seconds, and he did stop. It was effective, then we began with our sharing. Since that moment, we've been working on calling the name of the next sharer. He was very observant and quick to realize that he needed to do the same to his classmates. To our surprise, he was able to call the next sharer without his classmate's help and use the phrase "Popcorn, student's name." Everyone in the class was shocked and happy, telling me, "Teacher Lyrah, have you heard him saying popcorn? He learns so fast!" Truly, success happens not just because of one person working as "the teacher," but it includes the students and peers who help one another and have a common goal to lift each other up.
Moreover, I have noticed that he is gifted and very clever. I had set aside things each morning and prepared different materials that he would need to stay focused in our class. These things will be given after each class activity. It was essential to remind him that he needed to finish his tasks then he could use what is prepared for him. Well, being firm with expectations and setting classroom boundaries are challenging at times; however, at CCHS we always do it with love and care.
He appeared to be adjusting into our classroom setting over the next few days. He also loves to participate when being asked. Though, he needed some reminders from time to time for him to stay on track. There was one instance in the middle of our discussion he stood up and asked for his dinosaur books. We stopped, and most of his classmates reminded him to ask permission every time he stands or wants to have something. He did go back to his seat and asked permission. But it was not time for him to read a book yet. So, he participated in our reading first and answered all the activities. Then he got the book for him to enjoy. Another strategy that was very effective to him was giving him a time frame before he could get his desired reading materials. These things didn't come easy, it requires hard work, patience, determination, cooperation, and above all, love. We made a lot of classroom modifications to cater for his needs and the rest of the class.
To be successful in the classroom, as teachers, we need to set clear classroom boundaries for our students.
As Colossians 3:23-24 says: "Whatever you do, work at it with all your heart, as working for the Lord, not for human masters, since you know that you will receive an inheritance from the Lord as a reward."
"Writing is a process in which we discover what lives in us. The writing itself reveals to us what is alive in us. The deepest satisfaction of writing is precisely that it opens up new spaces within us of which we were not aware before we started to write. To write is to embark on a journey whose final destination we do not know. Thus, writing requires a real act of trust. We have to say to ourselves: "I do not yet know what I carry in my heart, but I trust that it will emerge as I write." Writing is like giving away the few loaves and fishes one has, trusting that they will multiply in the giving. Once we dare to "give away" on paper the few thoughts that come to us, we start discovering how much is hidden underneath these thoughts and gradually come in touch with our own riches."
"Oh that my words were recorded, that they were written on a scroll..."
JOB 19:23 (NIV)
https://henrinouwen.org/meditation/writing-reveals-what-is-alive-in-us/
I don't write for the CSC blog all that often, but I thought it was interesting that the above devotion came to my email inbox just a little over a week ago. It makes me think that what I write down is a deeper expression of not only what is in my mind, but what is in my heart. I'm grateful for those who choose to read our updates and trust that you will find a nugget somewhere in all this to apply to your own lives.
Another school year has begun at CSC at our Cebu Children of Hope School. I received some pictures over the last couple of weeks that seem like priceless classics to commemorate the beginning of our school year. Much like last year, our school is adapting to new spaces where our kids learn in order to keep them safe and sheltered from the effects of the pandemic. Our actual school building is still being used as a quarantine facility for teachers and other employees who are rotating in an out of the shelter.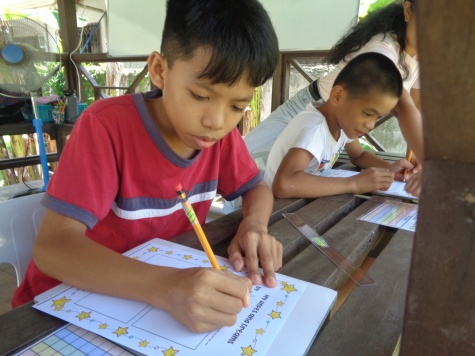 ["My Hopes and Dreams": Don't you just want to know what he's writing for his hopes and dreams?]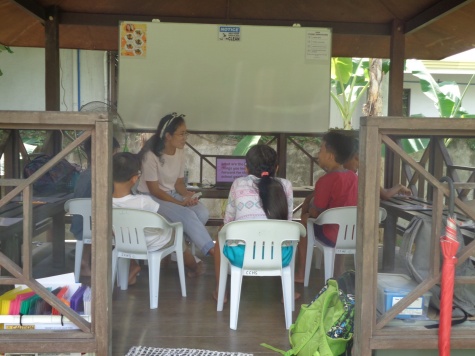 [If you are able, Zoom in on the computer screen. Can't you just imagine what these kids are saying they're looking forward to at the beginning of the school year?]
Jesus' words from Matthew chapter 7 are at the heart of why we do what we do. Jesus says, "'Which of you, if your son asks for bread, will give him a stone? Or if he asks for a fish, will give him a snake? If you, then, though you are evil, know how to give good gifts to your children, how much more will your Father in heaven give good gifts to those who ask him! So in everything, do to others what you would have them do to you, for this sums up the Law and the Prophets.'" We believe that God has far greater gifts to give to us and our CSC kids, and we will do our best to continue to give all that we have for their care, including their education.
The pandemic continues to rage on in Cebu with daily cases at all-time highs, even compared to last year. We had hoped to pull back on our restrictions, but that won't be able to occur until more of our employees have been vaccinated. The vaccines are coming to Cebu, but they are slow in coming with only a few doses available to our employees each week. Please continue to pray with us for good health and safety.
Grace and Peace,
Kirby Stoll
P.S. It is my honor to be able to write periodically for our CSC blog. It is my hope that these words and the words from all those who share from time to time will draw you in to the amazing work we get to do at CSC and that your relationship with the Lord will be strengthened. Learn more about CSC at https://cebushelter.org.
Virgilio was in our first group of employees who volunteered to be inside our lockdown. He sacrificed to be away from his wife and children to lock in at the shelter for six months! When he finshed his "tour of duty" inside our lockdown facility, he reunited with his family.
Virgilio has so many talents, including a specialty in plumbing. He has helped fix many problems at the shelter. At present, CSC is still in a lockdown situation due to Covid-19, but it doesn't hinder the facilities department to render it's services to the kids and other residents inside.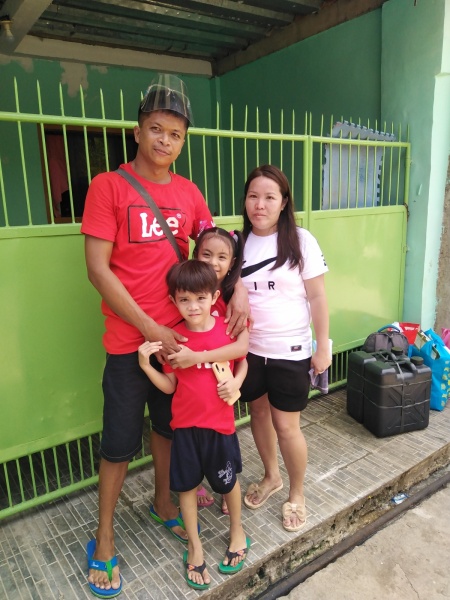 This past weekend we hosted a retirement picnic for our founders, Paul and Marlys Healy. They were obedient to God's call on their hearts back in 1978 to care for the people of the Philippines. They moved to Cebu and immediately started caring for vulnerable children and families. They helped plant churches, worked with local missionaries and took in more children as the need grew. They have left quite a legacy. The organization of CSC continues on, providing for children in need, with a great leadership team, wonderful staff and amazing donors.
It's impossible to adequately thank Paul and Marlys for their 43 years of service. We offered our current CSC staff and residents the option of writing a note to Paul and Marlys. As I was thinking about how we could try to say a word of thanks, I came across this note that summed it up well:
"Congratulations on making it to retirement. None of us have completely witnessed every ounce of effort and care you poured into CSC, but God certainly has. May the Lord continue to bless the toil of your hands, even as the seeds you have sown in our hearts continue to grow."