God's grace shows itself to me in many ways. Some are glorious and some are not.
By the grace of God, for instance, I have enough to eat, a good place to live, money for my diabetes medications and meaningful work that provides many emotional, material and spiritual blessings. But just 0utside my office are children who go to sleep hungry, who wake up with nobody to say "good morning," and with only bleak prospects for having their basic needs met. This noon I drove to McDonalds for a late lunch and was heading back to the office to eat. At the stoplight a little boy approached my car, tapped on my window and held out a deformed hand to ask for money. He motioned to his stomach to indicate that he was hungry. In his eyes was a hunger that went beyond his need for something to eat to indicate a hopelessness at life in general. But he doesn't have the luxury of looking at his life reflectively. He was hungry, and was looking at the food that I had purchased at the drive through that was on the seat next to me, food that I could easily do without. I gave him a handful of fries and drove off. On other occasions I might have just shook my head and not given him anything. Nutritionists might say that he was better off with nothing than a greasy fry, I don't know. But as I drove away my mind came up with many questions that I have considered often in my 38 years in Cebu, questions that don't really have answers but weigh heavily on my heart on occasions such as this.
- Why does this little guy have nothing and I have everything? Is there a single thing about how I have lived my life that qualifies me for advantage? Has this little guy done anything wrong to deserve a withered arm and a hungry tummy?
- Why didn't I just give him my whole lunch instead of a few paltry fries? By suppertime I would be dining on a good meal and he would be hungry again. Likely, I just wanted him to go away from my car.
- What does he think about me and what I represent?
- If he ever does look to the future, does he have a shred of hope that things will get better for him? With little or no positive family or other adult influence, with no access to health care or decent education, and with daily exposure to the many dangers from living on the street, is there any chance whatsoever that he will? What will be different for him, his eventual children and theirs?
- What is life like without hope? Can I even begin to understand that?
The disparities of life in a country like the Philippines are hard to grasp. Living here provides graphic proof that God's grace has nothing to do with merit. Not a thing. That kid deserves a break much more than I ever do or will. All I can do, perhaps, is to think about why God called me to live much of my life here and not in the country of my birth. Some people think that, in choosing to live here, I forsook the luxuries of life for the difficulties of the third world. But I live in the lap of luxury here, too. I just have to pay an emotional price for doing so as I come face to face with people who struggle just to stay alive.
I've been dealing with these same questions for 38 years! At CSC we have been able to help lots of little guys like the one I saw today. We have taken in the hungry, the lame, the disfigured, the homeless. We have dispensed food, medicine, knowledge, even hope. But we aren't helping this little guy at all. Except for a fistfull of fries. Of course we can't help everyone, I know that. But that knowledge doesn't remove his image from my mind or, on the other hand, make his life one ounce better.
I pray for wisdom, to accept the things that I cannot change, to be an agent of positive change where I can, and to know the difference, even though knowing that difference does not provide emotional relief from the confrontations with hopelessness that are a part of life in a place like this. I guess the best way to accomplish the dictates of the above-cited Serenity Prayer is to focus on the things that I can change, not on what I cannot. On the tree, not the forest. But I'm very sure that there are things that I can change if I open my mind to them, to see people not as an inconvenience but an opportunity. Maybe I can use some of the incomprehensible advantages that have been bestowed on me to offer some measure of relief and, maybe, even hope to people like the little boy who I cannot get out of my head.
The dust has settled on Father's Day here in Cebu. For me it was kind of an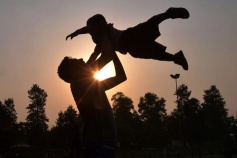 emotional day. I lost my dad a year ago on Father's Day, and it was with a mixture of sadness and thankfulness that I reflected on Jer. I was given lots of cards and hugs from CSC kids, which helped. And my daughers greeted me, which was great. I have always been thankful to them for "sharing" their dad with so many other kids over the years.
Father's Day can be a little complicated for the kids at CSC. Many of them have birth father's who were absent, abusive or neglectful. The reason that many of them had to come to CSC was because of their birth fathers. They preferred the company of their buddies to their children. They squandered money on gambling or alcohol while their kids suffered with sickness or hunger. They found other women, abandoning their families. They took out their anger and frustrations on their kids.
Coming to live at CSC meant that children had a second chance at family and that started with house parents who love them and see that their needs are met. So, children who suffered with difficult birth fathers are now benefiting from house fathers who are helping them understand what a Christian home is all about and the meaning of fatherly love. Nobody is ignoring them. Nobody is abusing them. Nobody is making them feel worthless. Instead they are valued, disciplined with fairness and love, and taught about a Heavenly Father who loves them unconditionally and deeply. It was fun to see the CSC kids honor their house fathers on Father's Day!
Some of our kids are soon to be leaving for adoption, where they will have new fathers and mothers. Right now we have 11 children who have been matched and accepted and who are awaiting the completion of their visas so they can join their new families. New relationships await them, and one of the most significant will be having a new father to love them in ways that are different than anything they have previously experienced. We hope and pray that the love of their house fathers at CSC has prepared them to accept and return the love that their adoptive fathers will give.
So, many of our CSC kids will have four fathers in their lives: a birth father who gave them life; a CSC house father who was a part of their healing and preparation; an adoptive father who provides permanence and a special kind of love, and a Heavenly Father who will love them eternally.
With all the changes going on at CSC, including changes with our staff, we find ourselves anticipating a question from our friends: Is CSC okay? We are! There are many big reasons, like the talent and commitment of staff, excellent Filipinos moving into Leadership positions, a loyal and generous donor base and a good financial position. But there are lots of little reasons, too. I see them every day at the Shelter if I keep my eyes open to them. They are acts of love and care done by our workers to the CSC kids, people who sometimes get overlooked when we tally up our assets as a ministry.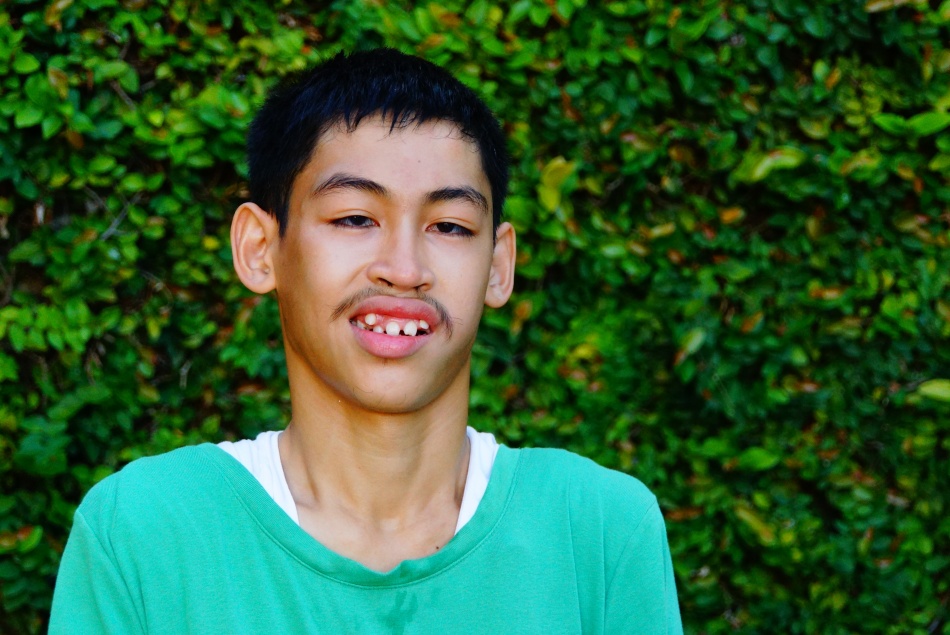 The other night I was "on duty" at the Eicher Home. Staff take turns hanging out in one of the homes when the house parents are off. We were playing a bowling game with plastic pins and ball. Wilmar, who has special needs and really loves bowling, was doing very well. He has the most unorthodox, twisting, flailing technique you could imagine, but he was somehow getting the pins down. To say the least, he was very excited by his success. The child care worker who shadows Wilmar both inside and outside the house, was there helping him stay focused and approximate following the rule for sitting down between turns and not getting in the way of others. Wilmar has a personal auntie for most of the day, including mealtimes. His auntie the other night was Christita. It isn't always easy to care for Wilmar, especially at supper time. He would much rather talk, sing, dance, joke and laugh than eat, and he is always the last one to leave the table. Lots of reminders are needed and tons of patience. Christita has that. And she has something more. She loves Wilmar. I noticed her during the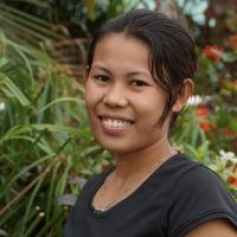 bowling competition, pulling for Wilmar, cheering his success and working to keep him engaged and focused. When he finally won the event I looked at her giving him a hug with a huge smile on her face. She knew how much that moment meant to Wilmar, and she was sharing in his triumph with joy. It was one of those great moments that happen over and over again at CSC. And it reinforced to me that for our workers, like with our staff members, CSC is more than just a job. It is a ministry of building, strengthening, encouraging and glorying in the lives of the children that live here.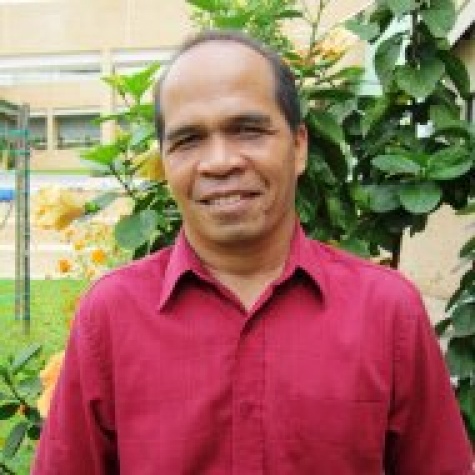 One of the most important changes at CSC these days involves our new Human Resources department and Eldie Allocod. Eldie has been a counselor at CSC for the past seven years, but he will relinquish that position as he takes over the leadership of HR. Eldie worked in the business world before coming to CSC so has a basic understanding of the workings of an HR department and the government requirements for employers. But more importantly, he understands CSC and our employees. He will be great resource for them in terms of compensation, benefits and designing staff development and team building activities. Since CSC has 125 employees that will be a big job. Eldie will soon be hiring an associate to help him in the department.
Congratulations, Eldie, on this promotion and we look forward to watching this department get established and begin to meet the needs of a growing organization. As Eldie says, happier employees translates to better care for our children. And that is something that we are always looking for at CSC!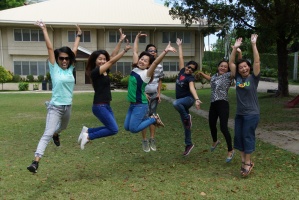 Big and small changes are happening at CSC. Whatever the size is, our arms are wide open in welcoming these changes. Sometimes in our lives "cool change" is needed and same is true for companies and ministries.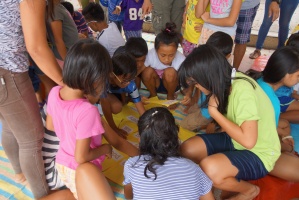 Last year we hired a Social Work Director and hired two more Social Workers to be on staff. This department had a big change with Carmelita Baya's retirement, our long time Social Worker. Just like the rest of the departments at CSC, Social Work has a vital role in the lives of our children. They are in the front row in admitting new CSC children and one of the many hands that prepare the children for adoption.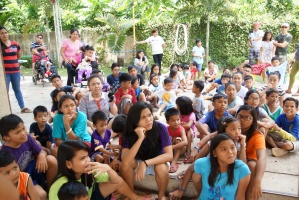 My department, Child Development, and Social Work works hand in hand. Together with the Counselors, our departments meet every month to talk about updates on each child. Our departments needs to be on the same page in writing our reports. Child Development needs to know where the child's paperwork is at and at the same time, Social Work needs to know of any challenges and progress our children meet.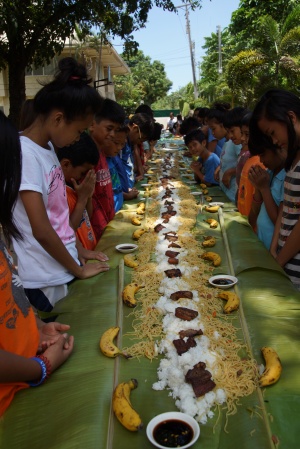 Last April, the two departments held a joint event together with all of our school age kids. The said event was to bring solidarity amongst the children at CSC, solidarity amongst the Child Development and Social Work staff and fellowship amongst the workers and the children. It was an event full of creativity, beaming faces, bible verses and oneness. The children got to know their Social Workers and what an important role they have in their lives.
To show solidarity and to enjoy our fellowship even more, we ended our event with a very good lunch: Boodle Fight! Our houseparents lined up a long line of tables on the driveway; using banana leaves, our cooks laid out rice, pancit and grilled pork on the table and everyone: the children and the CSC workers dig in to a scrumptious lunch using their bare hands!