"God has a reason for allowing things to happen. We may never understand His wisdom, but we simply have to trust His will." - Psalm 37:5
The year 2020 has been a challenging year and it carries over this year in 2021 for people all over the world. One area that has been deeply impacted is education. Countries all over the world have been using different approaches so their children can continue to learn. Here in the Philippines, modular distance learning and online classes are used to reach out to children and continue their schooling. One great thing at CSC is our ability to have our classes at the shelter. Our students have greatly benefited and have made substantial improvement in their academic and non-academic skills. We believe continuous learning, even in a modified setting, is an effective way for children to gain the necessary knowledge and skills to satisfy the requirement of their grade levels.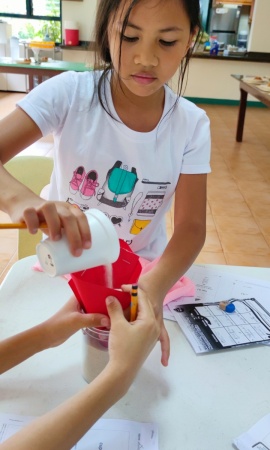 One special student has greatly benefited from a modified class. She started a grade lower when she first came to CSC but because of her determination to learn and handle the lessons presented, we decided to move her up and join a suitable level based on her age and performance. Her first day in August 2020 was full of excitement in learning new lessons and joining a new set of classmates. At first she struggled with the new material especially in reading and spelling. We provided her extra time to work on the skills that needed more attention and refinement. We are thankful that she never losses stamina to keep going in spite of the challenges that come her way. She persevered and is confidently working along with her classmates. She made excellent progress towards the end of the third quarter.
In math, she enjoys solving word problems using the strategies she has learned. She loves math games, especially with math tools available like pattern blocks, pop cubes, and unit blocks. She is also excited to learn simple multiplication and division facts. Her favorite parts of the day; however, are art class and performing experiments during science class. It's wonderful to see how she has progressed this year!
We are so appreciative to all of the supporters, for your faithfulness to CSC in many ways. You are making a difference in the life each child. You have allowed them unlock their potential and show their God-given abilities beyond what we could imagine during this trying time.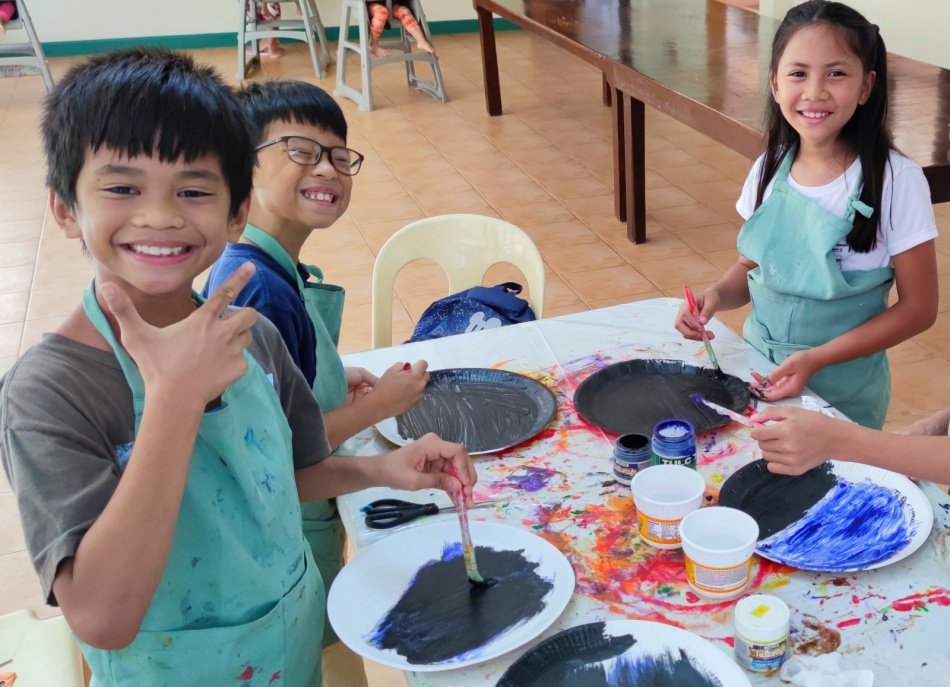 (Note: In order to protect the privacy of the children in our care and to comply with Filipino governmental guidelines, our policy when sharing online is to list either a child's name or their photo but not both.)
Today was our last day as employees of CSC. We have known it was coming and prepared for it as best we could. But it hit us kind of hard today, I have to admit. We have new e-mail addresses. We will be switching over to pension and Social Security income from salaries, and medicare supplement insurance from our CSC group plan. We won't be attending Leadership meetings or be involved in strategic planning except as advisors. We can't hug the kids like we long to do. We just watched the CSC virtual banquet and it was very different to see the things that they are doing, not what we are doing.
CSC is our life's work. We gave it all we had and I am pleased to be able to say with certainty that God blessed our efforts and those of so many other people. When the drone shots of CSC appeared on the screen the other night at the virtual banquet, it almost took our breath away as we watched with friends. What a place He has built in Cebu! And what a great team He has assembled to be stewards of not only the buildings, but the ministry that goes on there every day. Every day, in our case, for 15,336 days. That means that every morning for 15,336 days we got out of bed to face a day with purpose and pleasure, doing what we loved to do for the precious kids of CSC. Thanks to all who have joined us over the years to provide a village of love and support around them. We will continue to serve the ministry going forward, to the best of our ability. Thanks for your prayers as we embark on a new journey.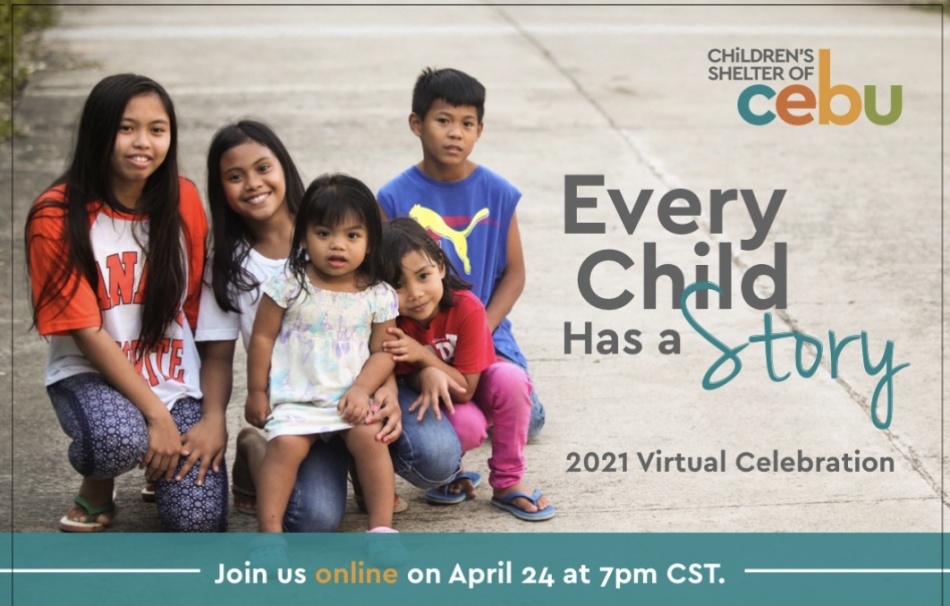 Each spring, we hold a fundraiser in Minnesota to raise donations for the shelter and school in the Philippines. This year, we decided not to gather in-person, but instead to celebrate the work online. This allows us to connect with more people all over the world.
I realize you are probably tired of online gatherings and staring at screens, but will you please consider joining us on Saturday evening at 7pm CST? We promise to keep it short (less than 30 minutes). Here is the link to the Facebook event where you can join the conversation: https://www.facebook.com/cscshelter/posts/10159367966463151. Or you can watch on our YouTube channel: https://www.youtube.com/watch?v=cSeeDmuHlUE.
Our theme this year is "Every Child Has a Story!" and we see this everyday at CSC. Children often come to us with a trauma-filled past. Their story might mean the loss of a parent or living on the streets for a period of time. But at CSC, their story changes. God uses YOU to change their lives, one story at a time. So tune in Saturday evening on our Facebook page. We'll tell you a bit more about the work, highlight a few stories of changed lives and share some of the challenges we're facing as a ministry. And you'll get a chance to see a bunch of adorable kids of course!
Thanks for being a part of CSC's story.
God is good! And, He is good all the time.
Cebu Children of Hope School is a living testimony of God's goodness. Almost all schools in the Philippines are temporarily closed and students stay at home either doing on-line classes or answering modules but CCHS students are still enjoying happy times with their teachers and classmates even in the midst of this pandemic. Everyone is having fun and is learning something new. They look forward to being in their respective group every day.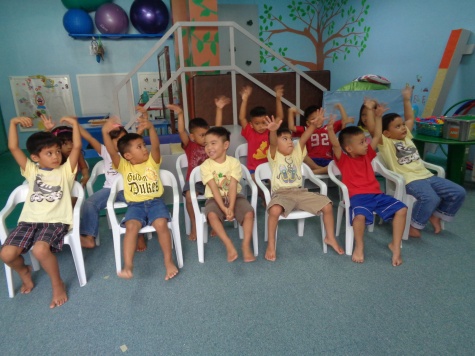 Preschoolers are among those students who are experiencing God's goodness. Every morning they would show up with a smile on their faces. They are always excited about activities prepared for the day. They find every activity in class fun, especially playtime.
Preschool playtime has always been the most awaited time for every student. After eating their snack they usually hurry back to class for playtime. It is indeed a happy and busy time for everyone. The fun leveled up when four boys from the Toddler Group joined preschool playtime. These boys were overjoyed when they learned they are a part of this great group. Their smiles and the sparkle in their eyes show their excitement from deep within. At times they keep moving around the room because of so much joy in trying new toys and navigating how to use some of the things that are in the room.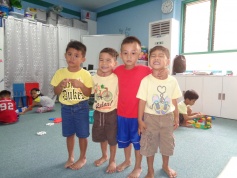 It's wonderful to have these boys be a part of preschool class. Playtime would never be the same without them.
CCHS is constantly grateful for everyone who cares about our students and has allowed us to impact children's lives in the midst of this challenging time. May you experience God's goodness all the time!
This morning we opened another 50kg sack of rice. As we did, I couldn't help but stop to wonder, "how many bags of rice have we consumed since all of this started!?"
On March 28th, CSC will hit a tremendous milestone. It will be exactly one year since we entered a state of lockdown. On the same day in 2020, governments around the world were scrambling to contain an outbreak of the coronavirus, and the Philippines were implementing some of the strictest quarantine measures imposed by any country. This meant extremely limited mobility, increased difficulty in obtaining goods, as well as fears that the outbreak would quickly overwhelm the country's already strained health care system.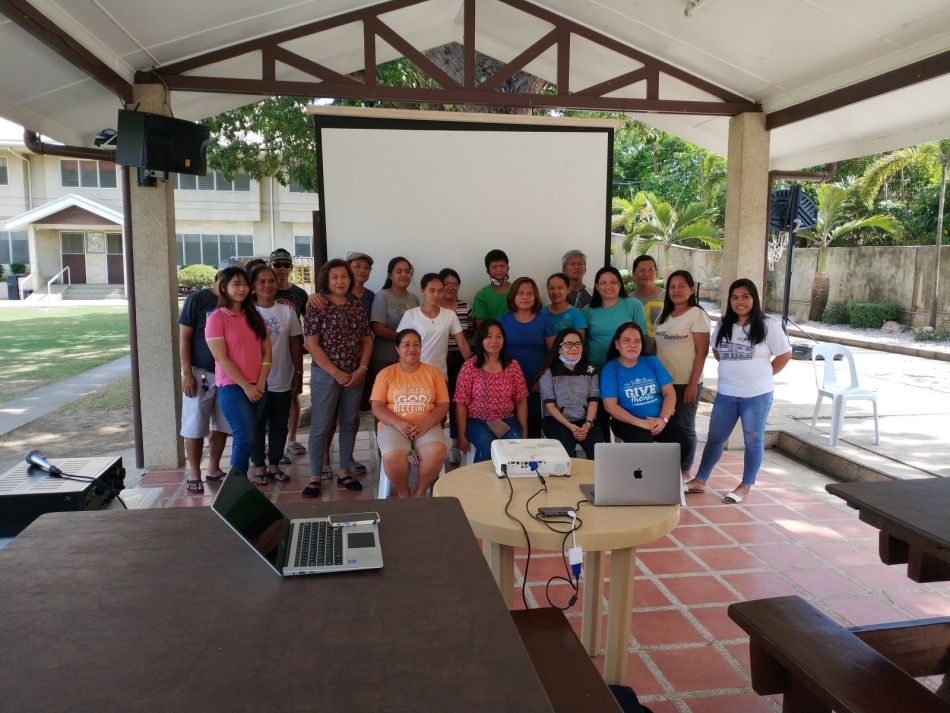 Above is a picture of our first batch of lock-in workers taken March 27th, 2020.
Leading up to the 28th, we'd started stock-piling supplies (food, medicine, etc.) and preparing our employees for a lockdown that we thought, at the time, might last a month, maybe two. It was March 6th, 2020 when the first known case of coronavirus was recorded in the Philippines, and when we at CSC started planning for a "worst case scenario."
By the grace of God, we've endured. I say that because it is truly only by the grace and mercy of Our Lord that we've been able to make it this far. God sent the right workers, gave us generous donors, and sent us folks who would support us through their prayers, time, and treasure. Looking back, I know we could not have done this if God had not assembled all of us—all of you—to do the very best for these precious children we care for. THANK YOU!
I could try measuring our past year by the sacks of rice we've eaten, or the kilograms of fruits, veggies, and meat our aunties and house parents have prepared. I prefer, instead, to measure it in the smiles of our kids and workers. I prefer to step back and count all the victories, big and small; the number of school lessons our kids have completed (we have a record number of high school kids on the honor roll this year, by the way), the number of inches that Jerald has grown, and the number of hours our leadership have been in meetings to ensure everything keeps working.
This year has provided tangible proof of what Paul writes in Galatians 6:9 when he says, "let us not grow weary of doing good, for in due season we will reap, if we do not give up." We look to the future with hopeful eyes, praying that the day will soon come when lockdowns and quarantines can be lifted. In the meantime, let us not grow weary of doing good.
We always thank God for all of you and continually mention you in our prayers. We remember before our God and Father your work produced by faith, your labor prompted by love, and your endurance inspired by hope in our Lord Jesus Christ. (1 Thessalonians 1:3-4)