Staff Reflections
In this season marked by gift giving and receiving, I've been reflecting about a significant gift that I received earlier this year. In July, I travelled to the Philippines and had the opportunity to spend 6 days visiting CSC.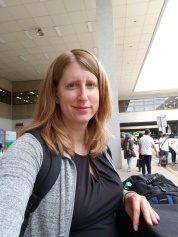 While I've had connections to CSC for almost 15 years, this was my first actual trip there – not for lack of desire to have made the trip earlier, but working within the realities of parenting and being an at-home mom with our 4 young kids. Being there was, of course, amazing, and a true gift. The life-giving ministry that takes place there came alive for me in a whole new way. I don't want to lose that deepened sense of connectedness that I brought back to Minnesota with me, and as part of that desire to hold onto connection I recently revisited some of the journaling that I'd done during my week at CSC. I'd like to share a few excerpts from my journal with you – in hopes that you also will feel a rekindled sense of connectedness to the truly life-altering work that takes place every day, hour by hour and minute by minute at CSC.
From our first day at the shelter – Wednesday, July 19th
It is emotional to be here with the kids! To see little babies who don't belong to anyone-yet here belong to everyone, sweet toddlers who remind me of Berit (our 2 year old daughter) who have already lost someone for a lifetime, preschoolers coming close or slipping in a hand to be held who don't know what it's like to be someone's child, busy elementary schoolers curiously and boldly saying hello – their life stories already so complicated, and tall, growing-up pre-teens who act like they are at camp, yet don't have family to return home to. I've gotten lots of tears welling up in my eyes – for the kids, when seeing Paul being tender and familiar with kids of all ages, and in thinking about life and all of its complexity. So thankful to be here, and so aware that life can be hard.
From Thursday, July 20th
I've seen lots of poverty today while driving, especially on the city tour with Marlys. It's so surreal to drive by it and then to be done with it, while it is remains someone's total life and story. I like to imagine that all of the kids I see who are way too close to the moving cars in the street have a parent close by, or that they are just going for a walk, but I know that isn't true. Especially aware today of CSC as a SHELTER.
From Tuesday, July 25th
CSC is impressive. The physical campus, the stories behind the campus coming to be, the contrast for the kids between what was and what is – as well as new potential for what might be, the many aunties and uncles, the holistic set up that addresses so many important parts of each child's experience, the team of leaders that is both forward thinking and evaluative... and of course the kids themselves. I'm struck today by the RESILIENCY of the kids. Each child here carries with them a heavy, heart-breaking story, but they keep going.
While on the airplane as I journeyed home, as part of my processing of the days at CSC, I made two lists in my journal. One of the lists was titled "Hard Things", and the other was titled "Joyful Things". I'll share a few of the items that were part of each list.
Hard Things – Hearing kids who had been matched for adoption talk about where they would be going when they joined their new families (Australia, Tennessee, Italy), knowing that other kids listening had no adoption plan. Seeing endearing, funny, smart and talented older kids who don't have much time left until their adoption window closes – knowing that their amazing personalities could never be captured on paper and that their age would likely be what would speak loudest to potential adoptive families. Wondering if the CSC kids were wondering if I was "sizing them up" and considering the possibility of adding them to our family, and even choosing what to say about themselves based on that. Thinking about how quickly childhood passes, and "biding time" while waiting for a family. Hearing babies cry and seeing toddlers sitting in highchairs... even when being carefully tended to by aunties, as Paul would say, "It's not the same as being in a family."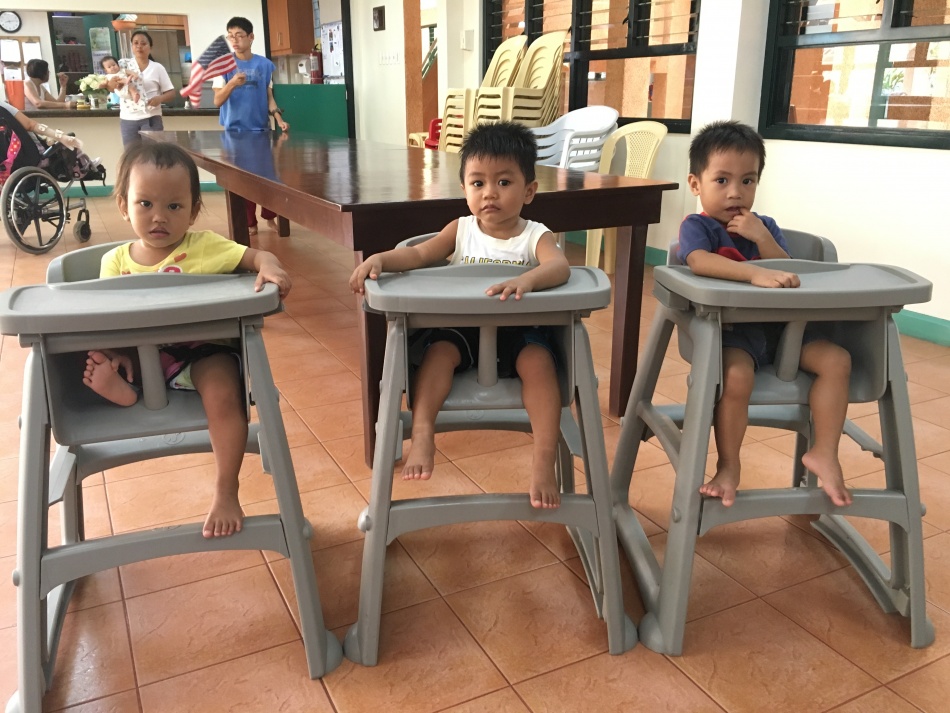 Joyful Things – Bright smiles and sparkling brown eyes. Hearing the house parents lead the kids in devotions before breakfast and after dinner. Listening to the kids sing songs of worship – the sound of their voices floating out from the homes and through the campus. Seeing the kids smartly dressed in their matching school uniforms and getting to walk with them up the hill to school. Visiting Jacob and Ginda's rooms, specially created for them, and seeing how CSC is absolutely committed to them as valued family members. Getting to pray a prayer of thanks and blessing with the overnight workers one night as they started their shift. Being surrounded by a group of 11, 12 and 13 year old girls who just wanted to hang out and talk. Genuinely feeling that there are capable, thoughtful leaders in place. Seeing the employees call out, hug and playfully tease the kids. Sensing real openness from the staff to work together for the children.

Those are some excerpts from my CSC experience. It was truly such a gift to be able to spend those 6 days in July immersed in the daily life of CSC. I'm grateful in a deeper, broader way for this ministry as I'm reminded of both hard and joyful parts of CSC. As a CSC board member, I am especially thankful for the community that supports CSC. To know that children's lives are being changed each day is truly amazing and inspiring, and I'm so thankful for all of you who make that possible!
Most people get a "watered-down" version of Cebu when they come as tourists. Some only see what the tour guides want them to see. Some fly into the airport on the neighboring island of Mactan, but never cross the bridge that connects it with Cebu City. They experience the five star ambiance of the lush resorts and rub shoulders with wealthy people and well-trained staff who pamper them, but they never observe the realities of life in this Third World city. They are sanitized from the poverty, the pollution and the suffering of people in our city.
Visitors to CSC also get an abbreviated version of the story of the ministry. Although we show them our facilities and let them meet our staff and, when appropriate, some of the kids, we aren't able to give them the bigger picture. They see our wonderful homes and get a sense for the quality of care that our children receive. They visit our school and learn about the education that we provide. And they often have questions answered about where our children come and how they can help us.
But there is so much that goes on behind the scenes at CSC that is not apparent to visitors, even if they stay for more than a few days. They probably don't see the efforts of the social workers, child development team, teachers, nurses, therapists and other personnel who make it possible for us to bring children in and provide them with the comprehensive care that they require. Efforts like these:
- Social workers out in the field, working with birth families and gathering information needed for procuring birth documentation, or processing referrals;
- Meetings, meetings, meetings. There are at least ten meetings every day, both formal and informal, involving child care workers, house parents, counselors, therapists, office staff, social work and child development teams, school faculty and security and maintenance workers. These meetings involve financial planning, behavioral issues and updates, strategizing difficult case management issues, and sitting down with people from other agencies, both private and governmental, to advocate for our children;
- Nurses bringing children to labs, doctors' offices and clinics for medical assessment and care;
- Counselors meeting with children to discuss issues from their past or difficulties they may be having at CSC;
- Workers meeting with house parents to discuss problems in the home;
- Team-building activities, staff development and training that aims at making CSC a better place for the children who live here.
- Office staff handling the payroll, purchasing, banking, bill paying and other financial management tasks that are essential to keep things running smoothly;
- The work of transporting these workers to accomplish these tasks, and to get children to school or to doctors or dentist appointments. Our fleet of 10 vehicles is constantly being used to support the many activities and appointments that are needed.
- And, while they may get a sense for the financial needs of a program like ours in Cebu, they don't see the constant fundraising and promotional efforts going on in Minnesota through our stateside office. They don't know of the decisions being made by families and individuals to give generously and sacrificially to CSC for the care of the children, the same ones that they are observing on our playground, at the supper table or marching off to school.
We are thankful for each person who makes a contribution to the ministry here in Cebu, back in MN and around the world. People like you. I wish you could each be recognized by those who lead the tours here at CSC, because you help make the good things that they see possible.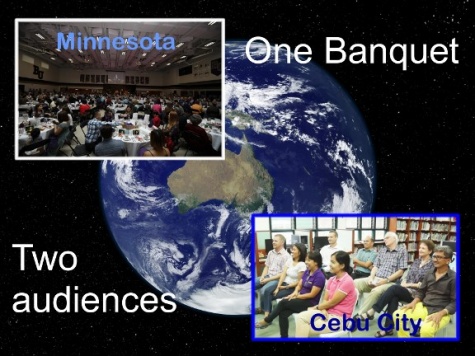 The recent CSC banquet was attended by almost 700 people in Minnesota. On the other side of the world, the staff and workers of CSC were also avid participants. We have a lot of investment in the CSC Annual Banquet. We contribute many hours in helping Matt and Jill prepare, taking pictures, shooting videos and offering suggestions concerning the program. Our workers know how important the banquet is and spend time praying for the event. Even the children of CSC are aware of the timing of the banquet and ask lots of questions about it. They love to see pictures of the banquet and watch the videos that are prepared for showing there.
The banquet started at 7:30 am on Sunday here in Cebu. but we were up and watching via Skype, thanks to Heidi Erickson who had her computer on their table near the stage at Bethel. We couldn't hear all that well, but it was great fun t0 watch what was going on and get a feel for the love and interest in that room. We are the second audience for the CSC banquet, 10,000 miles away, but very interested and engaged and excited to see what gets accomplished every year. We hold our breath when the banquet offering total is announced because we know first-hand how important that income is to the ministry and get to see every day how it is used for the needs of the children we care for here.
The term "stakeholder" is used a lot these days to describe people who have a financial, emotional or spiritual connection to a ministry or program. Certainly all of us in Cebu are stakeholders of the success of the banquet and all the fundraising and promotional efforts of our stateside ministry. But so are all the supporters and lovers of CSC. In that respect, there are many more than two audiences for the banquet. People all around the world are involved as donors and sponsors. In fact, people other than those attending in Minnesota participate in the offering by designating a gift to be included in the collection taken at the end of the banquet. They are excited to hear of the total, as are those who wait patiently at Bethel for the envelop to reach the emcees hands and be announced. It was $126,000!!
But the banquet is more than just an offering, and our stakeholders get to hear and see what is happening in Cebu. It is a night of fellowship, fun, laughter, tears and thanksgiving. One Minnesota attender said that there was "a lot of energy in the room" at Bethel. I know there was. And there was a lot of energy in the room across the world from Minnesota where we were gathered to watch and experience much of what was going on in that room full of CSC lovers, our fellow stakeholders of God's greatness.
Thanks to all who helped make this a great banquet and a blessing to us here in Cebu.
I have a paper snowflake under the plastic blotter on my desk. It doesn't mean anything to anyone else except me and one other person. That other person made the snowflake and many others for me just for fun. I keep the snowflake there as a reminder. A reminder of a special young lady who is thoughtful (hence, the snowflake), sensitive, eager, positive, hard-working, and loving. She is also a bit shy and unsure of herself. She needs reassurance at times. And she's twin and so am I, so she is cool because twins are cool. The snowflake is also a reminder of God's power and hope.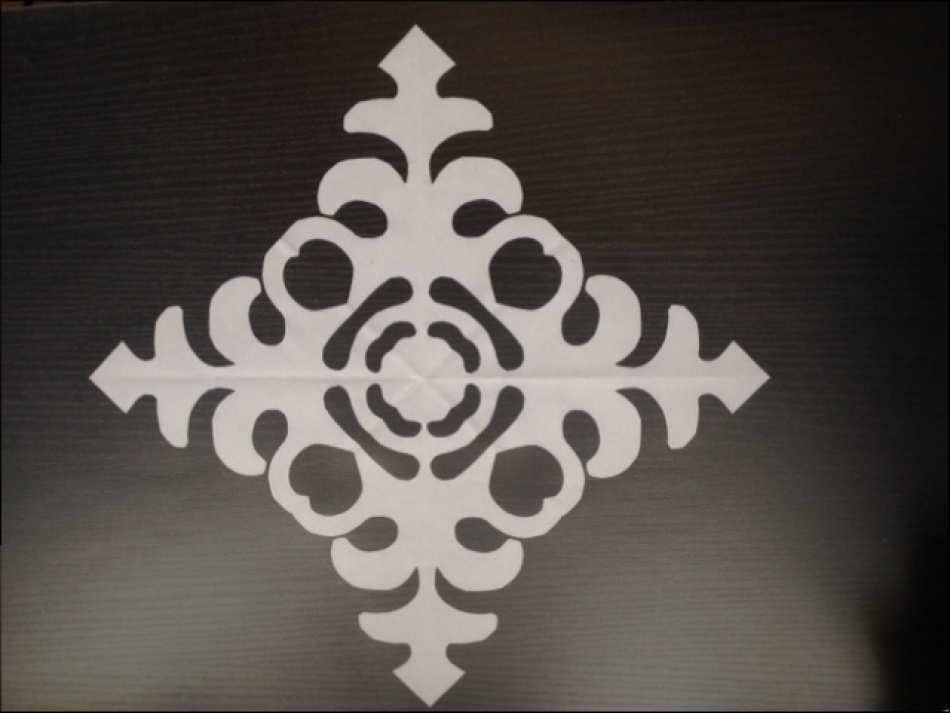 This young lady came to the shelter a number of years ago scared, broken and naive. She needed a lot of love. During her years at CSC, she felt more safe and loved. She soaked up learning at school even though some things were very difficult. She learned English faster than most other children who live at the shelter. And she gradually became more confident in herself, eventually being able to get up in front of her peers and teachers to sing and perform. We thought it was nothing short of miraculous.
This lovely young lady left the shelter with her new, loving family awhile ago. I hadn't seen her since until last night at the annual banquet. We talked for a few minutes before the banquet started. Then during a light-hearted part of the program when some of the adopted kids got up and did a little dance routine to a song, there she was dancing along with her siblings and the other kids. In front of 650+ people! Of course, nobody noticed anything unusual about that girl at the end of the line. But, I knew. Here was that scared, little girl transformed into a beautiful, blossoming young woman in front of a crowd of many people. Now, that was even more miraculous. God's hand at work among us.
Holy Week is a big deal in the Philippines. On Good Friday thousands of people hiked and drove up our road for the Stations of the Cross, an annual trek that seemingly attracts more people every year. Getting up the narrow road with jeepneys, cars, buses, pedestrians and thousands of motorcycles is an incredible experience, to say the least. An experienced person like myself should know better than to try, but there I was, moving at a snail's pace up the hill with cars coming at me with only inches to spare on the side.
About half way up the hill were a group of Protestant zealots with their microphones, speakers and tracts. There were probably a dozen in their group, and they were literally screaming invectives at the people walking by. Their message was clear: "You people going up the hill are all going to hell. You are blasphemers and idolators. Here, come get our printouts and read the Truth." The speakers were so loud I had to cover my ears as the traffic left me right in front of these "soul winners" for about 10 minutes.
I don't think much in the way of soul winning was happening up there on that hill. I remember thinking that the people walking past the screamers were showing a lot of restraint by not taking out their speakers! The whole spectacle made me think about what it means to be a peacemaker. Are different theological beliefs and religious practices so monumental that they compel us to shout, point and condemn? And if the offenders don't respond immediately do we just turn up the volume? Would the screamers' time perhaps have been better spent praying for those they felt were wrong or by offering a cool drink to them in Jesus' name?
As I see the loss of humility in our world today, in our rhetoric about the things that are important to us, and in the shouting match that has become the norm for public discourse in America and the Philippines, I think of Jesus hanging on that tree in humility. And strength. Never was his message stronger nor his cause more powerful than when he humbly took on the sins of the world in his pain and agony.
I pray for humble hearts for all of us at CSC as we seek to do his will.