Staff Reflections
"Writing is a process in which we discover what lives in us. The writing itself reveals to us what is alive in us. The deepest satisfaction of writing is precisely that it opens up new spaces within us of which we were not aware before we started to write. To write is to embark on a journey whose final destination we do not know. Thus, writing requires a real act of trust. We have to say to ourselves: "I do not yet know what I carry in my heart, but I trust that it will emerge as I write." Writing is like giving away the few loaves and fishes one has, trusting that they will multiply in the giving. Once we dare to "give away" on paper the few thoughts that come to us, we start discovering how much is hidden underneath these thoughts and gradually come in touch with our own riches."
"Oh that my words were recorded, that they were written on a scroll..."
JOB 19:23 (NIV)
https://henrinouwen.org/meditation/writing-reveals-what-is-alive-in-us/
I don't write for the CSC blog all that often, but I thought it was interesting that the above devotion came to my email inbox just a little over a week ago. It makes me think that what I write down is a deeper expression of not only what is in my mind, but what is in my heart. I'm grateful for those who choose to read our updates and trust that you will find a nugget somewhere in all this to apply to your own lives.
Another school year has begun at CSC at our Cebu Children of Hope School. I received some pictures over the last couple of weeks that seem like priceless classics to commemorate the beginning of our school year. Much like last year, our school is adapting to new spaces where our kids learn in order to keep them safe and sheltered from the effects of the pandemic. Our actual school building is still being used as a quarantine facility for teachers and other employees who are rotating in an out of the shelter.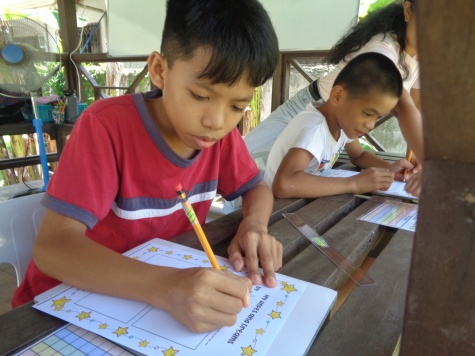 ["My Hopes and Dreams": Don't you just want to know what he's writing for his hopes and dreams?]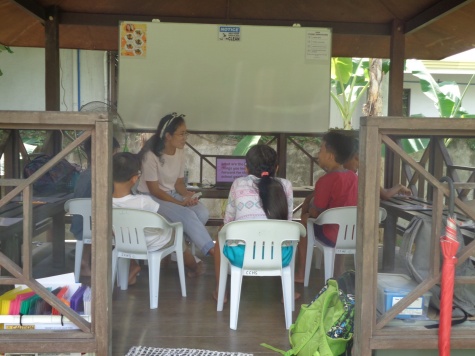 [If you are able, Zoom in on the computer screen. Can't you just imagine what these kids are saying they're looking forward to at the beginning of the school year?]
Jesus' words from Matthew chapter 7 are at the heart of why we do what we do. Jesus says, "'Which of you, if your son asks for bread, will give him a stone? Or if he asks for a fish, will give him a snake? If you, then, though you are evil, know how to give good gifts to your children, how much more will your Father in heaven give good gifts to those who ask him! So in everything, do to others what you would have them do to you, for this sums up the Law and the Prophets.'" We believe that God has far greater gifts to give to us and our CSC kids, and we will do our best to continue to give all that we have for their care, including their education.
The pandemic continues to rage on in Cebu with daily cases at all-time highs, even compared to last year. We had hoped to pull back on our restrictions, but that won't be able to occur until more of our employees have been vaccinated. The vaccines are coming to Cebu, but they are slow in coming with only a few doses available to our employees each week. Please continue to pray with us for good health and safety.
Grace and Peace,
Kirby Stoll
P.S. It is my honor to be able to write periodically for our CSC blog. It is my hope that these words and the words from all those who share from time to time will draw you in to the amazing work we get to do at CSC and that your relationship with the Lord will be strengthened. Learn more about CSC at https://cebushelter.org.
Virgilio was in our first group of employees who volunteered to be inside our lockdown. He sacrificed to be away from his wife and children to lock in at the shelter for six months! When he finshed his "tour of duty" inside our lockdown facility, he reunited with his family.
Virgilio has so many talents, including a specialty in plumbing. He has helped fix many problems at the shelter. At present, CSC is still in a lockdown situation due to Covid-19, but it doesn't hinder the facilities department to render it's services to the kids and other residents inside.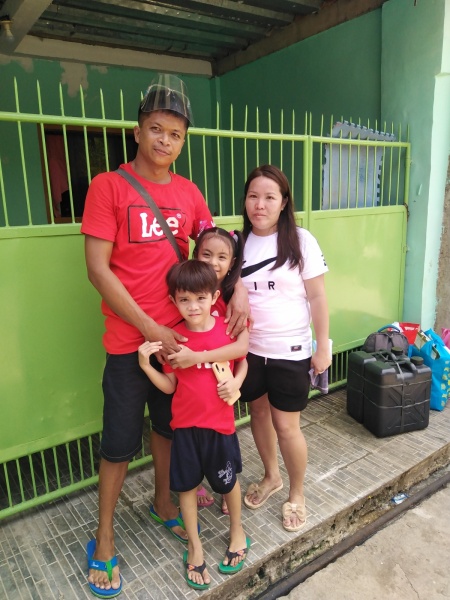 This past weekend we hosted a retirement picnic for our founders, Paul and Marlys Healy. They were obedient to God's call on their hearts back in 1978 to care for the people of the Philippines. They moved to Cebu and immediately started caring for vulnerable children and families. They helped plant churches, worked with local missionaries and took in more children as the need grew. They have left quite a legacy. The organization of CSC continues on, providing for children in need, with a great leadership team, wonderful staff and amazing donors.
It's impossible to adequately thank Paul and Marlys for their 43 years of service. We offered our current CSC staff and residents the option of writing a note to Paul and Marlys. As I was thinking about how we could try to say a word of thanks, I came across this note that summed it up well:
"Congratulations on making it to retirement. None of us have completely witnessed every ounce of effort and care you poured into CSC, but God certainly has. May the Lord continue to bless the toil of your hands, even as the seeds you have sown in our hearts continue to grow."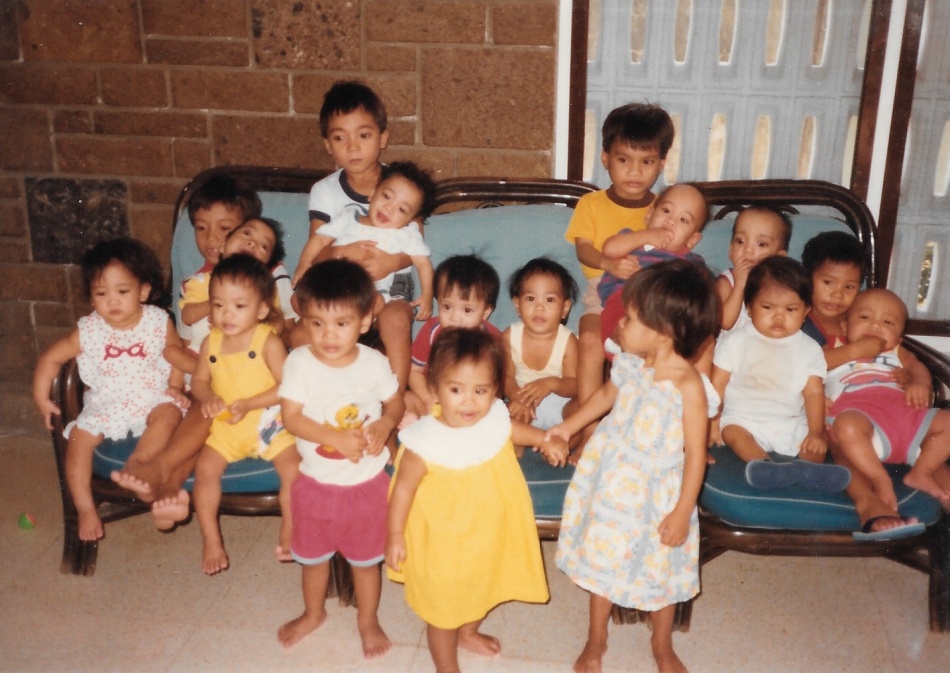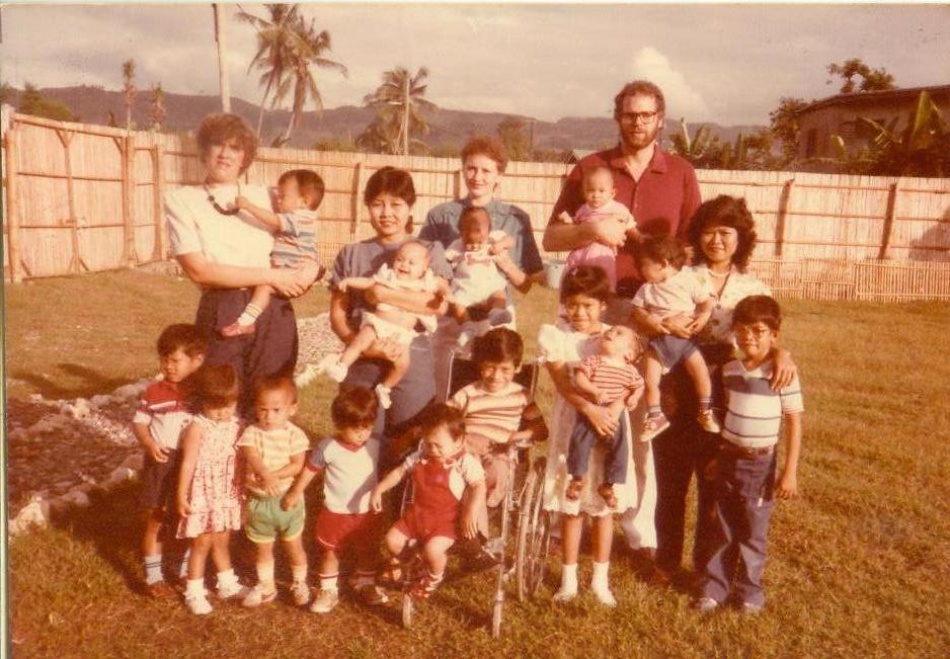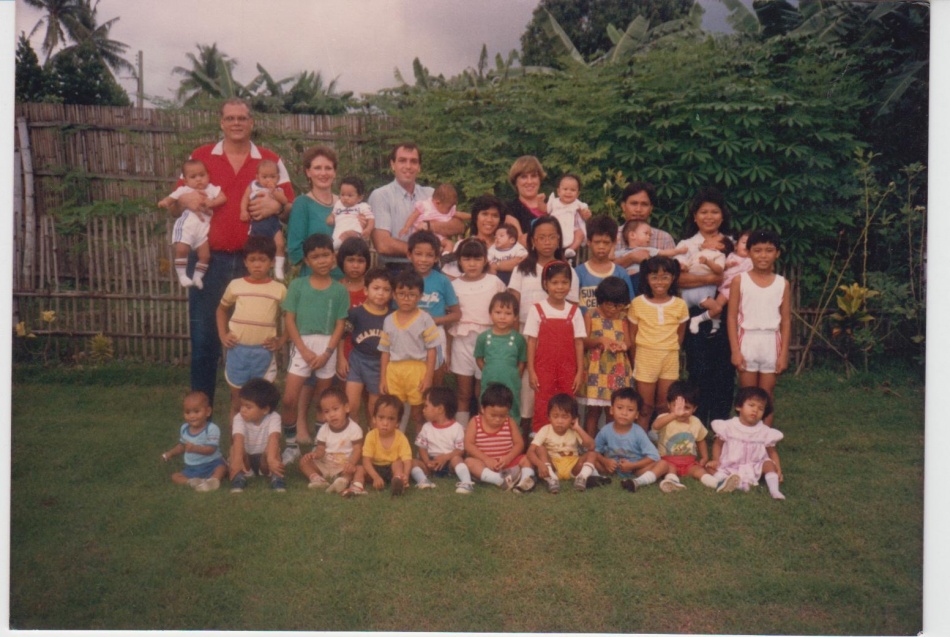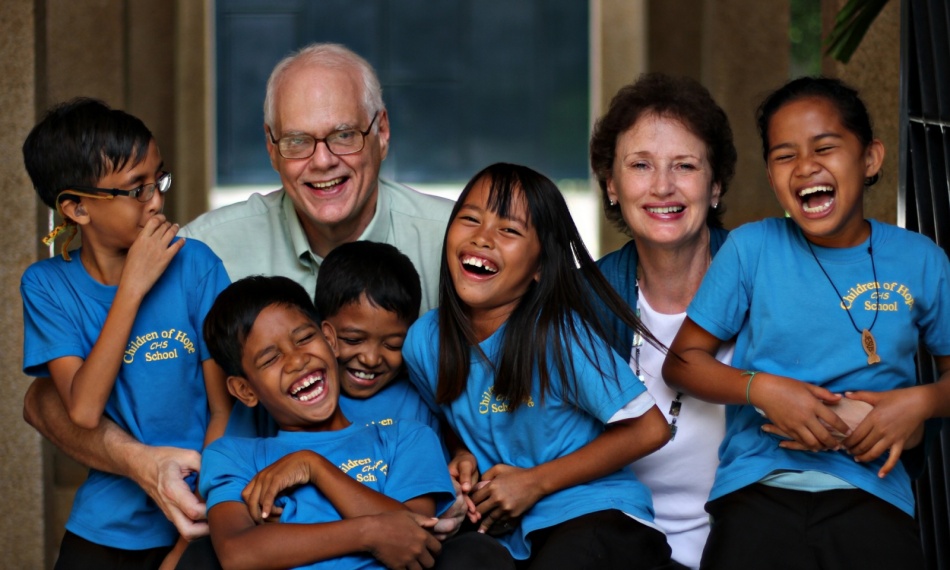 This morning we opened another 50kg sack of rice. As we did, I couldn't help but stop to wonder, "how many bags of rice have we consumed since all of this started!?"
On March 28th, CSC will hit a tremendous milestone. It will be exactly one year since we entered a state of lockdown. On the same day in 2020, governments around the world were scrambling to contain an outbreak of the coronavirus, and the Philippines were implementing some of the strictest quarantine measures imposed by any country. This meant extremely limited mobility, increased difficulty in obtaining goods, as well as fears that the outbreak would quickly overwhelm the country's already strained health care system.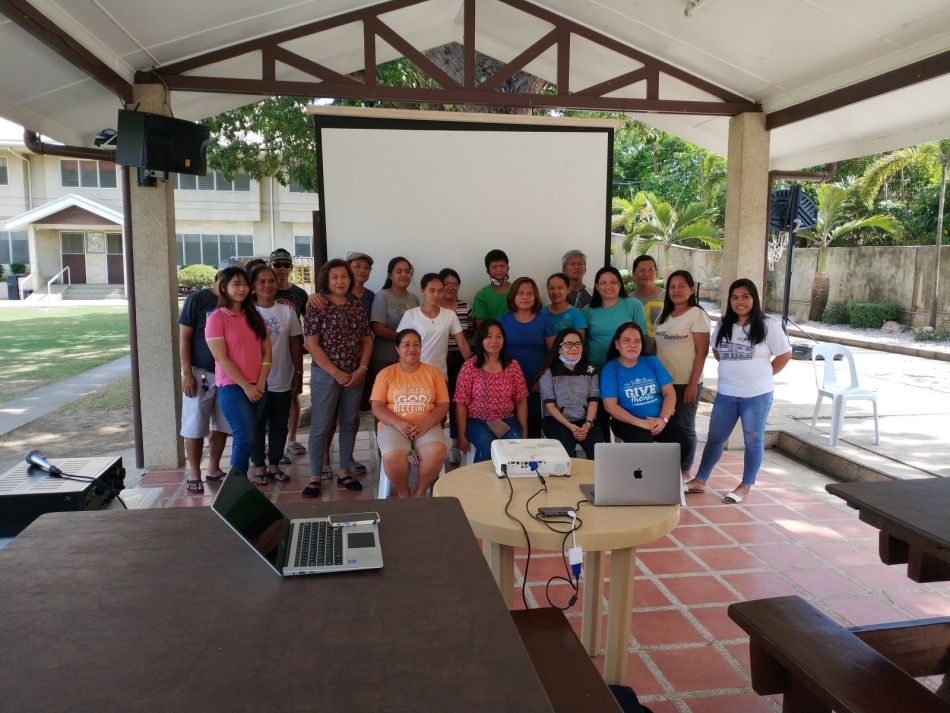 Above is a picture of our first batch of lock-in workers taken March 27th, 2020.
Leading up to the 28th, we'd started stock-piling supplies (food, medicine, etc.) and preparing our employees for a lockdown that we thought, at the time, might last a month, maybe two. It was March 6th, 2020 when the first known case of coronavirus was recorded in the Philippines, and when we at CSC started planning for a "worst case scenario."
By the grace of God, we've endured. I say that because it is truly only by the grace and mercy of Our Lord that we've been able to make it this far. God sent the right workers, gave us generous donors, and sent us folks who would support us through their prayers, time, and treasure. Looking back, I know we could not have done this if God had not assembled all of us—all of you—to do the very best for these precious children we care for. THANK YOU!
I could try measuring our past year by the sacks of rice we've eaten, or the kilograms of fruits, veggies, and meat our aunties and house parents have prepared. I prefer, instead, to measure it in the smiles of our kids and workers. I prefer to step back and count all the victories, big and small; the number of school lessons our kids have completed (we have a record number of high school kids on the honor roll this year, by the way), the number of inches that Jerald has grown, and the number of hours our leadership have been in meetings to ensure everything keeps working.
This year has provided tangible proof of what Paul writes in Galatians 6:9 when he says, "let us not grow weary of doing good, for in due season we will reap, if we do not give up." We look to the future with hopeful eyes, praying that the day will soon come when lockdowns and quarantines can be lifted. In the meantime, let us not grow weary of doing good.
We always thank God for all of you and continually mention you in our prayers. We remember before our God and Father your work produced by faith, your labor prompted by love, and your endurance inspired by hope in our Lord Jesus Christ. (1 Thessalonians 1:3-4)
Happy New Year, and welcome to 2021!
I hope you had a meaningful Christmas filled with opportunities to pause and reflect on the many blessings in your life. It already seems that Christmas and the weeks of Advent are a distant memory. Don't get me wrong, I was there, present for all of it, and had amazing times with our family of eight that included giving and receiving gifts, eating lots of delicious food, playing games, watching some of our favorite holiday classics and taking part in a very special tradition: attending the candlelit Christmas Eve service at our church, this year live-streamed on YouTube.
It is good for us to take a break and reflect on the past, especially at a time like this, the beginning of a new year. It is good for our health and an essential component for anyone who wants to make the most of their lives. I would argue that many of us do not spend nearly enough time reflecting on the past. The importance of doing so will help us immensely. I think we have all heard the quote that says, "Those who do not remember the past are condemned to repeat it." History repeating itself has long been seen as a negative, though I'm certain we could all find elements of history that are worth repeating.
Let this be an encouragement to you to set aside some time right at the start of this year to give thanks for the many blessings God has brought our way and also take time to reflect on the trials we faced as well and remember that even in those times, God was still faithful.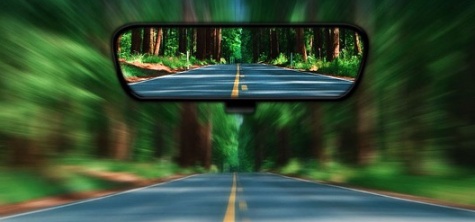 Be careful, though, that your looking back does not become a distraction or pitfall for what lies ahead. We all know that looking in the rearview mirror will take our eyes off the road and distract us from what lied ahead. Rather than looking back and getting stuck in the past, remember that God has a better plan for us. Philippians 3:13-14 says, "...But one thing I do: forgetting what lies behind and straining forward to what lies ahead, I press on toward the goal for the prize of the upward call of God in Christ Jesus." God is calling us forward—He has much for us to do!
God's Goodness to CSC in 2020
I joined the CSC staff this past August. More than half the year was already complete. The global pandemic was making a resurgence. In the Philippines, our children and staff had been on lockdown for five months already. There was hope that by the end of September things would "open up" and people would be able to resume some normalcy in their lives. That didn't happen and the lockdown continued. The most amazing news to share in and through all of this was that not one of our residents or staff contracted the virus. And, as an added blessing, regular illnesses were nearly nonexistent as well, and for that we are thankful to God.
As we passed Thanksgiving and were heading for the Christmas holiday season, we knew so much about this year's celebration would need to change. Plans were being made for how Christmas celebrations would take place in the context of all the new rules and regulations. Of course, here I was in the U.S. as a long-distance observer. Technology has become such as blessing for us this year, and I was able to attend nearly all the Christmas celebrations and staff meetings by Zoom. With the time difference, though, that meant me staying up until 1AM or waking at 3AM and 4AM to participate.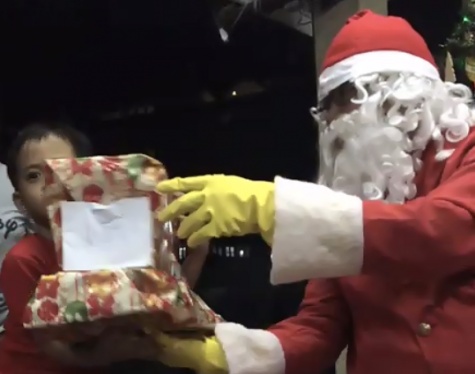 There's not much that could match my excitement for my first CSC Christmas as an employee of this amazing ministry. Suffice it to say, however, the children at the shelter were quite a bit more excited to see Santa arrive by cart to distribute all the wrapped gifts to each and every child. Beyond the gifts, there was singing, sharing the Christmas story or Jesus' birth and a feast that left my mouth watering.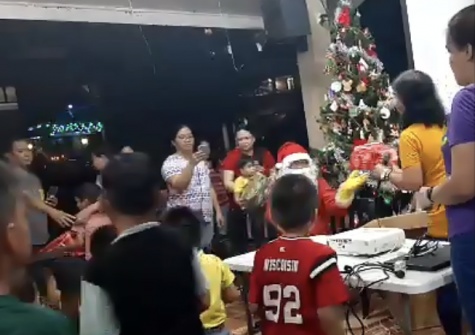 Here stateside, we also had an amazing Christmas celebration as we were so honored to receive all the gifts from our faithful supporters who care so much to see this ministry for homeless Filipino children continue. We were literally shaking our heads at the generous and heartfelt response of all those who identify with the Mission and Ministry of CSC and cheerfully support.
Looking Forward: Opportunities in 2021
Reflecting on the past year has me thinking about CSC's mission statement. I asked our CSC board members last September which parts of the mission statement they identified with or appreciated most. As you might imagine, there were a variety of answers. Several of the board members have been on the board for a long time, while others are relatively new to the board, one member joining in June or 2020. I understand and resonate with their perspective. It makes sense to me that they would have different answers or perspectives. God has made us all unique, after all, and He draws us to different things based on how He made us.
What keeps me focused in my role as president of this ministry is the beginning part of our mission statement that says, "We exist to glorify God...." For 42 years this is ultimately what CSC has been about. Everything we do is dependent on that beginning part of our mission statement. Our glorifying God is the lens by which all other things aspects of this statement and the work of the ministry are viewed. And as we continue to glorify Him, He continues to show us just how much He cares for us all—children and staff—and provides for our every need.
One of the things our Field Director, Roberto, and I discuss on our weekly Zoom calls is the progress being made to admit new children to the shelter. CSC is set apart from other shelters or orphanages by our aspect on placement services and adoption. There are other places right there in Cebu City that provide care for homeless children, but their focus is primarily on long-term residential care. As children are placed through adoption, opportunities for new children to be a part of the CSC family present themselves. Our staff in Cebu are working diligently on both placements and new admissions, but the pandemic and government restrictions have made this effort challenging in 2020. It is our hope that 2021 will see more children being welcomed into the loving arms of CSC and that more children will be place for adoption. Please pray with us to that end.
Prayer
Dear Lord, as we begin a new year, let us not become overwhelmed and anxious about the unknown and what the new year will bring our way. Help us to remember that you will never leave us or forsake us and that you want nothing more than to give your children the best gifts possible. Help us to remember—to reflect on the past—in a way that honors you and gives thanks for all you've done for us. Let us consider first and most what you would want us to do in the months ahead, to see where you are already at work, and then join you in what you have already planned for us to do. In the name of Jesus, the Christ, Amen.
P.S.
It is my honor to be able to write periodically for our CSC blog. It is my hope that these words and the words from all those who share from time to time will draw you in to a deeper walk with the Lord and help you see things from different points of view. While we hope to tell you more about Children's Shelter of Cebu, we also want to share a bit about those who do the work. Learn more about CSC at https://cebushelter.org.
Sources:
The Holy Bible. English Standard Version. Retrieved from:
https://www.biblegateway.com/passage/?search=Philippians+3%3A13-14&version=ESV
The Human Memory. (2020, November 25). Long-Term Memory. Retrieved from:
https://human-memory.net/long-term-memory/
Yocco, Victor S. (2018, January 5). Dwelling On The Past: The Importance Of Self Reflection (Part 2). Retrieved from:
https://www.smashingmagazine.com/2018/01/importance-self-reflection-part-2/