Staff Reflections
(names removed for privacy)
As adults, we typically abhor traffic. A commute that takes 3 or 4-times longer than usual would be exhausting, leaving us on the verge of tears or on the verge of calling it quits. There are, however, those rare occasions when traffic jams can be one of the most amazing, uplifting, and life-altering experiences.
Not long ago, I walked into the Eicher home as [John] and [Jane] were preparing their packed lunches. I closed my rain-soaked umbrella, set it by the door, and made my way towards the kitchen where they worked diligently and with purpose. In an hour, they would be leaving for their second day of school.
"Uncle Roberto, you won't believe what happened yesterday," yelled [Jane].
"Yeah, it took us almost two hours to get home," added [John]. "It was amazing!"
Initially, I was confused by their statements. Yesterday was their first day at the University of Cebu. In fact, I had gone to the Eicher Home specifically to ask them about it. How were their teachers? How was the campus? How was the commute? Judging by their words, their first day of school was awful, and yet they seemed overjoyed and anxious to get back.
"What happened? Tell me about it," I asked.
They proceeded to tell me that the rain wreaked havoc on the roads; not a single vehicle was moving when they started their commute home. On top of that, all the Jeepneys were full, but even if they could get onto one it would likely be stuck in the bumper-to-bumper traffic from downtown to Banawa. They told me that they, along with the other CSC residents that attend UC (7 in total) decided to start walking together towards home while keeping an eye out for open seats on a jeepney. They eventually made their way to One Pavilion in Guadalupe when they called a house father to come pick them up and bring them the rest of the way.
I was in shock, but they were overjoyed. As they were sharing their story, it became clear that the source of their excitement was rooted in a deep sense of accomplishment. In their minds and in their hearts, they had finally done it. They had been taught and trusted by their houseparents and all of us at CSC to commute to school on their own, and they were able to accomplish the task on their first try, on their very first day, and in the face of difficult circumstances. In that moment, they had taken a big step towards independence and adulthood. Plus, they were able to experience something that, in many ways, is quintessentially Cebuano and quintessentially Filipino; something that they had heard every adult, every laborer, every taxi and jeepney driver, every Auntie and Uncle at CSC complain about. They were able to experience traffic, and like responsible adults, they didn't give up. They found a way to make it home, finish their schoolwork, and prepare themselves to do it all over again.
As I bid them farewell and opened my umbrella, I couldn't help but wonder what new and amazing things their second day of school would bring.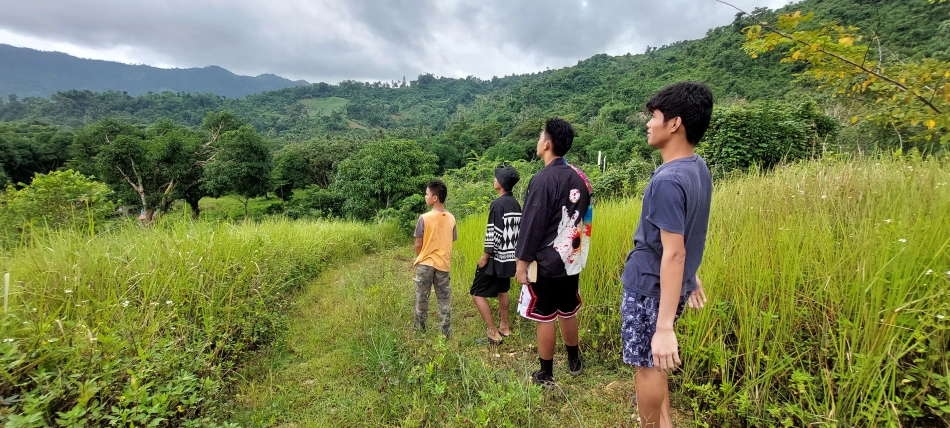 How do you know if what you're doing really matters? Does the same effort always produce the same results? How do you quantify the investment you make in someone's life? These are all questions that never seem to have a concrete answer, but nevertheless they consume our thoughts on a daily basis.
In reading a devotional recently, I was reminded that the culture and society we live in today is focused on success. We're constantly being asked what we've accomplished, how many "wins" we have, ... as if the evidence of success is measured by how much we have or have done.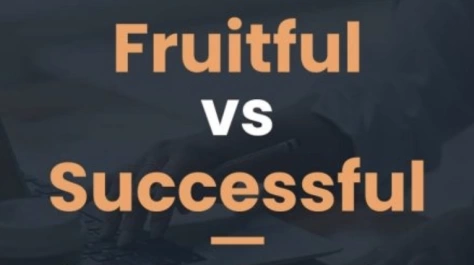 Those of us who have a relationship with Jesus should have a different perspective. From the beginning, God had a plan for us:
God blessed them and said to them, "Be fruitful and increase in number; fill the earth and subdue it. Rule over the fish in the sea and the birds in the sky and over every living creature that moves on the ground." Genesis 1:28 (NIV)
Being fruitful is different from being successful. Jesus said it this way:
Remain in me, as I also remain in you. No branch can bear fruit by itself; it must remain in the vine. Neither can you bear fruit unless you remain in me." John 15:1-4 (NIV)
At CSC, our investment in the lives of the children in our care cannot always be measured. Physical growth, academic achievement and emotional maturity are all markers of growth, but we won't likely see the fruit until much later. In fact, many of those in our care now may experience many years of struggle and hardship before years of joy and contentment.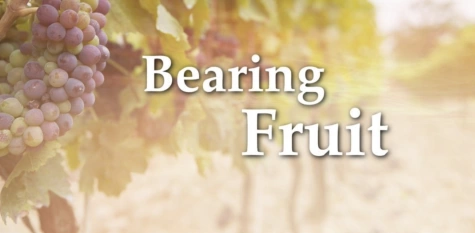 We're in the process of building a new home on a familiar site to many in Cebu. The new home and office complex is where CSC has done ministry for the past 30 of our last 45 years. The home will be a combination of apartment- and dorm-style housing and will be geared toward our young and emerging adult residents. The location is ideal and will offer our older residents better access to the city, for schooling and employment. The program we are offering these residents will be custom-tailored to strengthen their life skills and set them up to pursue their personal hopes and dreams and strive to be the people God had designed them to be. We appreciate your prayer and support. We're excited to share more with you in the coming weeks!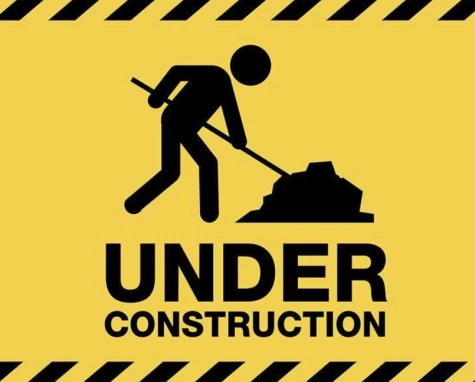 Who knows what the future holds for those CSC who make a life for themselves in the Philippines. God does. And we will be there for them every step of the way.
Grace and Peace,
Kirby Stoll
President/CEO
I was reading recently about friendships and how as adults we often do things--knowingly and unknowingly--that put on our friends an unnecessary responsibility. Maybe we say something in hopes of getting a response. Maybe we do something and then later wonder if it was done with the right motive.
Children demonstrate a refreshingly different perspective than adults on friendships. I see this as I watch my own children relate to their friends. Sure, they experience ups and downs, good feelings and hurt feelings, but they also have this way of demonstrating spontaneous, unfiltered and unconditional love to those they call friends. There is a lot of laughter involved more often than not.
A childlike perspective is likely what we all need as we view life with those in community with us. It reminds me of words that Jesus spoke that says, "anyone who will not receive the kingdom of God like a little child will never enter it" (Luke 18).
Pictures from the last two blog entries -- Sports Fest 2023 and Toddler Playground -- remind me of the friendships our CSC children have with each other and the joy they can experience as a part of the CSC family. They are an inspiration to us all!
Today I plan to think about my friendships--the new and the old--and to consider how I approach them...hopefully with a childlike perspective.
Our Spring 2023 issue of News from Cebu was mailed this week. It's so exciting to see the Mission of CSC -- for nearly 45 years now -- being fulfilled as we provide the loving, Christ-centered home that provides a strong foundation for healthy friendships.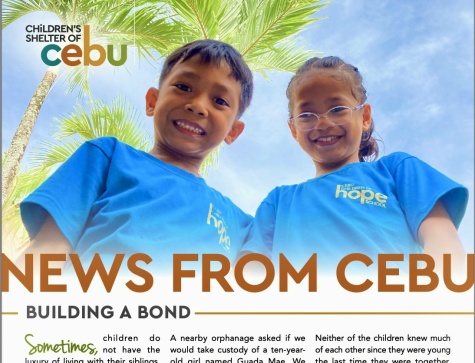 Grace and Peace,
Kasama is a word in Tagalog that has many meanings, depending on how the word is used in a sentence. As a noun, kasama means "companion, housemate, associate". As a verb, it means "to be together". As an adjective, kasama means "together with, accompanied with, staying with".
You can see kasama used in a very technical sense, like when describing charging cord that is included with your phone or electronic device.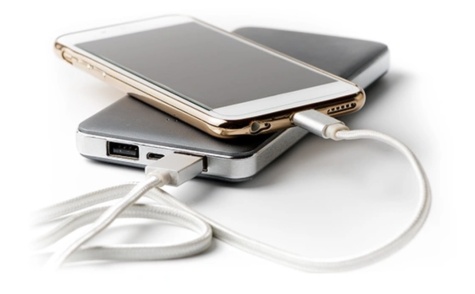 You can also see kasama in a more meaningful context, which is what I'd like to describe to you.
I've heard it said that your neighbor is the one who crosses the road for you. In the parable of the Samaritan and the man who was left for dead, we see that the other two who noticed the man and his condition actually walked on the other side of the road to avoid the man who was desperate for help. But the Samaritan drew near to the man and not only took note of his condition, but invested his time and money to help the man and to see that he was restored to full health.
This is true kasama: together with, accompanied with, staying with.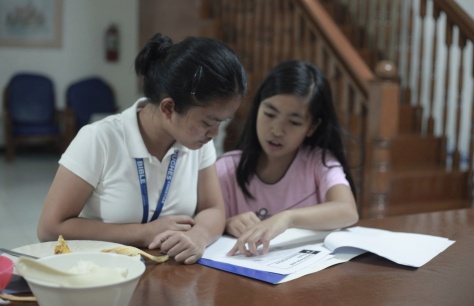 At CSC we strive to be together rather than apart. We have learned that being together helps build community. We can learn from each other and support one another. We can celebrate with and mourn with one another.
This is my hope for us all, that we would model that adjective form of kasama to whomever is in our path today. Let us not see that person as an obstacle or someone to avoid, but as an encounter and someone we are called to care for.
Grace and Peace,
Kirby
By Eric Abellana and Meravic Nalang (Counselors)
Emily Dickinson once wrote that "there is no Frigate like a book." In her poem, she described how a book could ferry us to faraway lands or unfathomable seas. That poem has a lulling melody yet a compelling voice. In counseling, we have different frigates that have helped us guide the children in exploring their faraway lands (future and goals) and unfathomable seas (past and trauma). Talk, art, and music have been a great help for several years in dealing with children in counseling. This year, the mothership was finally realized.
On May 20, the counseling department finally moved to its new space, the Alimyon Hall. Alimyon is a Cebuano word for scent/aroma. Although we use scents/aromas as an aid in counseling, this is not the reason why the space is named Alimyon. We believe that emotions put the colors to our thoughts; behavior is the scent of our emotions—a scent that can be seen rather than smelled. In this new space, play has been the frigate that helps us in dealing with the children. Toys, a lot of them, like sand trays, art materials, and musical instruments are present in Alimyon. These have evoked a lot of emotions from the children.
Joy is the dominant scent here as younger residents dive into their world as they start to play. They become attuned to the present, focusing on the story of their play. For older residents, play allows them to reconnect with their inner child with the help of sand trays. Through their play, we can have a glimpse of what they've been through; where they are going; and what they are hoping for. With smiles on their faces, excitement in their voice, and the calmness of their hearts radiate the scent of joy.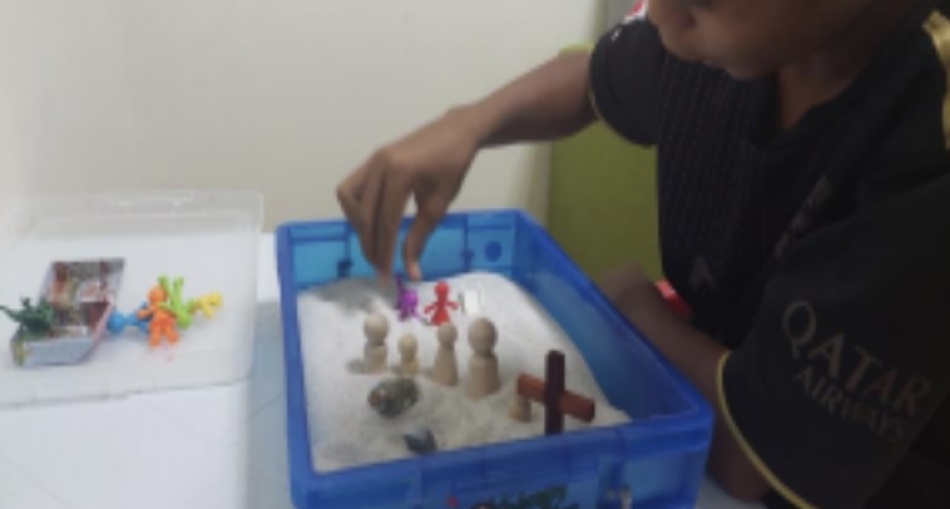 Play has always been the most comfortable language for children. You let them play with toys, and they will tell you a story. You let them play some musical instruments, and you'll hear the anthem of their days. You let them play with colors and they will give you masterpieces that outshine Van Gogh's or Monet's. Emily Dickinson was never wrong about books. They surely ferry you somewhere. Play offers the same to children.