School News
In science, the grade 3 students learned that a hand lens is a tool you can hold against your eyes to make little objects look bigger. It's amazing how these young scientists appreciate every little object and insect they can find and observe, which appears bigger through a hand lens. As their teacher, it was a great privilege for me to connect Psalm 8:4 ESV: "What is man that you are mindful of him, and the son of man that you care for him?" Often times, little things are neglected and overlooked simply because they appear insignificant. Even though we are just a speck of dust in this universe, the Lord is mindful of us, and He cares about every detail of His precious creation.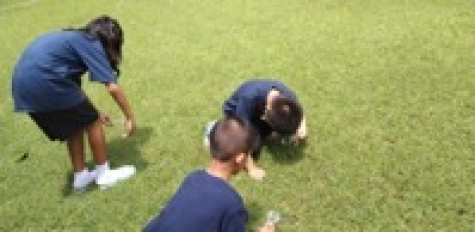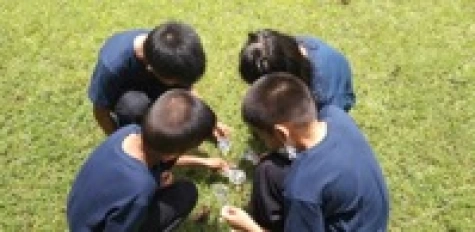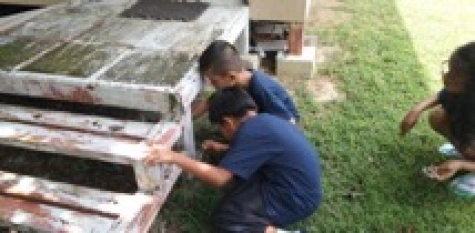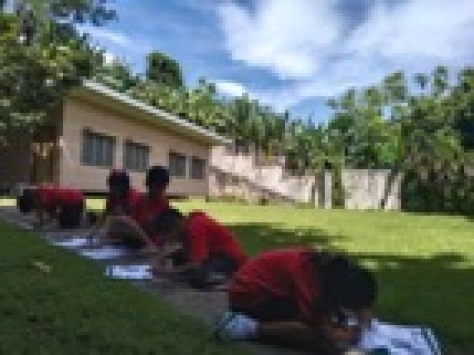 "Sometimes, little things make a big difference."― Nino Varsimashvili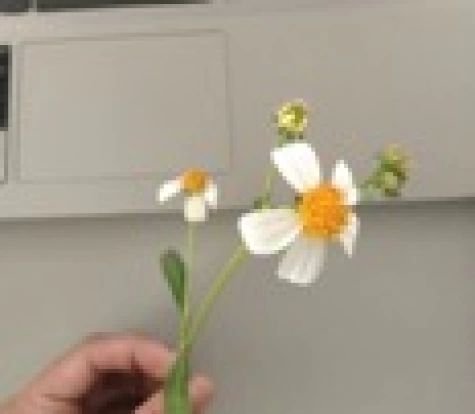 A student gave this lovely flower early in the morning with a beautiful smile while saying, "Good morning, Teacher!" It's simple and little things, that makes the teacher's day extraordinary!
Hello there, book lovers! I had an awesome experience with my students, who had the most amazing library visit ever in the new school year, 2023-2024. It was a day filled with laughter, learning, and curiosity.
The first-grade students gathered in the library, and they couldn't stop wondering what they witnessed. Shelves were piled high with books of all types, and they felt like they had entered a whole new world of possibilities. They also sat in those comfortable beanbags, eager for the adventure to begin.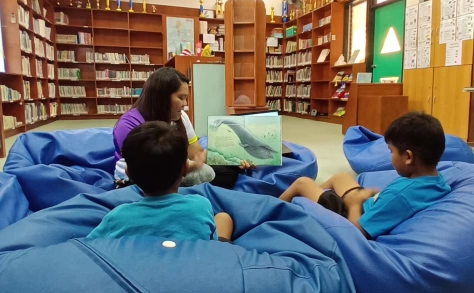 Teacher Merce, our librarian, accompanies them on this incredible journey; she began reading a fantastic story about a whale and a fish. Her voice was magical, bringing the story to life and taking the students on an underwater adventure.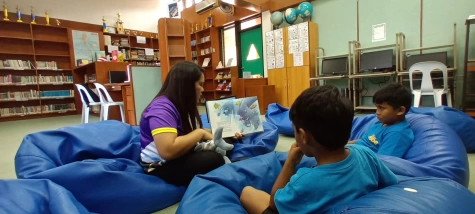 The students didn't just sit there quietly, they were completely captivated! They raised their hands, expressed their opinions, and even predicted what would happen next. It was a worthwhile discussion of the story, and everyone had a great time.
And guess what? One of the enthusiastic students said that he was excited to visit the library to borrow books and everyone nodded in agreement. That's incredible! It's as though he couldn't wait to dive into new stories and discover new things.
When the story wrapped up, the excitement wasn't over. Teacher Merce showed them around the library and introduced them to all the wonderful books they could explore. The students ran their fingers along the book spines, imagining all the cool adventures they could have by picking up a book.
You could see the light in their eyes as they exited the library. This was more than just a typical library visit. It was the beginning of a whole new journey. The students were excited to read, learn, and use their imaginations. Who would have thought that a simple visit to the library could be so exciting and full of possibilities?
The inspiring story of my students' first library visit this school year serves as a reminder that books are like keys that can unlock endless doors to imagination and knowledge. So, remember the adventure that awaits you the next time you visit a library!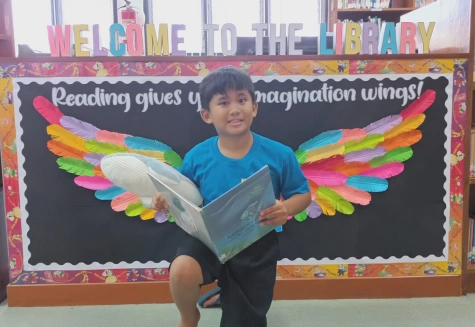 In the golden morning light as the world begins to awake
We welcome you to our school with a warm and glad decree,
Your spirits rose to such heights during the sun-kissed days of summer.
Now, in the embrace of our school, we will soar to the skies together.
There seems to be a passion in every heart,
With backpacks full of aspirations and unbridled curiosity.
We'll spend the day learning as we read enthralling stories
With heroic characters who are strong and courageous.
We'll develop and play our role, like blossoms, fresh and green,
In numbers, shapes, and art, as well as in wonders yet unseen
In the magnificent flood of learning, teachers stand
At your side, holding and guiding each tiny hand.
Therefore, let the bells ring out in a chorus of delight,
Saying, "Welcome back, my dear," in the midst of insight.
May knowledge fill your heart, in this magnificent school hall,
To the beginning of a new chapter so welcome one and all!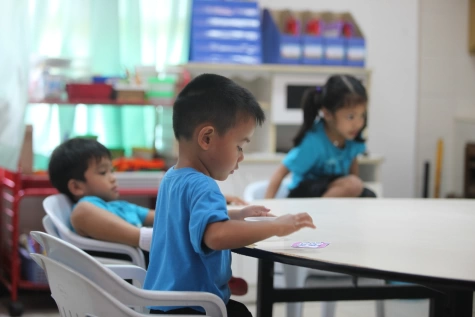 As a teacher, my role goes beyond imparting knowledge to my students. I have the privilege and responsibility to be an instrument of shaping their character, instilling good values, and helping them grow into well-rounded individuals. And one of the most important values I strive to teach them is the love of God.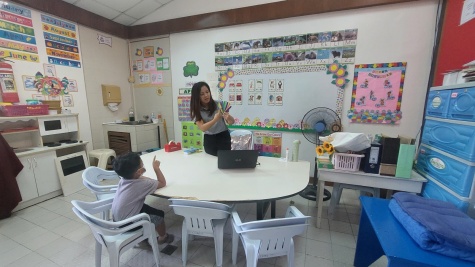 As a Christian teacher, my calling is to reflect God's love in everything I do, including how I interact with my students. I make sure that every student feels seen, heard, and valued. I take the time to get to know them, their interests, and their struggles. I listen to their stories tries to create a safe and inclusive classroom environment where everyone feels welcome.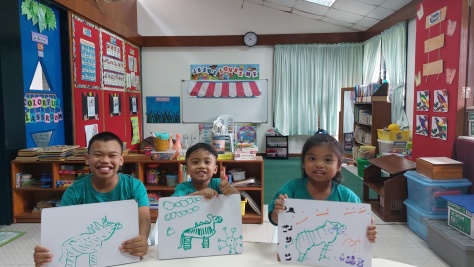 I strive to demonstrate compassion, kindness, and forgiveness. I realize my students struggle in dealing with daily challenges as they interact with one another, but I feel that by showing them grace and forgiveness, I can teach them how to extend these traits to others. One of the ways that I express God's love to my students is by including prayer in our daily routine. Before each session, we take a moment to pray together, asking for God's direction and blessing on our day.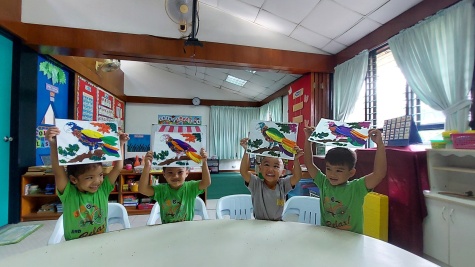 Another way that I strive to represent God's love is by using the Bible to teach my students values such as honesty, integrity, and humility. I believe that the lessons of the Bible have timeless wisdom that may help lead us in our daily lives, and I aim to assist my students in recognizing the relevance of these teachings in their own lives.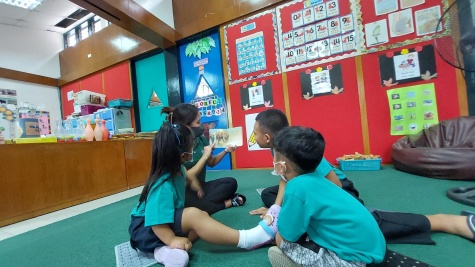 Overall, I believe teaching is a calling not just a career path. As a Christian teacher, I am honored to share God's love with my learners and help them grow into God's purpose and design. I am thankful to be a part of this teaching ministry. I pray that God will continue to guide me and all the teachers who have chosen the adventure of teaching children.
Sports Fest is a popular event in every school in the Philippines. Teachers in every institution set a time for planning and preparing for this event. Most schools are excited to find new talents or ways to enhance students' skills in sports.
As a Physical Education teacher at Cebu Children of Hope School, it is fulfilling to see the students' excitement and joyful expression as they participate in each game. Through this activity, it is also fun to see their reaction when they win or lose the game. It is a great opportunity for the teammates and coaches to cheer and encourage the players.
During the competition, there are always mixed feelings. It brings out the best in every team member and sometimes teaches each participant a lesson to learn when the game does not go according to the team's plan.
Here are glimpses of students' experiences during CCHS Sports Fest:
"What I like about Sports Fest are the games like the tug-of-war where you can see the teamwork and support of my team through helping and cheering each other, hula-hoop, jump rope, high jump, and egg toss." – Maribel
"I like playing many games, our team chants, and the refreshment prepared for us by the teachers. I am grateful for the fine weather and the awards that we received at Sports Fest. We were the overall champion and I ranked third in the Running Long Jump III event." – Ryan
"I like to see the faces of the people in the Sports Fest when they are happy. Aside from that, I like the dancing part because every one of us is confident to dance. Seeing us dancing confidently makes me happy." – Jay-em
"I like the tug-of-war because I can see the strength and the joy of my best friends. I am so proud that we are the overall champion of this year's Sports Fest." – Raphael
"I like to watch how my co-players execute teamwork in their respective teams. I am so proud that I ranked 2nd place in the Limbo III event. – Jerame
Sports Fest contributes a big part in their life being a student. When they participate in this event; they will learn lessons that might never happen in the four walls of the classroom.