General News
When you care for 80 residents, from infants to young adults, you want to make sure you are prepared as a global pandemic creeps closer and closer to your front door. Though CSC (and most of the world) is maneuvering through uncharted waters, I am proud of the way Roberto, Paul, and the CSC leadership team have been proactive and creative in their response.
One of the top priorities before COVID-19 became prevalent in Cebu was to make sure we would have the manpower and supplies needed to continue to provide fantastic care for our kids. As we were working to stock up on medicine, food, diapers, and other daily necessities, God was working in the hearts of many CSC employees who volunteered to be "locked in" at the Shelter. These people (pictured below) were an answer to prayer as the best way we could keep our kids safe from the virus was to do a total lockdown.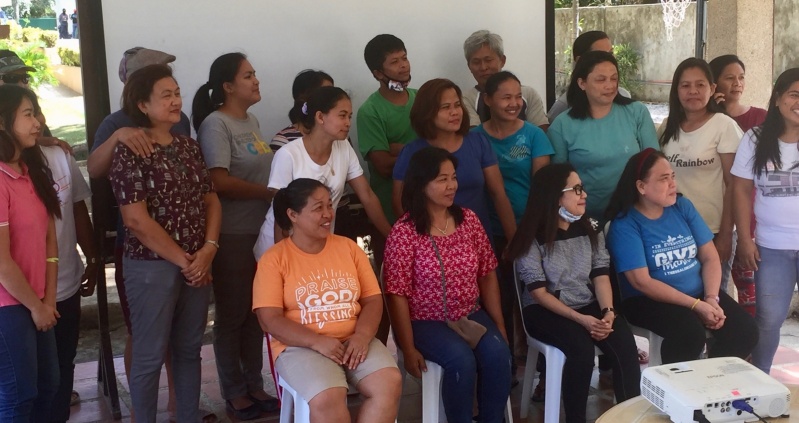 We are now in week 3 of lockdown at CSC and God is continuing to show His goodness. I am so thankful for our team of dedicated CSC employees and the ways they are using this time at the Shelter to create fun memories for our kids and enable them to continue progressing academically. Teacher Cris, our CCHS principal, signed up to be locked in at the Shelter and is helping lead the kids in academic activities every morning. Everyone from house parents to aunties to social workers to nurses have stepped up to do what is needed for the ministry at this time. God's presence is so visible at CSC!
As a leadership team God has been helping us be creative with how we can support our "locked in" coworkers. Prayer has been our main vehicle. Every night at 9:30pm we pray for the kids at CSC as well as our coworkers who are living and working at the Shelter. We also divided up all the locked in employees among the leadership team so each of us have 3 or 4 specific people we are more intentionally praying for every day. During Holy Week we set up Facebook Live events so both the employees locked in and those locked out could worship together and encourage one another. The Saturday before Holy Week the locked in employees had requested a special worship time that would just be for the adults, a time when they could focus their worship without having to divide their attention with monitoring kids and helping them worship. Roberto and Paul arranged a time after the kids went to bed to gather all the adults. The employees were so thankful for that time of refreshing! As a leadership team we are meeting together online 2-4 times a week to be proactive and planned as the COVID situation constantly changes in Cebu. Pictured below is one of the many checkpoints around the city.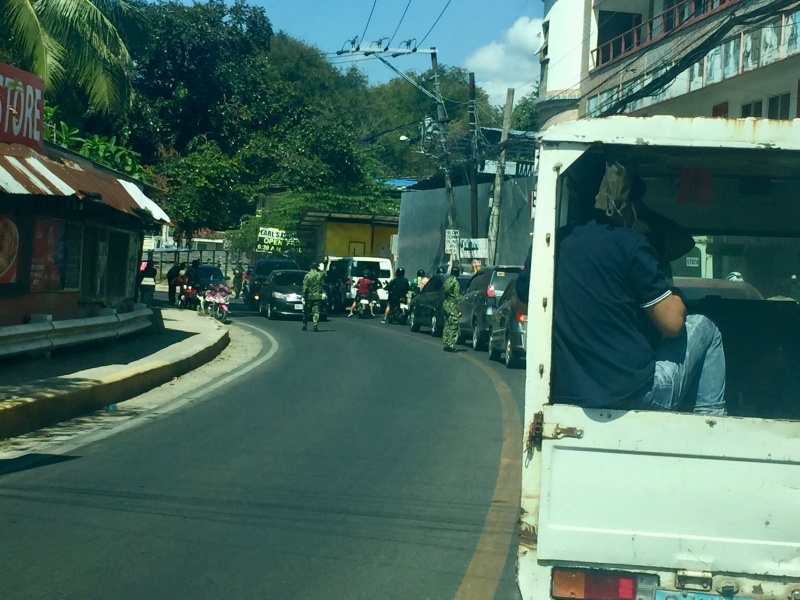 The immediate outlook in Cebu is not promising. A couple of days ago they set up road barricades around our part of town (pictured below) as we have growing numbers of COVID cases. Now, today, there are rumors that the road that the Shelter is on will have its own barricade, prohibiting anyone from coming in or going out. Many questions like how we'll get food deliveries to the Shelter are on our minds. But, just as God has been faithful and present continually over the past 40 years, He will show Himself able and good in the midst of increasing restrictions.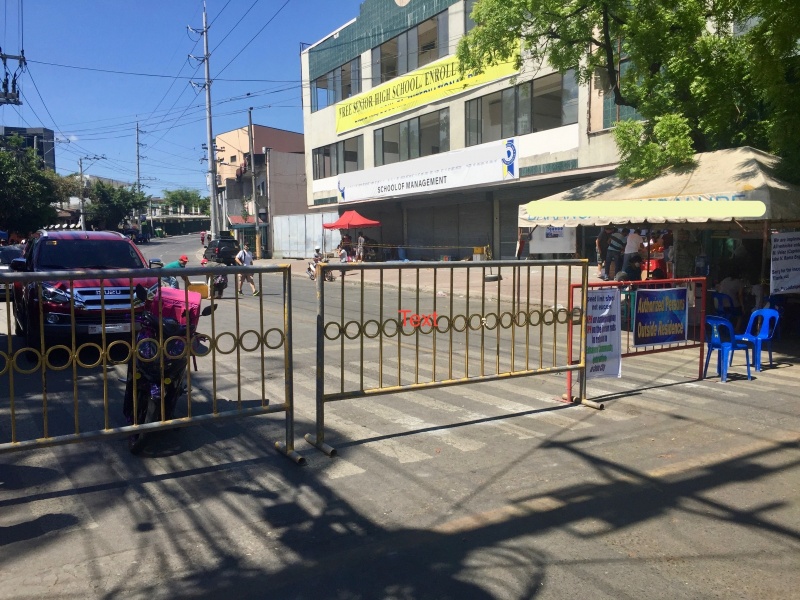 Thank you for your continued prayers! We at CSC know that there are many, many places in the world that need your prayers and financial support. We are extremely grateful for your continued commitment to our amazing kids!
Since CSC is on lockdown the leadership team has been meeting regularly, sometimes more than once a day. The children, some of our child care workers, two nurses, counselors, social workers, maintenance men, guards and other staff are locked in for a two week period. Recently Field Director Roberto Atienza established a Facebook group page for the Leadership team to stay updated on how things are going at the shelter, things that are needed, government directives, prayer concerns and other communication needs. Pictures that are sent out from the shelter are shared on this forum. It is a place to announce meetings, discuss important decisions and even joke a little. It is an on-line meeting room for expressing support and solidarity during this difficult time at CSC.
Examples of posts:
There is a problem with the solar panels. Jerry has called the company and made a video of the meter to give their engineer. Since nobody from the outside can go inside, Jerry (who is also locked out) has to relay instructions to our maintenance men.
The city government has some new directives limiting movement of people and establishing quarantines and travel bans. What does this mean for our workers and staff?
Kids are enjoying their meals and are being kept busy with school work, recreation and fun activies organized by Jinkee, Eunice and Annie.
There will be an on-line worship service Sunday night for the CSC community featuring music by the "locked-in" aunties and kids, and a message by Roberto
Some of the kids are sick. We need to pray and encourage our nurses and review our scheduling.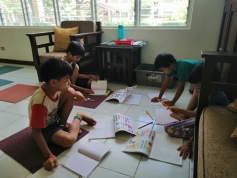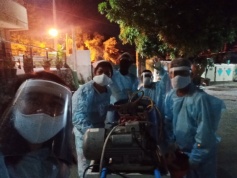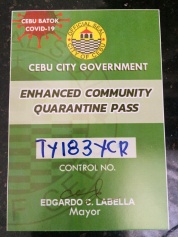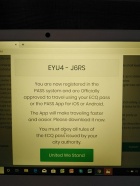 Please pray for our leaders, the "locked-in" gang in Banawa, and, most especially, for the kids. Join our leaders in praying for protection for them, that they would be safe and secure and know that they are loved and treasured.
In the past month 54 kids have been treated for respiratory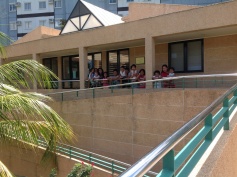 illness. Yesterday was the first day in several weeks that we didn't need to go to the doctor, and four kids were ecstatic to finally go home after being in the infirmary here at the Shelter. The infirmary has six spacious rooms where children are monitored by our medical staff and cared for by our child care workers 24 hours a day when they are ill. There are 12 kids still isolated so we hope to send them back to the houses in a couple of days.
Thankfully, Shenly and Wilmar were discharged from the hospital and are recuperating at home, but Wilmar misses having air conditioning and his own TV!
The hospitals are full and masses are sick with the same type of illness, so we are praising God for miraculous healing, as we have never had so many sick kids at one time.
On October 3 Sam's mother gave birth in a taxi so was rushed to Cebu City Hospital, which is temporarily housed at the City Fire Department. He was exposed to many dangers in the first hours of his life. Since the mother was unable to care for her baby we took him and admitted him to the hospital we use called Cebu Doctors Hospital, where he is fighting a severe infection. Thankfully, he is drinking well, and has gained a bit of weight.
Without hesitation we bought 77 pillows yesterday for $300, knowing that our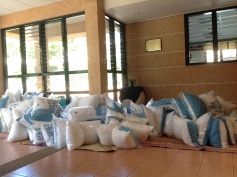 supporters would be thrilled to know that each of the kids has a brand new clean pillow. The kids are excited to see the huge mound of pillows piled up in the Duterte house just waiting to be passed out after school today.
Thank you so much for your concern and prayers for everyone at CSC.
Here is a bird's eye view of CSC The lot between the shelter and the Children of Hope School is one that we have been looking at and praying about for several years. It will take a miracle for CSC to get that middle lot, but because the owner doesn't seem to be sure she wants to sell and the price that she hinted at is really high. So we pray and dream and pray some more. Please join us in the praying and the dreaming if you want to!