General News
In the past month 54 kids have been treated for respiratory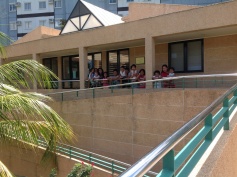 illness. Yesterday was the first day in several weeks that we didn't need to go to the doctor, and four kids were ecstatic to finally go home after being in the infirmary here at the Shelter. The infirmary has six spacious rooms where children are monitored by our medical staff and cared for by our child care workers 24 hours a day when they are ill. There are 12 kids still isolated so we hope to send them back to the houses in a couple of days.
Thankfully, Shenly and Wilmar were discharged from the hospital and are recuperating at home, but Wilmar misses having air conditioning and his own TV!
The hospitals are full and masses are sick with the same type of illness, so we are praising God for miraculous healing, as we have never had so many sick kids at one time.
On October 3 Sam's mother gave birth in a taxi so was rushed to Cebu City Hospital, which is temporarily housed at the City Fire Department. He was exposed to many dangers in the first hours of his life. Since the mother was unable to care for her baby we took him and admitted him to the hospital we use called Cebu Doctors Hospital, where he is fighting a severe infection. Thankfully, he is drinking well, and has gained a bit of weight.
Without hesitation we bought 77 pillows yesterday for $300, knowing that our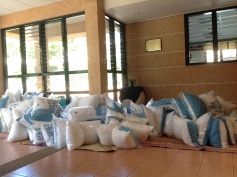 supporters would be thrilled to know that each of the kids has a brand new clean pillow. The kids are excited to see the huge mound of pillows piled up in the Duterte house just waiting to be passed out after school today.
Thank you so much for your concern and prayers for everyone at CSC.
Here is a bird's eye view of CSC The lot between the shelter and the Children of Hope School is one that we have been looking at and praying about for several years. It will take a miracle for CSC to get that middle lot, but because the owner doesn't seem to be sure she wants to sell and the price that she hinted at is really high. So we pray and dream and pray some more. Please join us in the praying and the dreaming if you want to!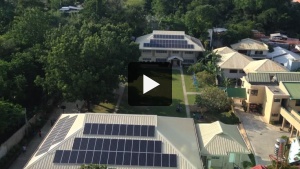 This video kind of sums up the feelings of Marlys and me about the history of CSC. For 14,600 days, He has been with us. He is the God of all our days!
CSC will be celebrating 40 years of ministry on June 28 and 29 here in Cebu City. Plan to be with us for this exciting and meaningful look at how this ministry has grown and thrived since our inception in 1979. We will be celebrating the goodness of God and the contributions of the many people who have given of themselves to make many good things happen here. Check out our videos that give a taste of the celebration.
Video Trailer 40 Years of Performances
40 Years of Great Kids 40 Years of Twins
40 Years of Adoptions 40 Years of Fun