Three Generations of CSC Lovers!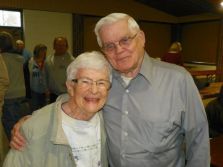 Back in the '80s, Warren and Marie Hagfors were in Cebu as volunteers with the Evangelical Free Church. While there they got to know the CSC staff and were frequent visitors to the shelter. Warren helped as a computer instructor to the staff. Within a few years, they were back in Cebu, this time as CSC short-term staff. Upon returning to the U.S., Warren served on the CSC Board and Marie cross-stitched over 40 designs for the houses in Cebu.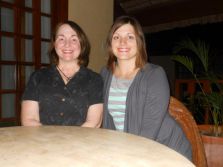 Pat Hoeft learned about CSC from Warren and Marie, her parents. She became a loyal CSC supporter and friend to the staff. She is a medical doctor, and the hospital that she works in donated lab equipment to CSC several years ago. She went to Cebu to help get the equipment set up and running. Just this week she went to Cebu to visit her daughter, Lindsay, who is working on the CSC staff as Director of Counseling as a part of our childcare team. Lindsay is a third generation CSC lover from the Hagfors line! We were recently overjoyed to learn that Lindsay has committed to a third year with CSC in Cebu!