A Wonderful Day at the Library: Our First School Year 2023-2024 Adventure
Hello there, book lovers! I had an awesome experience with my students, who had the most amazing library visit ever in the new school year, 2023-2024. It was a day filled with laughter, learning, and curiosity.
The first-grade students gathered in the library, and they couldn't stop wondering what they witnessed. Shelves were piled high with books of all types, and they felt like they had entered a whole new world of possibilities. They also sat in those comfortable beanbags, eager for the adventure to begin.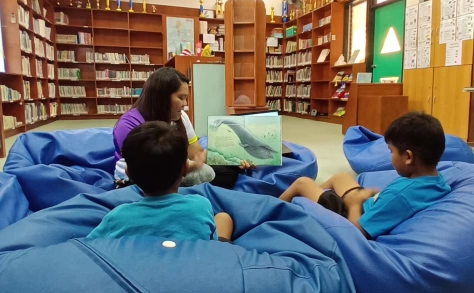 Teacher Merce, our librarian, accompanies them on this incredible journey; she began reading a fantastic story about a whale and a fish. Her voice was magical, bringing the story to life and taking the students on an underwater adventure.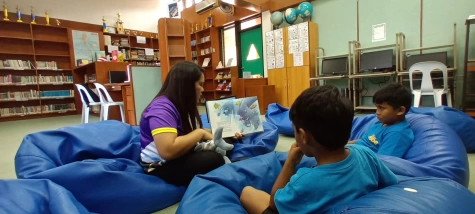 The students didn't just sit there quietly, they were completely captivated! They raised their hands, expressed their opinions, and even predicted what would happen next. It was a worthwhile discussion of the story, and everyone had a great time.
And guess what? One of the enthusiastic students said that he was excited to visit the library to borrow books and everyone nodded in agreement. That's incredible! It's as though he couldn't wait to dive into new stories and discover new things.
When the story wrapped up, the excitement wasn't over. Teacher Merce showed them around the library and introduced them to all the wonderful books they could explore. The students ran their fingers along the book spines, imagining all the cool adventures they could have by picking up a book.
You could see the light in their eyes as they exited the library. This was more than just a typical library visit. It was the beginning of a whole new journey. The students were excited to read, learn, and use their imaginations. Who would have thought that a simple visit to the library could be so exciting and full of possibilities?
The inspiring story of my students' first library visit this school year serves as a reminder that books are like keys that can unlock endless doors to imagination and knowledge. So, remember the adventure that awaits you the next time you visit a library!