Under God's Wings
"Be strong and courageous. Do not be afraid or terrified because of them, for the Lord your God goes with you; he will never leave you nor forsake you."
Deuteronomy 31:6
Handling the medical department during a pandemic is a huge responsibility. It was terrifying to hear Covid-19 reaching Cebu and the plan for eventual lockdown. Even with plans in our hands, we are still caught with so many surprises. The promise in Deuteronomy 31:6 has been our constant comfort, strength, and encouragement in the medical department as we face the many challenges during this pandemic. Looking back, when we were confronted about the virus people had little knowledge of, we were anxious and confused. We asked ourselves if we will be able to take care of all the children and employees entrusted to our care. The lockdown period, which we anticipated to last for a month, has been ongoing for almost a year now. We prayed that every flu-like symptom, especially in the first month, is just a simple flu, and the children and workers will just respond to medication. We made sure employees who are locked in had their maintenance meds and would be able to cope with the 12-hour shift each day. We constantly reminded our lock-out personnel to practice standard health protocol to protect themselves and their families. When we are terrified, God has reminded us to be strong and courageous. He constantly brought us back to His Word and reminded us that we are under His wings. He assured us that...
Under His wings, we are PROTECTED.
Even when we had emergency runs for lacerations for our two little kids and an admission, God restored their health and protected them from possible infection because of outside exposure. We have less sick kids during the year compared to our recorded illnesses in the past years. Our sick children also responded well to medications given by the doctors.
Under His Wings, we are PROVIDED.
We couldn't thank God enough for using people and agencies to give and provide every need we have in the department. We were able to secure free tests for all our employees who came to serve during the lockdown. We had the means to quarantine our workers for 14 days prior to working through the CCHS facility. We were able to procure PPEs even during the scarcity of supply in the city. We were provided with doctors who were willing to answer our queries even at 2:00 AM, and we were able to avail of the home services for laboratory tests and eye check ups. We are grateful that we have workers who are committed to serve and be with the kids for 3 months and even longer. Lastly, God has given us wisdom to respond to every child's medical or health needs and to come up with the health and safety protocol for the shelter.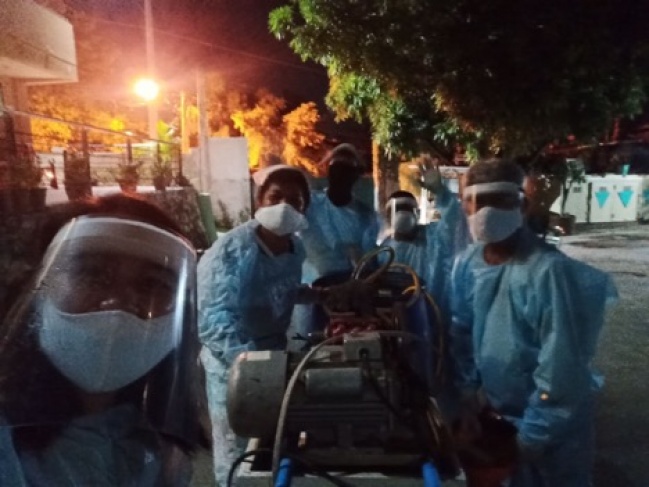 Under His Wings, we are PROMISED.
Despite the uncertainties the pandemic brought, we are continually assured that His grace is more than sufficient to meet the needs of our children and workers. His promise to never leave us nor forsake us holds true in every situation we have faced. We thank God because in all of these, we are assured of His presence.
Indeed, under His wings, He covered us.