SRA Day!
Last Friday was SRA Day at school! SRA is our reading curriculum so it includes reading, writing, and spelling! We spent the morning having some fun reviewing things the kids had learned in SRA throughout the year. It started off with one student from each level sharing why they like SRA. Then we had a cheer competition. The children were divided into four groups and each group had 10 minutes to create their own cheer about SRA or reading. It was cool to see what they came up with!
After the cheering competition was the spelling contest! The kids took turns writing letters or words on the white board as a review of things they had learned. They also drew pictures that related to some of the themes our classes had studied. Some of the older kids went up and explained how their pictures related to the theme.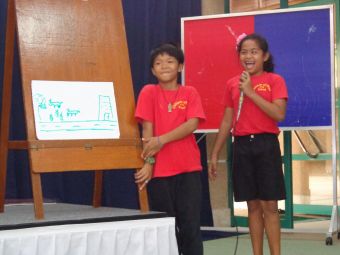 The final part of the program involved several presentations by our kids. The Level A students performed sang "The Alphabet Song". Jaime and Pretchy each did a beautiful job sharing poems about reading! Shiela & Rowena sang a duet of "America the Beautiful", a song they learned in one of their reading units. Then three of our Level C students shared stories they had written during class.
Here are some more pictures from our exciting day!