Illness at CSC
In the past month 54 kids have been treated for respiratory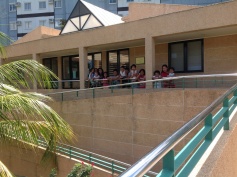 illness. Yesterday was the first day in several weeks that we didn't need to go to the doctor, and four kids were ecstatic to finally go home after being in the infirmary here at the Shelter. The infirmary has six spacious rooms where children are monitored by our medical staff and cared for by our child care workers 24 hours a day when they are ill. There are 12 kids still isolated so we hope to send them back to the houses in a couple of days.
Thankfully, Shenly and Wilmar were discharged from the hospital and are recuperating at home, but Wilmar misses having air conditioning and his own TV!
The hospitals are full and masses are sick with the same type of illness, so we are praising God for miraculous healing, as we have never had so many sick kids at one time.
On October 3 Sam's mother gave birth in a taxi so was rushed to Cebu City Hospital, which is temporarily housed at the City Fire Department. He was exposed to many dangers in the first hours of his life. Since the mother was unable to care for her baby we took him and admitted him to the hospital we use called Cebu Doctors Hospital, where he is fighting a severe infection. Thankfully, he is drinking well, and has gained a bit of weight.
Without hesitation we bought 77 pillows yesterday for $300, knowing that our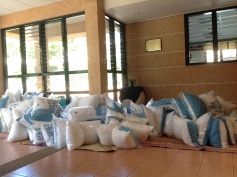 supporters would be thrilled to know that each of the kids has a brand new clean pillow. The kids are excited to see the huge mound of pillows piled up in the Duterte house just waiting to be passed out after school today.
Thank you so much for your concern and prayers for everyone at CSC.