Goodbye Up There!
Child welfare types refer to children who become very close while in care at a place like CSC as "institutional siblings." They are not siblings by blood but by affinity. Many of our children experience that kind of relationship while living at CSC. For the younger ones, they don't understand the difference. Such was the case with little Jacob. He had four very good buddies in the Eicher Home nursery. They spent lots of time together eating and playing. They looked out for each other, fought like true siblings and were known to tattle on each other on occasion.
Recently, Jacob was adopted by a great family from Europe. Shortly before Jacob's family came to get him, two of his pals got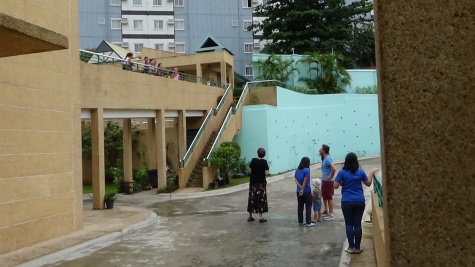 sick and had to be in isolation. Their ailment was very contagious. We worried that Jake, too, would get sick when he was supposed to travel but, thankfully, that didn't happen. But we felt bad that Jake wouldn't be able to say goodbye to his buddies. So Marlys came up with a plan. The infirmary caregivers brought the sick children outside to the bridge and Jake was able to look up, see them and say goodbye. The overhead kids shouted "bye-bye" and it was very touching. Certainly they didn't understand that he was going far away and they might never see him again. But they knew something big was up.
There is lots of love at CSC. Jacob experienced that from house parents, child care workers, staff and the other children. Now he will be feeling the love of a family. And a new sibling that will be his forever.