Recent School Activities
There are always lots of activities going on at the school. Conferences, morning meetings, and programs. It has been a very busy last few weeks. Here are some of the programs we've had lately!
Level A2 Morning Meeting:
Two weeks ago Level A2 presented a morning meeting about different types of weather! They did a cute skit in which a boy took pictures of the kids acting out all of the seasons. That was followed up with the students explaining several different types of weather. Then they danced to the song "Beautiful Day" before closing up the morning with a game. For the game, two kids had to form a house with their arms. A third child sat inside as the "baby". Whenever there was a storm, the houses fell apart and everyone had to run around to form a new house with a new baby. There was a bit of confusion during every "storm", but lots of laughter as well!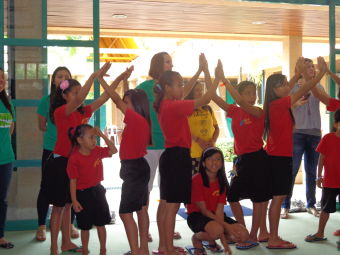 Science & Math Day:
Last Thursday, our school held our annual Science & Math Day. The program was split into two different parts. The first part was the math quiz bowl. The kids were all quite excited about it and many had asked their teachers in advance to PLEASE help them practice. Addition, subtraction, multiplication, division, number comparison, and fractions were just a few of the topics covered. They all did a great job and it was fun to see the teamwork and encouragement that went on within the teams! The second part of the program included presentations from each of the science classes. Group 2 shared about plants and how they grow! Group 3 explained potential & kinetic energy. Then they used a roller coaster to demonstrate those types of energy. Group 4 showed examples of energy transformation! After all of the science presentations, the kids were clapping and spontaneously yelled out, "Science rules!!" It's fun to see their love for science! The day ended with two math dances put on by our older kids! Here is a short video that we showed about group 4's energy creations. They had to create something that would move a Ping-Pong ball as far as possible!
Level B Morning Meeting:
Last Friday, Level B presented their morning meeting. It started off with the girls performing a fun dance to the song "Show Jesus" by Jamie Grace. Then they did a cute skit about camouflage. The rabbit kept running into things that were hidden in the grass, trees, and flowers! The program ended by acknowledging the March birthday celebrants!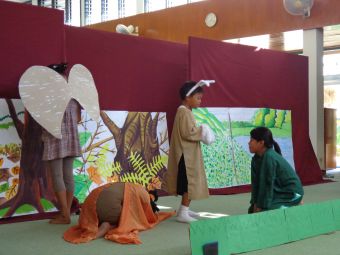 Check out more pictures from these events!