Lena keeps on washing
Next year we will be celebrating the 40th year of CSC's ministry in Cebu. The actual anniversary date would be May 4 as that was the day in 1979 that three of us stepped off that plane at the Cebu airport. But in March of next year there will be another important anniversary at CSC. March 1 will mark 30 years of faithful service for one of our most stalwart employees, Elena (Lena) Gomera. Lena has been washing clothes at CSC for all of those 30 years.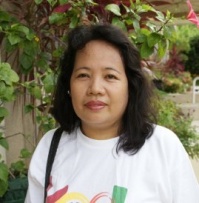 Through good times and bad, in good and bad weather, during times of political unrest and financial difficulty, Elena has washed clothes. No matter what else our kids need, they need clean clothes to wear. The babies need clean diapers. School kids need clean uniforms. Beds need clean sheets and pillow cases. Lena has provided that. It's by no means a glamorous job. She might be the most "taken for granted" worker at CSC. Most of her time she is in the washroom, unseen by the kids, staff and visitors. But she is washing, load after load, eight hours a day, six days a week. We are fortunate to have an employee like Lena who is faithful, dependable and solid. Thanks Lena for a job well done for almost 30 years!