Thankfulness
This is crunch time at CSC. Year-end giving, especially in December, is a huge part of CSC's income for the year, so we really rely on the generosity of our supporters at this time. We always come down to the last few days of the year needing a bunch of money! Is it stressful? Well, no, at least not a lot for me. I have witnessed so many years of God providing through his people, our supporters, that I don't really get stressed. Concerned and hopeful, yes. Prayerful, yes. But I can honestly say that I don't spend too much time worrying.
The challenge for me is to remember to be thankful while being confident and expectant. I don't want to take God's goodness to CSC for granted. Ever. We have been trying to be more intentional lately about teaching thankfulness to our CSC children. They receive so many blessings every day in terms of food, clothing, medical care, education, recreation, counseling, and fun activities. Lots of people work very hard to provide all of this for them. They know that they will receive nice gifts at Christmas and on their birthdays. If someone should skin their knee a loving nurse will attend to it. Social workers are preparing their legal documents to prepare them for adoption. House parents are available for emotional and spiritual support. Staff members have time to encourage them and show their love in practical ways. More than a hundred people are working for them every day, not to mention all of our supporters! We want them to be thankful for what they have. Part of this entails remembering where they came from. All of our kids grew up in poverty, and most experienced malnutrition, sickness and despair. We want them to appreciate what they have been given.
We have a program called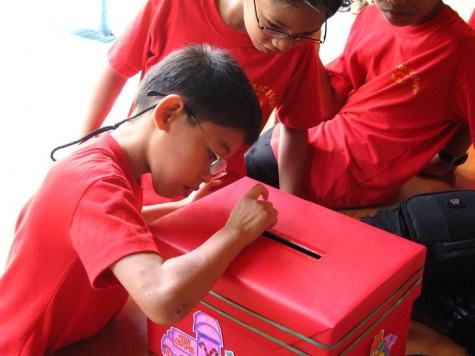 Junel's Box that helps with this. Named after a former resident who had a huge heart for others, this program allows the CSC children to give money from their allowances to help a poor family that is selected by our social worker team. We buy food, building materials and household items and deliver them to the family just before Christmas. It is a time for the kids to "give back" and remember that there are people who are hurting and need a helping hand. We also tell our children regularly about all of you dear people who give generously to help us take care of them. I want them to know that the money that CSC has doesn't come from me or the wealth of the staff. It comes from cool people, most of them who are of modest means, who love them. These reminders are important to our kids. Every night at bedtime the children pray, thanking God for all of you who bless their lives.
Thanks to our friends for year-end gifts and prayers and for all that you do throughout the year to make life better for these awesome kids.