Conferences
Maybe some of you have been "that" parent of "that" child when you went to school for parent-teacher conferences. I know I was "that" parent many times through the years. You walk into your child's classroom and are met by a team of professionals who all give you an awkward smile. You know they didn't take time out of their day to come to the conference and tell you how happy they are to have your child in class. They are there to explain in chorus that they have some serious concerns about how your child is doing.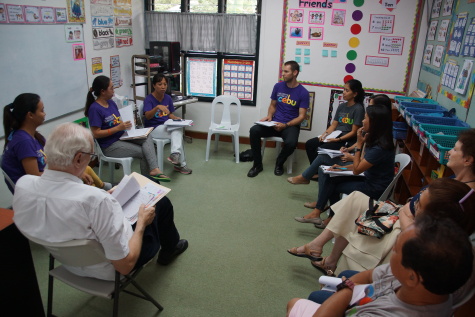 Recently at the Cebu Children of Hope School we had parent-teacher conferences (actually houseparent-teacher conferences). If you had walked into the room you would have been amazed at how many people were assembled to discuss each child who attends CCHS. Some of the adults present were the classroom teacher, a social worker, the principal, the education director, Paul and Marlys Healy, a therapist (when needed), the houseparents, the behavioral specialist, and the child development director. It was an encouraging time to discuss not only the academic progress of each child but to also celebrate how far each one has come in their self confidence, social skills, and emotional stability.
Normally a conference with this many adults in one room raises up a red flag that a child is struggling in class. The exact opposite was true at CCHS. Each child is given the best care possible at CSC and that means several adults blocking out many hours in their week to come to school and discuss the growth of each child, where they currently are at, and then brainstorm ways we can better serve and help each child to become more of the person God created them to be. CSC is blessed to have so many caring and skilled adults, specializing in different areas, to give outstanding care to these great kids. Thank you for helping make all of this possible!