Fire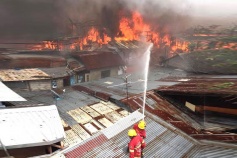 Fire is a destructive force in a city like Cebu. Squatter areas are especial vulnerable as houses are often made of wood, are close together and the roads around them are often too narrow to accomodate fire trucks. Recently a big fire hit the area behind our office and teen home in Sun Valley. Although our house was not affected, several homes of our workers and former employees were destroyed. And houses of current and former residents' birth families were also destroyed. Some of these folks lost everything they had to this fire.
Today our social workers went to survery the damage and talk to the families that we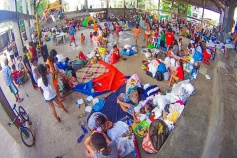 know. They are being housed temporarily in a large sports center in the community near where they used to have houses. It is crowded and is a place of despair. The city government is handing out some food supplies, but, like one of the families we know reported, they cannot cook food because all of their cookware, gas tank and utensils were destroyed. We cannot provide for all their needs but we can offer comfort and gifts of clothing and footwear. CSC workers have brought in used clothing as donations for their co-workers. The CSC kids have been praying for the aunties who are affected.
Please pray for these people who, in a matter of minutes, lost everything that they owned. None of it was insured. We thank Him that the people we know from this community escaped with their lives, but are now faced with the incredible challenge of starting over.