Fathers
The dust has settled on Father's Day here in Cebu. For me it was kind of an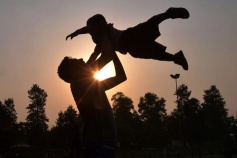 emotional day. I lost my dad a year ago on Father's Day, and it was with a mixture of sadness and thankfulness that I reflected on Jer. I was given lots of cards and hugs from CSC kids, which helped. And my daughers greeted me, which was great. I have always been thankful to them for "sharing" their dad with so many other kids over the years.
Father's Day can be a little complicated for the kids at CSC. Many of them have birth father's who were absent, abusive or neglectful. The reason that many of them had to come to CSC was because of their birth fathers. They preferred the company of their buddies to their children. They squandered money on gambling or alcohol while their kids suffered with sickness or hunger. They found other women, abandoning their families. They took out their anger and frustrations on their kids.
Coming to live at CSC meant that children had a second chance at family and that started with house parents who love them and see that their needs are met. So, children who suffered with difficult birth fathers are now benefiting from house fathers who are helping them understand what a Christian home is all about and the meaning of fatherly love. Nobody is ignoring them. Nobody is abusing them. Nobody is making them feel worthless. Instead they are valued, disciplined with fairness and love, and taught about a Heavenly Father who loves them unconditionally and deeply. It was fun to see the CSC kids honor their house fathers on Father's Day!
Some of our kids are soon to be leaving for adoption, where they will have new fathers and mothers. Right now we have 11 children who have been matched and accepted and who are awaiting the completion of their visas so they can join their new families. New relationships await them, and one of the most significant will be having a new father to love them in ways that are different than anything they have previously experienced. We hope and pray that the love of their house fathers at CSC has prepared them to accept and return the love that their adoptive fathers will give.
So, many of our CSC kids will have four fathers in their lives: a birth father who gave them life; a CSC house father who was a part of their healing and preparation; an adoptive father who provides permanence and a special kind of love, and a Heavenly Father who will love them eternally.