Joviality and Reality
Christmas was a fun time for the kids and staff. We featured the secular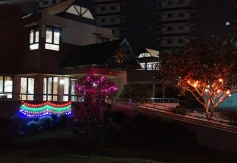 and the sacred. The kids enjoyed Santa's visit and the wonderful gifts we were able to give out. They liked the pageant presented by the staff and visitors with a live manger scene. They loved presenting the play Angel Alert at school and presenting gifts to a poor family in the city dump site. Lots of activities and lots of fun.
Now we turn our attention to the reality that we face every year. This is crunch time financially for CSC. The week after Christmas is usually the biggest week for income for the whole year. We need a huge week to meet our budget for income this year. If you have already given we want to thank you! If not, and you are able, please consider a generous gift to the ministry. We will use the money prayerfully and carefully for the children that God has placed in our care.
We thank God for the people who give so faithfully to make it possible for us to take good care of them. May 2017 be a great year for you and your loved ones.