Raindrops on my head!
I recently came across this letter that I wrote 16 years ago. I was amazed how much it applies to our current situation. I made a few small changes to "bring it up to date," but mostly it can stand alone, reflecting the similarity of our situations both then and now.
Dear Friends,
A few years ago my brother Dave sent me an advertisement from the St. Paul paper announcing a B.J. Thomas concert coming to a casino in Minnesota. It was meant as a joke, but it brought back a flood of memories, some of them pretty grim ones.
In 1978 a small group of us were trying to raise money to start a ministry in the Philippines. We were concerned about the needs of homeless and hungry Filipino children. But none of us had experience in fund raising! We tried everything, from donut and candy sales to supermarket collection cans and marathons. Finally, after having raised almost nothing for our efforts, we got the idea to have a benefit concert. We decided to have B.J. Thomas come to the Minneapolis Auditorium, and one of our group members put up the money to book him and his group and to pay for the initial promotion of the concert.
The concert was a disaster. The auditorium held about 10,000 people;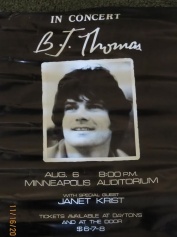 less than 3,000 showed up. I'll never forget the feeling of standing in the lobby waiting for the crowds that never came. We couldn't pay the orchestra, the ticket office, the printer, the radio stations or the newspapers. There we were, a group of youngsters with a desire for a ministry in Cebu, surrounded by angry, threatening creditors. It seemed like our organization and our dream for an orphanage were dead. But for some reason we didn't give up. We still felt called to the Philippines and a ministry to homeless children. Somehow we managed to placate the creditors, make small but consistent payments, and pull ourselves out of the hole that the B.J. Thomas concert had put us in. Within a few short weeks we received a donation of $40,000 from a Bethel College student and we were on our way to Cebu to begin the ministry. All our plans and efforts to raise funds had netted us a pile of debts and a load of frustration. But God's miraculous work in the heart of a young man resulted in enough money to purchase property in Cebu and begin the work.
That has been a lesson we have learned so many times over the years. God reminds us that this is his ministry and that He will provide the resources. He is continually touching the hearts of people, who respond with gifts of prayer, money and time. We know that it is not just the words that we write or the quality of our visual presentations that bring in the funds. It is how God uses those efforts to bring people into the CSC family. Our efforts are inadequate, even pathetic at times. But God takes our faith and commitment (although sometimes found lacking) and makes something great out of them, in the work of the ministry in Cebu and in the promotional efforts in Minnesota.
This fact has kept us going through difficult times over the past 37 years. In recent weeks we have been discouraged over the behavior of some of our children. Some have been unruly, others disrespectful. Some have been unloading some of the emotional baggage that they brought with them to CSC. And, at the same time, we have been concerned with the financial situation of CSC as we approach the year-end needing a miracle to meet our income goals for 2016. But our discouragement is tempered by the knowledge that God directs this work, that He gives compassion and perseverance, not only on that night in 1978 when we limped home from the Minneapolis Auditorium, but every day since.
Thank you for your part in helping us with this ministry for the past 37 years. When the raindrops were falling on our heads, you were there to put up an umbrella of love and solidarity. We need your prayers and your gifts to be able to move ahead with this God-inspired ministry.
Sincerely,
Paul Healy
Cebu City