Changing and Growing
We're making some changes in preschool. This is my third year as the preschool teacher aide but this school year is different. One change is that we have a new main teacher, our principal. Also, we are using the same lesson plans but taking a different approach when teaching lessons. The schedule is also different: the 5 and 6 year old students stay until 11:30 for additional lessons to prepare them for the next level and the 4 year old students go home at 10:15.
This year I am teaching math for 45 minutes to five kids. Our first topic was on sorting and classifying. The students enjoyed sorting through objects looking for common attributes like size or color. One student kept asking, "Sorting ta, Teacher?" ("Teacher, are we still sorting?") I said, "Yes, we are still sorting."
We moved on to Topic 2 (patterns) and Topic 3 (Numbers 0-5) and he still wanted to know if we were working on sorting. Every day he kept asking me the same question, "Sorting ta, Teacher?" and I replied the same, "No, we are now on a new lesson!"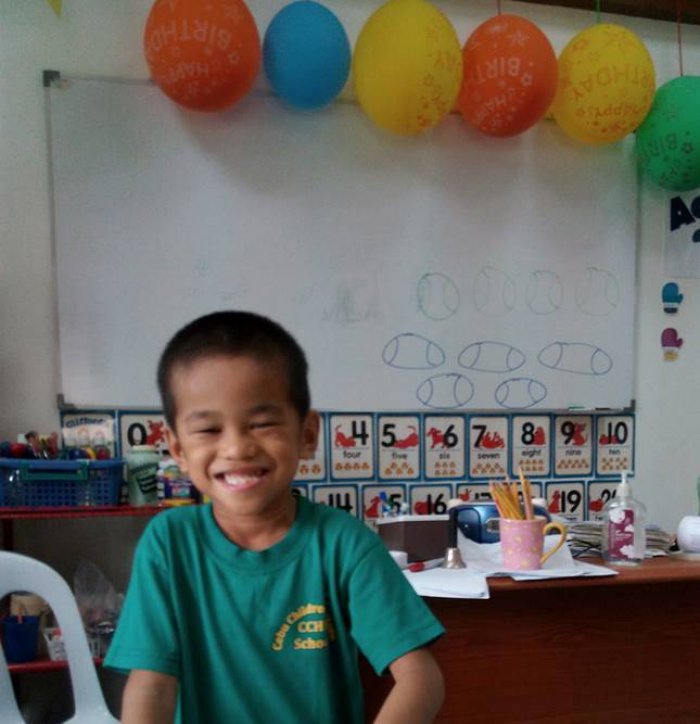 Suddenly, one day that little guy asked me, "Patterns ta, Teacher?" ("Teacher, are we in patterns?") He had shifted his question! Unfortunately, I had to answer, "No, we are now on numbers". But the real thing that is amazing about these conversations is that he is asking the questions in the first place. This little guy is the shiest of all the students and it has taken him quite a while to feel comfortable about being in school much less being able to ask questions. I am so proud of how much he has grown.