We love you, Big Jer
A dear man left this world on Sunday. It was Father's Day.
Dr. Gerald Healy, who most people lovingly called "Big Jer" was the father of Paul Healy, our Field Director and co-founder. But to CSC, Big Jer was a lot more than that. He had the back of CSC in the States in so many ways while the ministry began and then flourished in the Philippines. He was a board member, a fundraiser and an incredible advocate.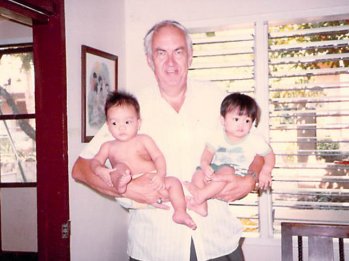 I'll never forget the first time I saw Jer. It was one of my early introductions to CSC and happened just before joining the staff. Jer was emceeing the annual banquet--a role he filled for decades. My wife, Theresa, and I attended the banquet and sat in the last row of tables like all the other late RSVP'ers. We were touched by the stories of life change and amazed when they announced how many people had visited Cebu and seemingly half the room stood up, but what stood out more than anything was how funny the emcee was. He was knee-slapping funny. I even turned to Theresa at one point and said, "This guy is awesome!"
Years later, and having gotten to know Jer on a personal level, I can tell you the description fit. Jer was awesome. His kindness and wit were extraordinary. In all the times I saw Jer, I can't remember one in which I didn't leave it feeling encouraged, entertained and better than I was before it. What a class act and generous spirit.
One time, Jer and I were sitting at lunch at a golf course. We hadn't played that day, but Jer had the day before. He was telling me about the foursome he played in, and how he and a friend of his had been paired up with a couple of young guys. I remember Jer telling me these guys had it together. They were smart, funny and impressive. It was also evident they weren't Christians. Jer paused at that point and said, "Matt, these guys would make great Christians." Jer wanted them to know what he knew. He wanted them to have the hope of Jesus Christ. He could imagine them in the church, and he had tried to be a light to them that day.
I think of that interaction now and smile. The guy I was sitting across the table from made a great Christian himself. We could use hundreds more like him in our churches, but there was only one Big Jer. He was loved in his family, in the halls of Bethel college and in sanctuaries and fellowship halls across Minnesota. And, he was sure loved at CSC.