Blessed Decisions
I sat in a referral meeting the other day. We have these meetings to discuss children for potential admittance. Often in these meetings the list of children in need is greater than what our homes can house. The list is long because poverty is destructive; it untangles families when there are more mouths to feed than there is food to give. The list is long because of poverty, violence, abuse, neglect, drugs, sickness, and death. All of our children come to CSC for one or several of these reasons.
Our top priority was to discuss a 6-week-old baby boy very much in need of loving care and proper nourishment, some things he had not had much of yet. He was so tiny, not even four pounds yet. He had spent these first weeks of his life in the Neonatal Intensive Care Unit fighting off sepsis and trying his best to grow but not receiving enough nourishment to do so. His young mother had her own struggles, battling mental health issues and cognitive delays; she was also doing her best to be a good mom but was unable to do what was needed.
Here he is. He is such a small little guy, barely able to keep his eyes open most of the time.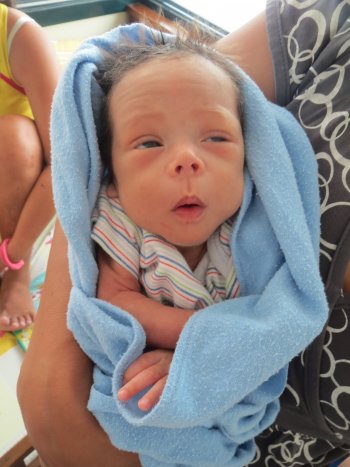 Our decision to admit this child or not might seem like a no-brainer. He needs good care; he needs the kind of care that can be provided at CSC. But he is so young, only six weeks old. Doctors have met him, observed him, and run tests to try to figure out what is keeping him from growing and developing. Because of his age, there is little they can know for sure. The unknowns regarding his future are many.
Of course, the same could be said about every child admitted to CSC and that would be true. But with a child who has had such a rough start to life, permanent damage could have already been done. The type of permanent damage that could prevent him from being adopted. And that is what it inevitably comes down to. CSC is a temporary place for children to come to for stability, healing and growth before continuing all of that in their forever family. We need to admit children that will be adopted so there is space for others to come after.
Big decisions. And they are not made lightly. We seek and pray for God's wisdom regarding which children we admit. We take all of the information given to us by the social workers, our medical team, physical therapists and doctors in the community and cover it in prayer. Individually and collectively. These decisions are made easier when we spend time in the referral meetings talking about how so many times before, staff members have had these same conversations, sharing valid concerns about taking in a certain child with unknown needs. And we have been blessed to see God's hand at work, healing children in miraculous ways.
One such story stands out to me. A little 7-month-old girl was referred to us, weak and malnourished and her limbs were so floppy. They lacked muscle tone for such a while that doctors suspected she might never walk. Fast forward 2.5 years and we have a rambunctious and mischevious little girl on our hands. And oh how she RUNS! And next week a family is arriving to take her home! She is a testament to God sitting with us in those meetings and honoring CSC's commitment to venture into the unknown. She is a living and breathing example that God heaps blessings on those who walk in faith!
I am so happy to report that the little guy above recently had a major test, the results of which we were expecting to be poor, but which were normal. We are already seeing God's hand at work in his life. We felt confident and happy to make him the newest member of the Eicher Home! :)