Graduation speaker - Teacher Zel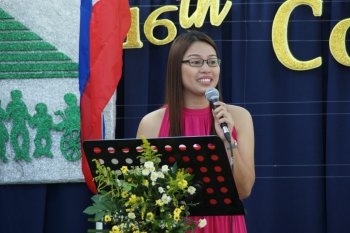 I would like say thank you, not only that Children of Hope School has given me a remarkable honor, but also for the weeks of fear and anxiety that I have endured at the thought of this big responsibility. The sleepless nights finally convinced me that I can be a speaker once in my lifetime. Since I had been here for five years as a school teacher, it is a great advantage because I can think that this is a simple reunion.
I have finally set my heart and mind about what I am going to talk about today. To the graduates, particularly Eugene, Epifanio, Analiza, and Wilmar, today is a day of celebration and thanksgiving. You have all worked hard to make it to this day. It has been a long journey and you have reached this far.
The staff, the teachers and therapists in the school, the house parents, and the uncles and aunties in the shelter, were all there and have witnessed when you started practicing on holding a pencil, when you were singing loudly the ABC song, when you were learning to write the letters of the alphabet, when you were trying to read the words with care, and when you were tirelessly counting the numbers from 1 to 100 until you have grown up and have improved your abilities like writing your stories and autobiography, performing an experiment in science, solving problems in math, and showcasing your talent in theater, music and arts, and even sports! Above all these, you have grown up with a personal relationship with the Lord. It's been a long journey to have finished your elementary years in school, to have developed skills and values, and to grow up rich in spirit. Congratulations, graduates!
Going back to my own elementary commencement, just like you sitting in the front row, my heart was filled with thanksgiving. At 12 years old, I had already been planning on becoming a teacher and had dreamed of landing a job because, primarily, I wanted to elevate my family's situation. My parents were poor and , thus, I am poor. Then, when I was in the 5th grade, my father passed away. But I am blessed that my family stayed strong and had faith in the Lord. Since then, every day is a miracle. Although I am very much acquainted with the hardships in life, I did not use being poor as an excuse not to finish my education. As a matter of fact, with the support of my family, teachers and friends, I had all the motivation to work harder, to do well in my studies, and to give the best version of myself. I am very determined to learn more and even willing to run an extra mile for education.
In the midst of the challenges and hardships in life, I was successful in my academic journey. So, after college, I looked for a job. In June 2009, I was accepted here in Children of Hope School as a shadow teacher of Wilmar and an I.I. instructor for the kids in the afternoon. After a year, I was promoted to a regular teaching job and was assigned in Level B2. Some of you here were once my students then.
So why am I telling you all of this? That day on my elementary graduation, I was young like you, but was very determined to reach my dreams. And now with the blessings of the Lord, I have made some of them come true, like being a teacher and to have done the things that I love to do. Therefore, I want you to be reminded of not giving up on your dreams and to have faith that you will reach your goals. More than that, I am humbled that I was a part of this ministry and learned that life is more meaningful when it is shared with a cause. My five year stay in this school was one of the memorable times in my life and it was way greater than what I have dreamed of.
To the graduates, be grateful to the people that have supported you along the way. The CSC staff and supporters, the childcare staff which includes the uncles and aunties in the shelter, the medical staff, the teachers and therapists in school, and the maintenance staff, they were the set of people who DARED to choose you, serving and molding you to become what you are right now. They are the set of people who CARED not about your past, but on where you're heading in the future. They are the set of people who SHARED their time, effort, love, and prayers so you won't be left behind. They dared, cared, and shared because you are special. So dear graduates, we need you to make the most of the wonderful opportunities that have been given to you.
You may not remember everything I've said today, but my message to you is that: Do not give up on your dreams and make them all come true. My hope is that you will have the passion, the courage, the faith, and the sense of responsibility it takes so that you'll be successful in high school and in the next years of your education. Again, congratulations and God bless you graduates. Thank you very much.