Tale of Two Offices
As you may know, my wife and I have been serving in Cebu on a short term basis. We were there for about 13 months. We returned to MN at the end of December because of an urgent health concern in a close family member and will be ending our time with CSC in March. While the circumstances which brought us home have been discouraging we've been blessed by how flexible CSC has been with allowing us to continue to serve.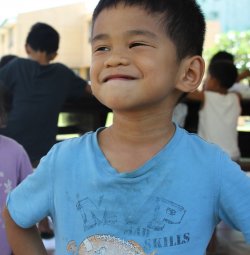 Going to the office in Minnesota has been a slight adjustment. Instead of seeing Mitch each morning, we see Matt. At lunch time, we don't hear Cebuano, we only hear English. In Cebu I was relieved to get to the office and sit in air conditioning, now I see snow outside and keep inching my chair towards the sunlight.
Strangely though, it's the similarities that have been more striking. The people who come in and out of both offices are talking about what's new with the kids. The walls are covered with pictures of the same smiling faces. Even the work is the same; it's true that many of the tasks are different, but that great momentum God gives us to bring glory to His name while serving these children, it remains unchanged.
What an amazing thing that God has done; bringing so many people with so many different stories together to share in the work He has in store for us.