It all comes down to this!
We stand with humble awe at all the people who love our children. You're amazing. At the beginning of December, we needed $530,000 to reach our 2015 income goal. When the week started it was $239,000. These numbers have been daunting to look at!
At each stage, people have stepped up to care for orphaned children. One by one, we have seen gifts come in for $25, $50, $500, even $40,000. Each gift makes a difference. What matters is people pitch in however they can...and people have! As of this blog post, with 35 hours to go, we need $73,034. It is still a big number, but with your help we can do it. Your donation, regardless of amount, will make an impact.
Thank you for considering the Children's Shelter of Cebu as a place you would give to.
You might be wondering, "what exactly does CSC do?" Many things, but it all boils down to just five words. We have a simple motto: Every child deserves a family.
We are home to children who have lost their parents. They come to us from hospitals, from government officials who have found them in need and from caregivers dropping them off at our door. They are hurting, and almost always ill--sometimes gravely. We have four homes in Cebu City, Philippines, where today 89 children are being given loving care. Our goal is to love them as much like a family would as possible. Here are some of the ways we do that: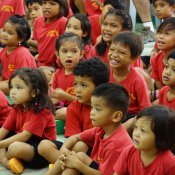 As nurses. We have our own infirmary and a small medical team who work with 26 doctors in Cebu (many of whom donate their services). Our kids have a lot of needs in this area and we meet them.
As teachers. We have our own school, and it is top notch. We have low student-teacher ratios and a wonderful faculty who love the students they teach.
As advocates. We seek adoption for our children through various government systems. CSC children have been placed for adoption in 15 countries.
As caregivers. Our houseparents love our children like family. The childcare staff are there for them consistently. We understand the importance of relational bonds and foster them.
As counselors. We have two full-time counselors on staff to guide the children towards healing.
As stewards. We have received Charity Navigator's highest rating, 4 stars, for the fourth consecutive year. Just 9% of nonprofits can say the same.
CSC is a Christian, interdenominational ministry. We serve children regardless of their faith standing, but the priority of our care is to show them the love of God. The truth of God and his love for children is at the heart of who we are, and has been since we started in 1979.
We would be honored if you would join us in this important work. If you decide to give, know we are deeply grateful. Thank you!