Jeepers Peepers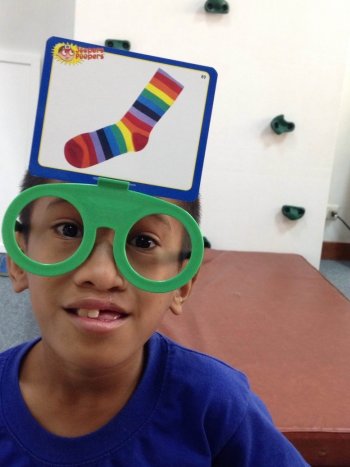 You might be wondering what this picture is all about!
Each morning I have the privilege of meeting with this boy for 30 minutes of speech therapy exercises. Because of his cleft palate, he needs additional help with pronunciation and confidence with his speaking skills.
There are many activities that we do each day, but Jeepers Peepers is the last activity (and the funnest)! The rules of the game are as follows: one player at a time wears the "magic" glasses with a picture of an unknown object attached. The one wearing the glasses can ask as many questions as needed to identify the object, but they can only be "yes" or "no" questions.
Most of the time, this game involves quite a few giggles! At times, he asks for clues to help him guess. For instance, for this particular object, he asked if it was something his caregivers would use. When told that they would, he asked if the picture was of an umbrella. He is quite observant because umbrellas are a daily accessory for his caregivers; they of course use umbrellas when it's raining but they also use umbrellas to protect them from the heat of the sun.
It's amazing how good he is now at asking questions. He usually correctly guesses half of the pictures given to him, and the questions he asks are much more appropriate and on the right track. Also, this kid has such an upbeat personality---even if he doesn't get it right, he still enjoys the game!