Charting the course forward
We recently had our annual board retreat. In a historical home on the edge of downtown Minneapolis, the board gathered to plan for the future of our ministry.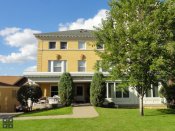 (Thank you World Mission Prayer League for the donated space)
These meetings don't hold the emotional appeal that the kids in Cebu do. There are new residents finding their place at the shelter, and down-to-the-wire adoption dreams being worked on. Even the daily activity in the homes and at school trumps the appeal of a group of professionals gathering to pray, discuss and discern big-picture decisions. But, we also know how important that work is. As people who care about CSC you and I both want to know the ministry is charting a course towards the future that is hopeful and wise. I can see that we are.
Had you sat in on those board meetings, I trust you would have been impressed. Our members ask good, hard questions and wrestle with the direction they provide. We count on their wisdom, trust their collective savvy and lean on their prayers.
If you give to CSC to actively participate in providing a home to children, you give to a place that takes its leadership seriously. Everything that happens at CSC happens under a board that views themselves as stewards of God's work. This is the best perspective we could ask for!