"BER" Months and Kid Volunteers
"Ber" Months and Kid Volunteers
September, October, November and December are known in the Philippines as the "Ber" months for obvious reasons. When these months arrive, Filipinos begin to get excited. These months herald the arrival of a celebration that most Filipinos love, and that is Christmas. Christmas music is played at times as early as the first few weeks of September.
Like most Filipinos, the children at the shelter are starting to think about Christmas. The kids who had experienced the month-long celebration at the shelter already told the new kids the fun things that happened last year. Some have already asked when the progressive dinner will be and some have started to wonder and ask what Santa will do for fun on Christmas eve.
One fun thing that happens at the shelter during December is the party for outreach kids. This year it will happen on Saturday, December 12. Two or three of the older kids usually help with the party by being on the registration table. When that is done, they help the other older kids by helping give away candies and other sweets while games are going on. Then they help distribute the snacks when it is time for that. Then when it is time for gifts and give-aways to be given, they also assist Santa with the distribution.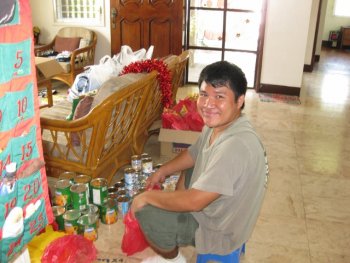 Julieto bagging give-aways.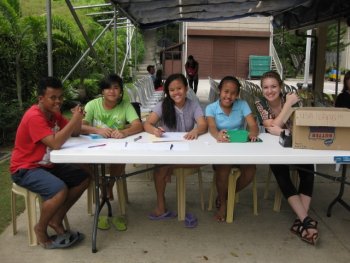 Registration table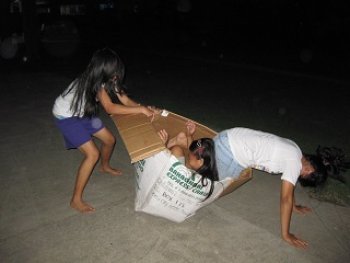 Girls having fun after helping the outreach party.
It is fun to see the kids helping other kids in need. And it is always fun when they volunteer themselves to help when help is needed.