Erna and Bobong
Erna Ahlmann is a former CSC resident who returned to CSC for the summer to work at Children of Hope School, filling in as an instructional assistant for a person who was on maternity leave. Since Erna is an instructional assistant at an elementary school in Minnesota, this was a perfect fit. A number of cool stories could be shared about Erna and her time in Cebu, so here is one story:
Actually this is going to be more about Tomas Marayan who is affectionately known as Bobong around school. Bobong has worked as a maintenance man at the school since it opened in August of 1998! He does pretty much any and everything related to taking care of the facilities. If we have a question about anything at school, Bobong is the go-to guy. He also does many tasks that are probably not really part of his job description like serving morning snacks to the kids.
Well, the first day Erna was at school and we introduced her to Bobong, he remembered her immediately! I guess we shouldn't have been surprised, but a lot of kids have come and gone over the years and Erna left more than 15 years ago. But Bobong remembered Erna and he went on to tell her who her teacher had been (Teacher Grace) and where she sat in the classroom. Wow!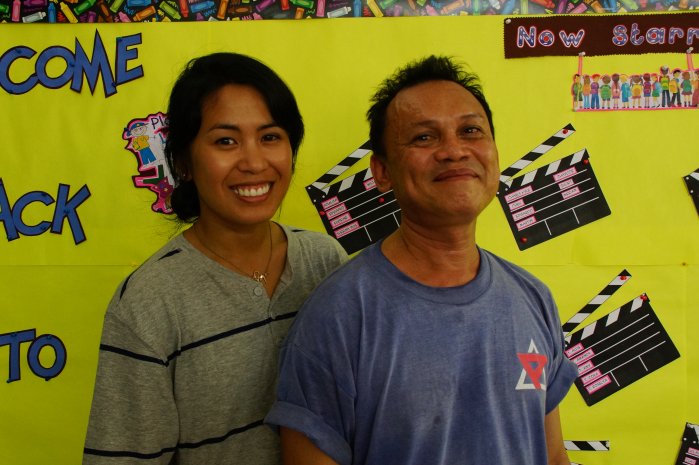 Later in the day, we had a problem with the laminator and Bobong was trying to fix it. Erna jumped right in and helped Bobong, fanning him to stay cool and problem solving. Right away it struck me how significant this day was with Bobong and Erna meeting each other again. Erna went to Cebu to give back some of the kindness she had been shown. Bobong had helped Erna when she was a very young girl and his heart is so big he even remembered her after all those years. Here they were working together to help the children who are at the shelter now. Priceless.