A Solution
Teacher Cris' class was working on ordering numbers in math class recently. She had taken her students through the steps of comparing two three-digit numbers to figure out which one was the least and which one was the greatest. They had worked on the skill together using many different number pairs.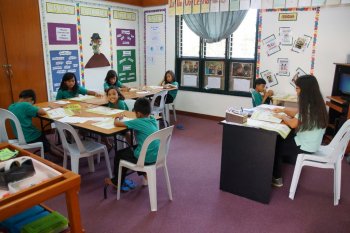 Then when it came to independent practice, things got a bit more confusing. Right away one student piped up and said, "The numbers are different!" Teacher Cris reassured the student that the process was the same even if the numbers had changed. She said, "Look at the numbers in the hundreds place value and see if they are the same or different." And so on.
When Teacher Cris looked up next, the same student was clutching his paper to his chest, walking around the room and singing the worship song 10,000 Reasons:
Bless the Lord, O my soul
O my soul
Worship His holy name
Sing like never before
O my soul
I'll worship His holy name.
He went back to his seat and continued to work on his math as he sang. Teacher Cris was humbled by her student's response to his problem. What a sweet reminder to call on God when we need help.