Reading Challenge: A First Experience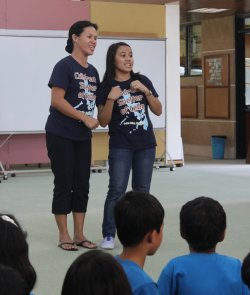 Well, this was the day I had been waiting for, the first all-school activity I was in charge of (along with Teacher Cora) in my new job as a teacher at CCHS. Teacher Cora and I were the facilitators of the Reading Challenge Kick-off, a contest that runs for six weeks to see how much everyone can read. The activity started with a prayer followed by a video presentation. Next was a short skit that really made me nervous. It was not easy to talk in front of the students since it was my first time to be in charge.
As the skit started, the students were wondering where I was going because I was carrying a bag.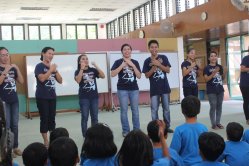 I pretended I had come from the library after borrowing books. Teacher Cora asked questions about the books I had "borrowed." Some of the kids were laughing and cheering. I was still pretty nervous. Then all the teachers started singing a rehearsed song, "I Love Reading." The students joined in dancing and singing the song.
Following the skit, each reading teacher announced the reading goals for the different classes. The students were mostly excited and a bit nervous themselves about meeting the goals. Games of "What's the Word?" and "What's Missing?" topped off the activities. The kids had to think hard and work together.
The event ended with lots of smiles on the kids' faces. They showed their willingness to learn, read, discover and broaden their imagination through reading. They were ready to dive into reading good books! Reading more will help in shaping their futures.