Friendship Knows No Boundary
Friend. Pal. Buddy. Comrade. Everyone has one or maybe more. It is a need in human life. As the old saying goes, "No man is an island." One can't go through life alone.
The recent CSC banquet's theme was: Friends. CSC, in its entirety, has many friends all over the world. Different connections, but connected nonetheless. CSC is standing because of its many friends supporting, loving, and praying.
Inside the four walls of CSC, friendship starts. The kids come from different backgrounds, but it is amazing how quickly they form a bond; a bond they keep forever. Distance is never an issue between friends. Whether it is 10,000 miles or a couple of staircases away, they find a way to exchange a few words and be in touch in each other's lives.
At CSC, when you get sick and if it is contagious, you are put in isolation. Now, the word isolation seems scary because you are separated from your friends. However, most of the kids like to be in "iso" because they get to watch movies all day long, which is the only entertaining thing you can do when you get sick.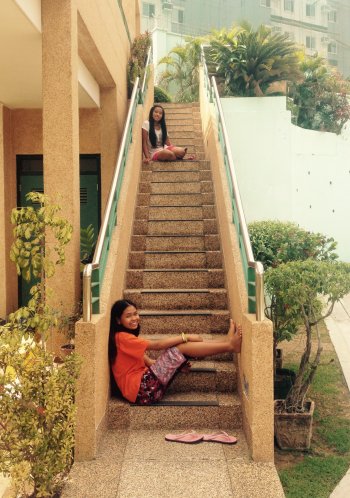 Being sick and being in "iso" did not stop these two friends from having a little chat. The girl on top is sick while the girl on the bottom is well. There are no visiting hours in the infirmary, but that did not mean she could not visit her friend. They found a way. And to top it all, she was not scared that she might get sore eyes from the friend she was visiting.
That's how friends are.