These are your friends, too.
The last time I was in Cebu I brought a picture with me to give one of our children, a little girl in our Duterte Home. She has lived at CSC since June, 2011 with her two brothers. They came out of extreme poverty, and have made great strides in our care.
The picture I carried was from a group that sponsors this little one as a part of our Foster Friends program. They contribute a monthly amount to provide care for her as a partner of CSC. We have families and individuals who do so through Foster Friends, and in this case, we have a Kiwanis club who gives love across the ocean.
She was in awe of the picture as I explained who this group of people were to her. I had recently spoken to the group and gave them an update on their sponsored child. What a privledge it was to pass along a picture from them and tell this little girl, "all these people care about you." Her eyes lit up and she held the picture with great care as she scanned the faces of the people who give something of themselves to love her. Here she is proudly displaying the photo with two of her friends.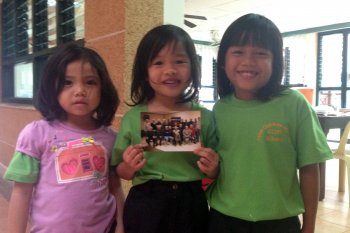 Every day the children at CSC see people who love them: the auntie helping them dress, the house parent leading devotions and the teacher answering a question. There are many people acting as the hands and feet of Jesus in Cebu. And, there are people all over the world making up those hands and feet along with them. What an honor it was to witness one of our CSC kids getting a glimpse of them.