The best kind of visitors
Actually these are not visitors, but family members coming back home. We have a fairly constant flow of visitors coming to CSC, we have people who find us online and want to visit to see if we are who we say we are, we have supporters who make a once in a life time journey to see where their money has been going all these years, we have adoptive families coming to claim their long awaited son and/or daughters from us, many other mission groups in Cebu enjoy bringing their visitors to see us, we have our own biological family members come to visit…the list goes on and on.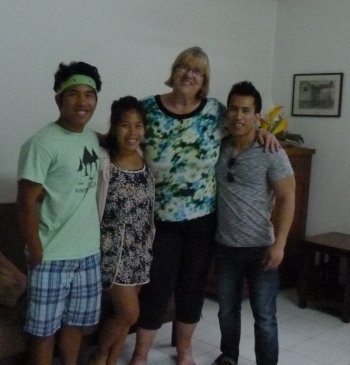 The best kind of visitors for all of us is when our own CSC KIDS come back home to CSC. This has been happening a lot and is always a wonderful time.
Siblings Joe, Roxanne and Carlo are here with us now! They left us for adoption 11 years ago and are back to visit us as well as their birth family. We also have Erna, another one of our own CSC kids back here working in our school for a couple of months. We all love seeing our kids come back, but it is an extra special blessing for all the CSC aunties and uncles to see the kids return. I get to see many of our CSC kids when I am in the States, but our Filipino aunties and uncles only get to see the kids if they return here. It is so fun to see their faces when they see the kids that they cared for many years ago back in the home that they lived in while at CSC. It was hard for them to say goodbye many years ago. These kids return visit helps our aunties and uncles to be able to continue caring for the kids here now, and to keep saying goodbye…we need our CSC kids to keep coming back!
We have had lots of kids come back, some of the things that they remember are precious, some are embarrassing and some are just plain funny. I only recently learned that Joemar (who has lived with us almost 30 years) was the willing recipient of quite a few of the kid's vegetables; no wonder everyone loved Joemar; he was eating their vegetables for them! We have certainly noticed common reactions and comments for kids coming back; we hear many things like "I remember the playground being bigger than this!" and "I am taller than the aunties, did they shrink?"
What a blessing our CSC kids are…we hope they keep coming back home to visit!