Sly Smiles and Fake Tears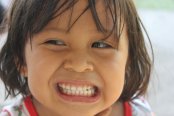 Most of the kids at CSC speak some level of English which is great for me because I don't speak much Cebuano. I've noticed that when one of the kids doesn't want to answer a question or try to figure out how to say something to me in English, they appear to forget how to speak it altogether. They know I get lost in that language and they can usually squirm out of a question like "Did you just get called inside for bath time?"
The children here are very well behaved so this isn't a huge issue, but I'm pretty sure a cute little kid smile and my lack of language skills have gotten me conned into letting a few youngsters get away with something they probably shouldn't have.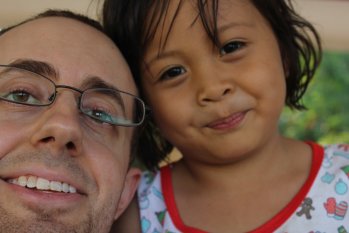 I was playing around with a number of the kids the other day. We were running, chasing, playing tag, and giving piggyback rides. We were having a great time. At one point my friend here started stomping around and was beginning to speak loudly in whiny, mumbly half Cebuano half English. I knew she wanted a piggyback ride but I didn't want to reinforce her behavior. In an unusual moment of how-to-deal-with-little-kid clarity I got down to her level and said "Please stop whining and tell me what you want".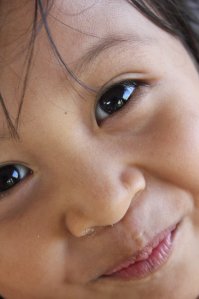 It was incredible…in about 2 seconds the embellished poor-me behavior stopped. No more stomping, she opened the squinting eyes that were trying to produce tears and in perfectly clear English she said that she would like a piggyback ride. I thanked her and she rode off all smiles and joy (I had to ask her to stop screaming in my ear though)!
I get blown away at moments like that; when I can step aside from the look on a child's face and realize that sometimes its a false indignation meant to produce a result! I'm sure the practiced parents out there are laughing at my lack of skill here but it is clear to me that while I may be the adult, it's usually the 4 year olds that have me figured out. At least, every now and then, I can peak around the curtain and realize how much I have to learn!