Thumb Wrestling
Growing up, I learned several little games that could be played with two people anywhere, games like thumb wrestling. I do not claim to be an expert in thumb wrestling, but I have learned a lot from the kids are the shelter. They have taught me tricks and techniques to give the littler kids a fighting chance.
My mind was blown one night a birthday party while the kids around me and I were waiting for our turn to get food. One kid challenged me to a game of thumb wrestling. I accepted the challenge. Soon another kid and another kid wanted to challenge me. Of course I told them to wait their turn. The first boy said something like, "They don't have to wait. We can all play." I was confused and before I could correct him, he started arranging all four hands. All of a sudden, he said, "Okay, we are ready. GO!" It was magic. I looked down at our hands and we were playing four way thumb wrestling!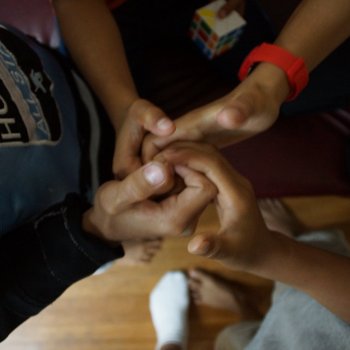 I do not even remember who came out on top of this mass of hands. All I could think of was, "What else did I miss out on in my childhood." This ingenuous inclusion of others had never occurred to my friends or I. The rest of the night, a smile came to my face whenever I thought of the four way thumb wrestling and brilliance of the kids who surrounded me.