A time for laughter
It has now officially been summer time at CSC for a few weeks now. Today marks the start of the second week of summer activities. I have had the privilige of being directly involved in activities this year, as I volunteered to be the cooking class teacher. There are 7 children in my class, 6 girls and one boy, all under 12! It is an energetic bunch to say the least! We meet 3 times a week, with a different cooking theme each week. Last week, we learned all about cake. On monday, the children spend time in the library on the school computers, looking up different kinds of cakes and their recipes. They each were to choose three favorites, and share them with the group. We then examined different aspects of cake making through videos (which of course they love!). The day was concluded by a fresh-made snack; on Monday it was carmel popcorn! On Wednesday we met again, and prepared to go grocery shoppping. The kids each had their own assignment for what to find at the store, which was exciting for them. On Friday, all of our hard work culminated into our baking experience. Last week, our recipe was a layered rainbow cake. It took about three hours of hard work and fun, and the product was quite incredible. Don't you agree?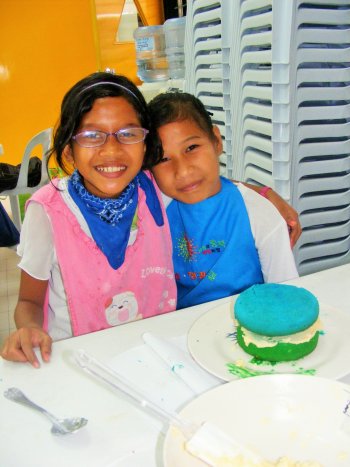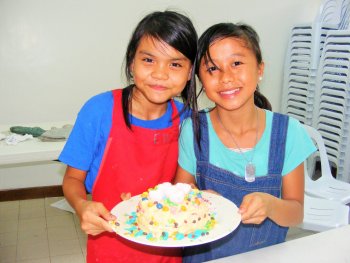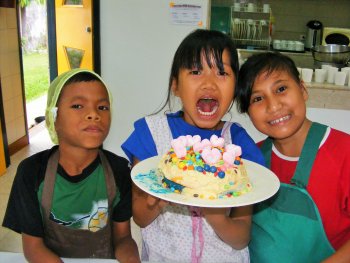 Also this summer, I have been able to have small groups of the teenage girls over for overnights at my apartment. The girls are always super excited to find out who is next to sleep over. The evening begins with a shopping trip at a local grocery store. We purchace all the ingredients for dinner and snack that evening. Once we arrive at my apartment, the girls are in charge of making dinner. The last few times, the girls have decided on sloppy joes - an unfamiliar dish for all of them! Once dinner is over we do a variety of activities, ranging from: zumba, painting nails, watching youtube videos, and singing. We close the evening by watching two movies, projected on the wall, and having a snack. The girls are especially excited because they get to stay up late! When they get up in the morning, they are treated to chocolate chip pancakes before packing up and heading back to the shelter.
The kids at CSC are having a blast this summer, and can't wait to start each new day to see what it will bring. Please continue to pray for the safety and health of our kids as they go about their summer activities.