Change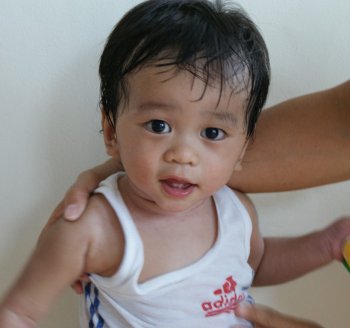 This little boy came to CSC in 2011. He was not healthy, he was scared.
I worked with him not knowing how to start. He showed a lot of concerns in so many areas.
With the everyday schedule we have for therapy, he and I formed a bond.
If you have been to CSC, you know that it is hard not to have a favorite, but this little guy captured my heart.
Last year, Joel and I went to the States for a one year furlough. It was hard to leave the kids behind, especially the ones I had been working with everyday for 6 years. When we came back to CSC, I was amazed with the many positive changes the kids showed. One especially was this little dude.
He continues to receive therapy at present and is very eager to come to his sessions. Just the other day, he kept on bugging an auntie that he needed to go and see me for therapy. It was in fact not his scheduled time, but what do you do with an eager child? Yes, we did our therapy and we had a great time cutting playdoh!
Now, every time he sees me, wherever he is – at school or at the shelter, whatever he is doing, he calls and shouts out my name, "Teacher Jinkee!!" That, for me, is the most rewarding part of my job.