This is Christmas!
Christmas is a pretty big deal in the Philippines, yes, you might argue that it is a big deal to many other places as well, but it is only in this country where you start hearing Christmas music in September!! :)
Similarly, Christmas at CSC is a big deal. There are many events and traditions held. It is an important value at CSC that this very significant holiday is celebrated well and that it's true meaning is highlighted, amongst the glitz and glamour of the presents and beautifully lighted Christmas trees.
Of course there is quite a bit of planning that happens even before December, but the break-neck pace of non-stop Christmas parties, dinners, programs, and other such events begins around the middle of the month.
Below you will see pictures taken during the hair/make-up/all other kind of prep done before Cebu Children of Hope School's annual Christmas program. This year, the main feature was a play called Hotel Bethlehem, a modern spin put on the Christmas story. It was a huge success! The children put their hearts into it. And the countless hours invested by the teachers (rehearsing lines, making the set, working on the sound equipment and many other tasks) could be seen in that night's polished production!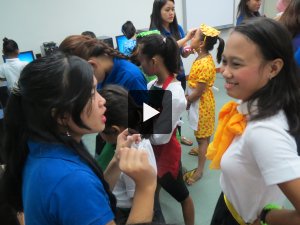 A beloved tradition at CSC is the annual Progressive Dinner. The children travel to the homes of the missionary staff to enjoy some food and to hear and see different parts of the Christmas story acted out. After the groups have made it to each home and are quite busog (full) they head back home and the missionary staff follow and everyone enjoys eating cinnamon rolls in the shape of a Christmas tree! It is a great night of fun and food, but the true meaning of Christmas---Jesus' birth is shared in a memorable way as well!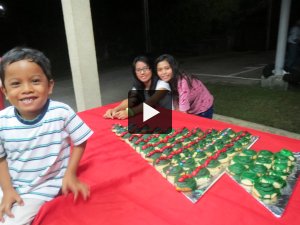 Another really special event during this time of year is called Junel's Box. It is a great opportunity for our kids, who once had nothing, to give to others. Every year, our social workers find a family in the community in need of assistance. We share information about this family to our kids and give them the opportunity to give money from their bank (they receive an allowance each week for completing their chores). That money is then used to buy the things the family needs, such as food, house needs, building equipment, clothes, etc. And their generosity astounds---it happens frequently that a child will give all of the money in their bank, without hesitation. Below you will see pictures from the day we delivered all of those goods. The family was so grateful and our kids were able to help others, to give to others, when so many of them had once been on the other side of need.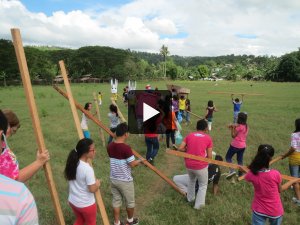 People that know about CSC often want to bless our kids around the holidays and this year was no different! Marriott Hotel contacted CSC to say that they wanted to throw a Christmas party for our 7-10 year olds. We were so excited! Marriott came and picked up 28 of our kids and a handful of our adults and treated them to an afternoon of storytelling, Christmas cookie decorating (and eating!), balloon popping, snacks, present opening and eating (I say it so many times because it was a frequent activity!)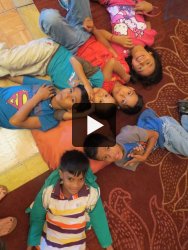 And on Christmas Eve night, Santa came to the Philippines! There are many new children at CSC at this time and for them, this was the first Christmas experience they had ever had. Several were a bit wary of Santa, but with gift in hand he seemed to be an okay guy. It was such a blessing to see the ecstatic smiles of those getting their first Christmas gift---but for those not new to CSC---well, they were still extremely excited as well. A Christmas like this is only made possible by those of you who give, so I just want to say a special thank you for your generosity!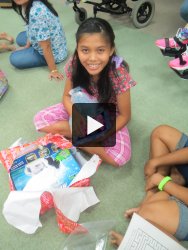 Christmas day is not complete at CSC without the formal Christmas dinner. The missionary staff, the house parents and all of the children enjoy a nice meal outside together! The food is good, the tables are decorated beautifully, the children get all dressed up and the meal is finished with Christmas cookies for dessert! This year, after the meal, everyone went to the school to participate in a unique telling of the Christmas story, interspersed with the singing of hymns. After that came a time of prayer. As you will see in the pictures, not all of the little ones made it through the whole event!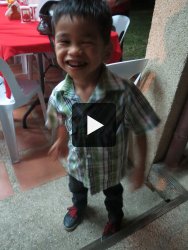 Merry Christmas and Happy New Year to you all! CSC has been blessed this year and we trust that God will continue to provide for this ministry and these children. Thank you for reading about the many Christmas traditions at CSC. What is your favorite Christmas tradition in your family?