United Nations Day 2014
The students started the morning of UN Day with a passport and a sense of anticipation. There were lots of places to go and only one day to fit it all in.
In the morning, the students traveled to five countries—Angola, Puerto Rico, Mexico, France, and United Arab Emirates. In each country, the students learned interesting facts, made a craft or two, and tried some of the local food. Some of the countries had very strict rules, only letting in the students who were sitting quietly while waiting in line. Once inside each country's room, the fun began. There were interesting facts to be learned, fun crafts to make, and new foods to taste. By the end of the morning, each student's hands were full of souvenirs from the places they had visited.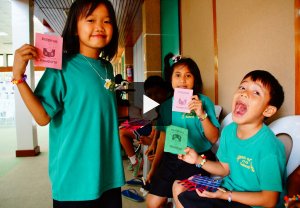 In the afternoon, different classes presented a cultural dance from each of the countries. Angola won Mister and Miss UN Day and they were thrilled. The day ended with a quiz game about the countries. It was a fun day from beginning to end.