Toddler Day Program Kick-Off
September brings new excitement for the youngest in the CSC family. Since arriving in Cebu a month ago I (Grace) have been hard at work creating a new toddler curriculum. The toddler program occurs each weekday and lasts for about an hour. This past week we officially had our kick-off and boy, did the kids have fun!
The new toddler program is structured in a way that will be developmentally appropriate for the toddlers at CSC and will also help prepare them for preschool. Each week of the program is structured around a theme that will not only provide learning experiences, but fun as well! This week the toddlers had a blast learning about circles through activities and songs about bubbles and balls.
Right now we have a group of about 11 toddlers who are full of energy, laughter and curiosity. Each morning we gather together in one of the three homes and start with a morning meeting. The toddlers are learning recognition and routine through their personalized seat mats (mats with pictures of their faces on them). The first day the kids were so excited about the pictures that they could hardly sit on them. By the end of the first week the children were starting to understand the routine and would either sit on their mats or hold them in their laps. During the meeting we do things like working on name recognition, reading books and singing songs. So far, the favorite part of morning meeting is the singing. Thanks to our wonderful aunties the children of CSC start to appreciate and love music at an early age.
Other activities we have been doing this week are bubble blowing, bubble snakes, a ball pit and soccer. It has been such a joy to see the toddlers already making discoveries and having fun exploring the materials provided for them. To get a better idea of what the toddler program is like, take a look at these photos I took as well as a video created by Joel Reasoner!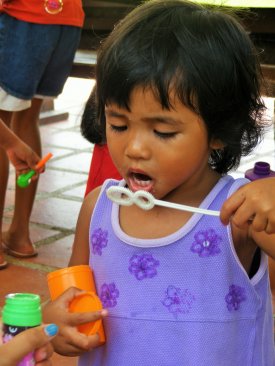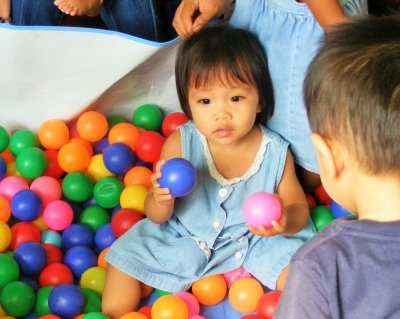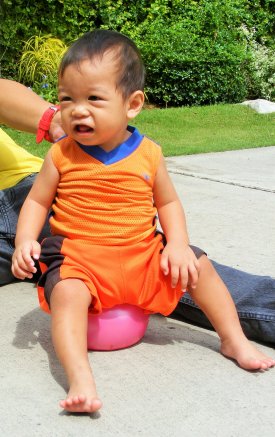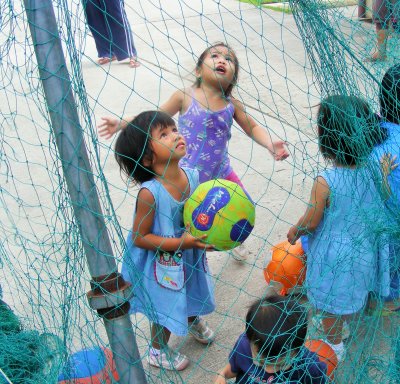 Video: Toddler Time with Auntie Grace