August is Buwan ng Wika
August is Buwan ng Wika (Language Month) in schools throughout the Philippines and each school puts on activities at the end of the month. The theme this year was Filipino: Wika ng Pagkakaisa or Filipino: Unity in Language. We had our activities at school on August 22 and the day was filled with fun, games, language riddles and Filipino food.
Since I am new this year, Buwan ng Wika was my first all day school activity. In the morning, we had indoor activities like bugtongan (riddles in Filipino) and groups presented cheers in Filipino. We had a lot of fun thinking of cheers using the Filipino dialect. It was hard because our first language is Cebuano, not Filipino. After the activities inside the school, we went down to the shelter to have a snack and continue playing Filipino games. Some of the games were jack em' poy (rock, scissors, paper), takyan (a kind of home-made hacky sack), rubber band throwing, and a cat and dog tag game. After a lunch of Filipino food, we returned to school for student and teacher presentations. Some groups performed dances with costumes and props while others did a skit.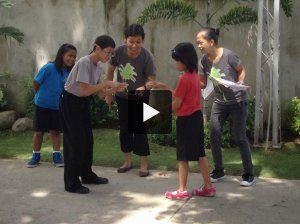 The students' faces showed their enjoyment throughout the day. I also enjoyed the activities not only because of the fun games, but because of the bonding and fellowship we shared with the kids and teachers. I'm looking forward for more fun and exciting activities!