Inspirational Speaker
The past few months we, the therapists at CSC, have been grooming Jacob into an inspirational speaker. Our main goal is to spread disability awareness to people around the city of Cebu and, through Jacob, inspire them to try to approach life positively, praising and worshiping God.
A great way to kick-off Jacob's speaking career was within the walls of CSC at Children of Hope School on June 19. We invited the kids, CSC workers, staff and visitors. Everybody was excited for the day to arrive.
Our speaker, Jacob, got more and more excited as the day approached. He was nicely dressed in a polo shirt and tie, and was probably not expecting a huge number of people in the audience. Joemar, Jacob's trusted roommate, opened up in prayer. Auntie Sandy introduced our inspirational speaker, and what an introduction it was!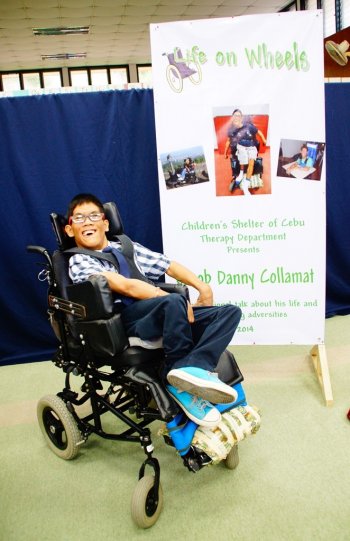 In his speech, Jacob talked about his home, CSC, the people around him and how they influence him. He also shared about living with cerebral palsy and how he has dealt with his disability every single day. He reminded the audience to be happy and content in whatever state and condition we are in; God made us perfect and will use us to bless others. Jacob showed a video of what a typical day for him is like from sun up to sun down and he gave a video tour of his room and home.
Last week was Jacob's first speaking engagement outside CSC. Evangelical Theological College of the Philippines or ETCP, with its dean Pastor Lowell Tallo, was very generous to have Jacob speak to their students. They all gave Jacob a warm welcome and asked a lot of questions.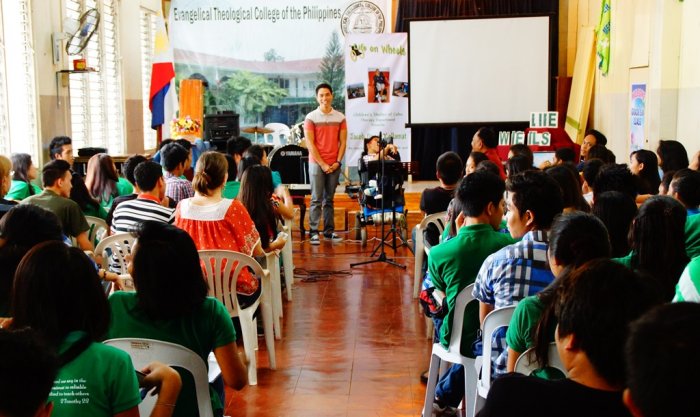 Jacob left ETCP, happy, inspired and blessed, looking forward to his next opportunity to meet and share with others.
Check out the videos below: A Day in the Life of Jacob and Jacob's Speech