Jacob and Ginda Give Back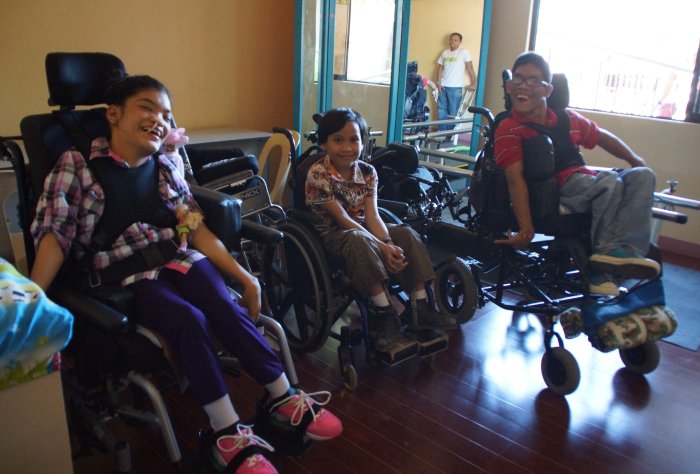 Recently, Jacob and Ginda had the privilege to receive new wheelchairs. Their old rides were getting worn out. Thankfully, God is Able International Foundation Inc. took notice of this need and helped us get two wheelchairs for them. Over the years, Jacob and Ginda have been very fortunate in terms of having their needs met. They have received wheelchairs from different people and organizations.
CSC has a few old wheelchairs that past and present kids have outgrown. One of the goals of the Therapy Department at CSC is to get our young adults with special needs engaged in the community. The idea of involving Jacob and Ginda in an outreach event came up, and donating wheelchairs seemed like a perfect event.
The Stimulation and Therapeutic Activity Center (STAC) was the recipient of four wheelchairs that Jacob and Ginda gave. STAC is located in Lapu-Lapu City (Mactan Island). The center is under the Department of Social Welfare and Development (DSWD). They offer services such as physical, occupational and speech therapy to kids 14 years old and below who are residents of Lapu Lapy City. They also provide seminars and counseling to the parents of the children under their care.
Jorine, was one of the recipients. Together with her brother and sister, they waited for us to arrive. Jorine, 10, is in 4th grade. She has a congenital abnormality in her spine. She is currently wearing orthoses and is using crutches to help her walk and get to the places where she wants to go. Upon trying one of the wheelchairs, she immediately started driving it around and even wanted to try it up and down the ramp. It was wonderful to see her excitement. Now that she has a wheelchair, it will be easier for her to move about from one classroom to another.
Help does not end when you are done helping. It loops like a circle that keeps on going around and around. People we help today will sooner or later end up helping others, as well.