We move on: Putting those banquet dollars to work right away.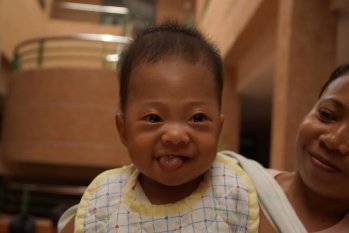 The banquet was great, and the $118,000 that was given was a big encouragement to our staff here in Cebu. The banquet is kind of like a pit stop in a NASCAR race. We pull in for a time, get refreshed and rejuvinated, and then we go back to work.
Thomas was part of that work. On the day of the banquet he went to Manila with one of our nurses and a child care worker. We had been hoping and praying that he could get his nose stents taken out. For the past months since his surgery he has had to endure those stents, which made it impossible for him to be on the floor, where he would have otherwise been able to play and start to move around. He had to be held all the time he was awake, or closely watched in his stroller, so he would not disturb the stents. He had to wear gloves on his hands, which meant he couldn't grasp things or play with toys.
The doctor in Manila ordered an endoscopy, to see if there had been sufficient healing of the posterior nares. It turned out that there had! On Monday the stents were removed and on Tuesday evening he headed back home to CSC.
We have seen changes in Tom! He is smiling more, and loves having his mittens off. He can play with toys and loves to swing them around. He just seems overjoyed with his newfound freedom. And we join in that joy because Tom will have a more normal life now. The stents were very important for his healing, but they are not missed one little bit. Especially by Tom.
Thanks for your continued prayers and concern for this brave little boy. We're already spending that banquet offering money!!