A Banquet for the Ages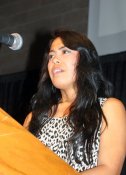 "CSC is a place where some of us found our first good memories, for we came from broken homes and poverty. We had our first experience of Christmas, celebrating birthdays and the first memories of feeling acceptance and love. Through my eyes and the eyes of others, CSC was a place filled with love and second chances at life." - Erna Ahlmann, 2014 Banquet Keynote Speaker
Wow, what a testimony Erna shared of CSC. The attendees of our 35th birthday celebration were so blessed by her willingness to share her story.
The first thing we did when planning our banquet this year happened some nine months ago. We called our host, Bethel University, and the church where we hold the Adoptive Family Party the night before, to find out what dates were available. This year, only one weekend was open at both places. Imagine our surprise when we realized we were holding our banquet on the evening of May 3 in Minnesota, which, at 13 hours ahead, means it was the morning of May 4 in Cebu. By some miracle we scheduled our banquet on the very day our ministry started 35 years earlier!
It was a wonderful birthday party. We sang together, laughed together, and an awful lot of us cried together. In the end, the people there provided the best birthday gift of all...weeks of ministry through their financial generosity. Any day now we will admit our 900th child, and our banquet attendees--and all our amazing supporters--made that possible.