Let it snow!
I just happened to be walking down the driveway of our compound earlier this week when I noticed small white bits floating through the air in front of me and they were blowing by my feet as well. I, being a born and bred Minnesotan, first thought of snow (just for a split second, mind you). I know this Winter has been hard for most and I feel for all of you who have struggled through the bitter cold and the seemingly endless snow. I pray that Spring makes a glorious reveal in the NEAR future and that Summer and Fall are so wonderful that someday soon this past Winter is nothing but a faint memory.
But back to the white things---they, of course, were not snow! It is the Philippines after all. :) After looking at the white things and hearing many giggles to my left, I decided to examine what that giggling group of small boys were doing. They were making snow! They had bits of styrofoam that they were rubbing against the bark of a tree and it was flying around like snow.
And they were SO happy about it---giddy even! I couldn't help but smile. If you ask any of our kids here---hands down the thing they are most interested in experiencing is SNOW!!! It is a puzzling thing to them. They can't understand frozen water and just how cold a place can be to have piles of it just lying around and not melting. Within minutes of a drink sitting out here, the ice is gone and the liquid is already starting to warm. And a cold day here is 75 and cloudy (long sleeves are needed). And that is all they have ever known.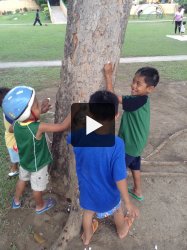 I continued on my way, but I couldn't help but hum, "Let it snow! Let it snow! Let it snow!" :)
God bless you all and stay warm!