That Thomas Itch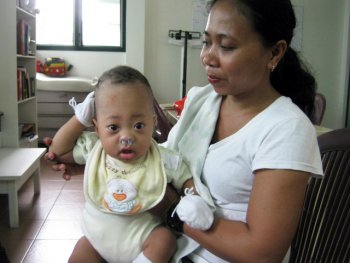 I have great news from our founder and Medical Director, Marlys Healy. Little Thomas, who had major surgery on his skull in early February, got the last of his stiches removed! This means no more bandages, too. Whew!
We have watched this boy endure so much since he arrived at CSC. He has found a soft spot in many hearts. I'll never forget watching him leave pre-op on the day of the surgery and trying not to wonder if he would make it. As we tried to work in Cebu that day there were many pauses when one of us would say, "I hope he's doing okay."
The love for Thomas didn't stop in Cebu. It was amazing to hear word of people praying all over the world for him. You will be glad to know Thomas can finally itch his head. Marlys said he looked ecstatic to finally be able to do so! They have him in mittens to make sure he doesn't get overzealous or pull at his nose shunts, but Thomas is doing well. Look at that cute hairdo his bandages were covering. What a guy, our Thomas. Thanks for loving him with us.