Please pray for Thomas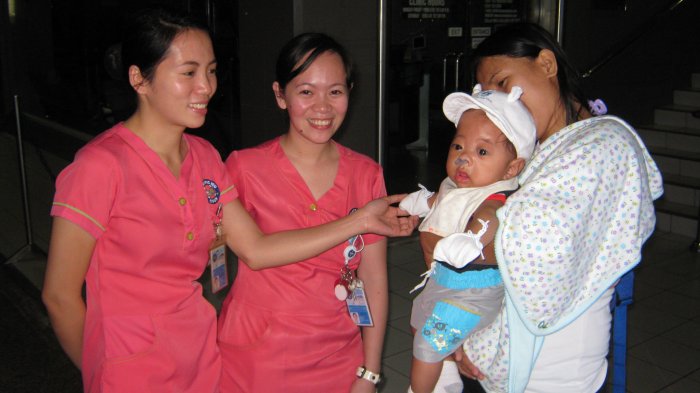 Please pray for Thomas! His surgery will be on Tuesday, February 11 at 11:00 am Cebu time (9:00 pm on Monday the 10th, Minnesota time). He has a serious problem called craniosynostosis, which means that the sutures of his skull fused prematurely. Consequently, his brain is bulging through the anterior fontanelle, which has caused his head to become misshapen, and fluid has built up around his brain. The surgeon will remove the fused portions of the skull, and four areas of the skull will be re-shaped by making several small cuts in each portion of bone. The bones will be sutured together afterwards. His head has gotten very large, and his eyes are bulging so it has become an urgent matter to do this surgery as soon as possible. They are hoping that the procedure will reduce the build up of fluids so he will not need to have a shunt at this point. Thomas will be in intensive care for one week, and will be in a private room for another week, at least.
After a lot of discussion, soul searching and prayer, the CSC staff has decided against using the government hospital for this surgery. Although the operating room there has decent equipment, the Intensive Care Unit where he would have gone following the surgery is not well equipped, and he would be in proximity to children with infectious diseases. The nurse to patient ratio, and other factors made us reconsider the decision to use that hospital.
News: The surgery will be at Cebu Doctors' Hospital, the facility that we often use for our children. Having him operated on at CDH is a step of faith for our staff, as the costs will be much more than at the government hospital. We are trusting God to provide for this difficult and intricate surgery, and for the after care that Thomas will need. He will need to be in the ICU for a week. We want to be able to offer Thomas the best chance possible to survive the surgery and the crucial hours and days afterwards. We fell that we are doing that, though the cost will be high. Although it is very difficult to predict what the total costs will be for the surgery and aftercare, we are making an initial estimate of $25,000. We will update that amount here on the website as we get more financial information from the hospital.
Please pray with our staff, workers and friends as we surround that operating room in prayer.
If you would like to make a donation for this life saving surgery for Thomas, click here. Please designate the gift for Thomas' Surgery. Thank you!